Sticky Chinese BBQ Chicken
June 10, 2019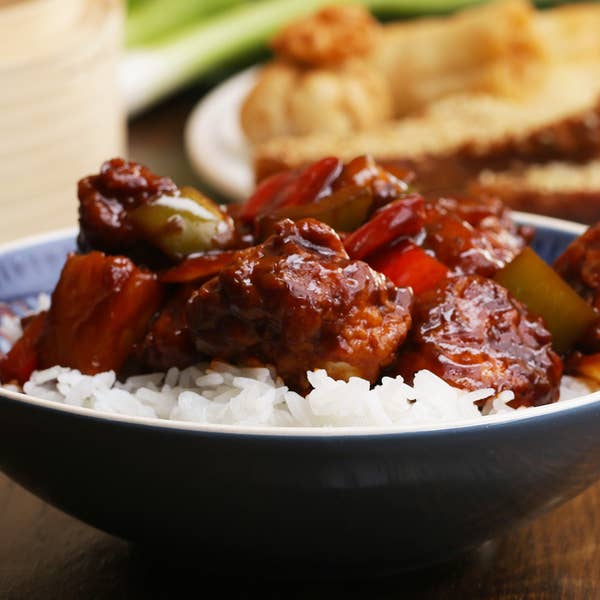 Ingredients
for 4 servings
3 chicken breasts
salt, to taste
pepper, to taste
1 cup corn flour

(100 g)

6 cups oil

(1.4 L)

, for frying
1 onion
2 bell peppers
2 tablespoons soy sauce
2 tablespoons red wine vinegar
2 tablespoons tomato paste
2 tablespoons sugar
½ cup chicken stock

(100 mL)

1 ¼ cups pineapple

(200 g)
Cornflour Paste
¼ cup water

(50 mL)

¼ cup cornflour

(50 mL)

, as needed
Preparation
Season the chicken with salt and pepper.
Cut into bite-size chunks.
Dunk each chicken piece in the egg yolk, followed by the cornflour. Set aside.
Heat the oil in a deep saucepan until it reaches 190°C (375°F).
Carefully fry the chicken pieces for around 5-6 minutes, until crispy, slightly golden in colour and cooked throughout.
Drain onto a plate covered in kitchen roll.
In a large saucepan over a medium heat, add 1 tablespoon of oil and fry the onions and peppers for 2-3 minutes.
Stir in the soy sauce, red wine vinegar, tomato paste, sugar, and chicken stock. Cook for a further 2 minutes.
Add in cornflour paste.
Mix until the sauce has thickened.
Stir in the pineapple and chicken until evenly coated with the sauce.
Serve with rice.
Enjoy!