Sweet And Spicy Cherry-Glazed Ribs
August 17, 2023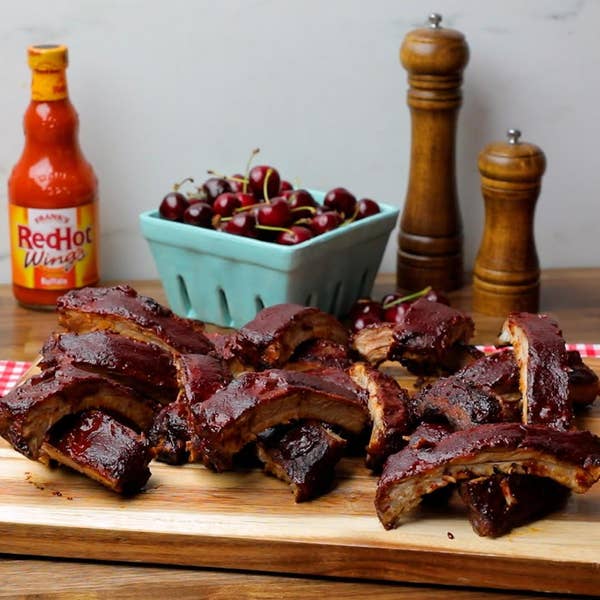 Ingredients
for 4 servings
3 tablespoons sweet paprika
2 tablespoons kosher salt
1 tablespoon granulated garlic
1 tablespoon granulated onion
1 tablespoon chili powder
3 tablespoons light brown sugar
2 teaspoons freshly ground black pepper
1 rack pork rib, membrane removed
Cherry Glaze
2 ½ cups frozen cherry

(375 g)

, and their juices included, thawed
¾ cup Frank's RedHot® Buffalo Wing Sauce

(180 g)

½ teaspoon lemon zest, grated
1 lemon, juiced
½ tablespoon worcestershire sauce
2 tablespoons unsalted butter
1 tablespoon granulated sugar
2 teaspoons kosher salt
¼ teaspoon freshly ground black pepper
Preparation
Preheat the oven to 275°F (135°C).
In a small bowl, stir together the paprika, salt, granulated garlic, granulated onion, chili powder, brown sugar, and black pepper until well-combined.
Rub the ribs with the spice mixture to cover both sides. Place ribs on a large sheet of heavy-duty aluminum foil and wrap tightly.
Place the wrapped ribs on a baking sheet and bake for 2 hours, or until tender.
Make the cherry glaze: In a medium saucepan, combine the thawed cherries and their juices, the Frank's RedHot® Buffalo Wing Sauce, lemon zest and juice, Worcestershire sauce, butter, granulated sugar, salt, and black pepper. Bring to a simmer over medium-high heat and cook for 10–15 minutes, or until the cherries are tender enough to mash completely. Mash the cherries, then remove the pot from the heat. Let the glaze cool for about 20 minutes.
Pour the glaze into a blender and blend on high speed until smooth for 2 minutes. Set aside until ready to use.
Remove the ribs from the oven and increase the oven temperature to 450°F (220°C).
Set a wire rack over a baking sheet. Place the ribs on the rack and unwrap and discard the foil. Coat the ribs all over with the cherry glaze.
Return the ribs to the oven and bake until caramelized, 10–12 minutes.
Remove the ribs from the oven and let rest for 15 minutes before slicing between the bones into individual ribs and serving.
Enjoy!
Your favorite recipes are just a click away. Download the Tasty app to save and organize your favorites.