Sweet And Spicy Sticky Wings
These are the ultimate wings when you're willing to go the extra mile. First, they're dry brined to season them from the inside out and keep them juicy. Next, they're cooked low and slow in oil and aromatics to make them fall-off-the-bone tender and incredibly moist. Lastly, they're deep fried for crunch and tossed in a sweet and spicy sauce for that perfect glazed finish. Enjoy!
August 14, 2023
Total Time
8 hr 40 min
8 hr 40 min
Prep Time
30 minutes
30 min
Cook Time
3 hr 10 min
3 hr 10 min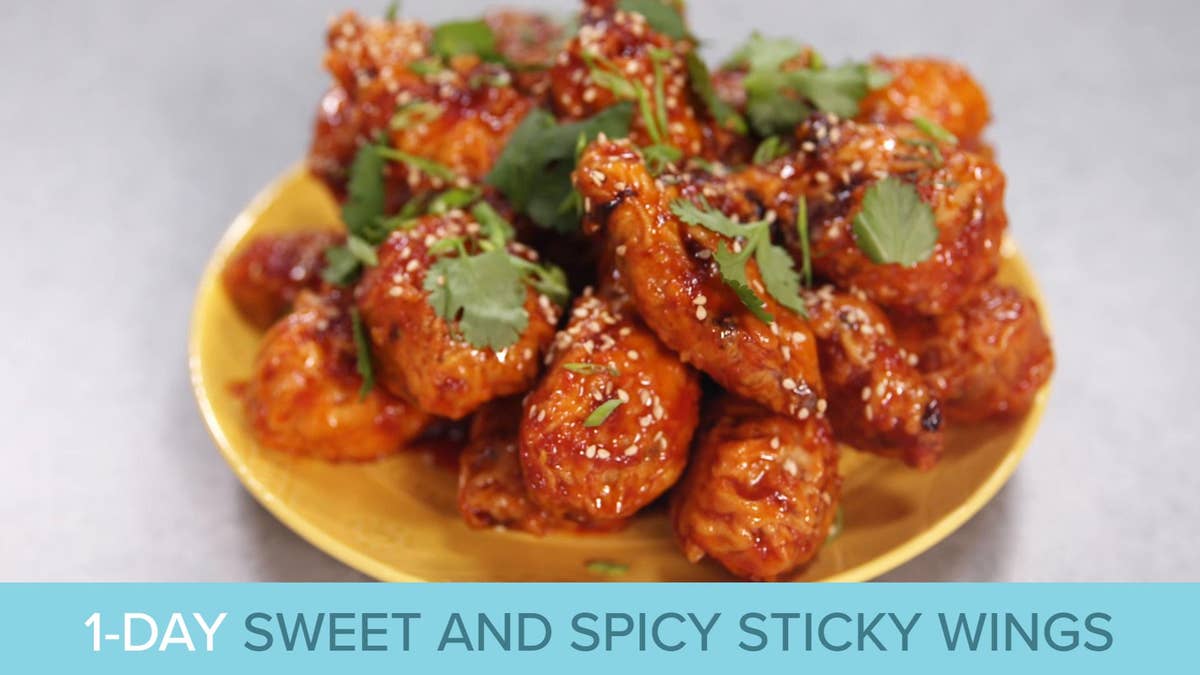 Total Time
8 hr 40 min
8 hr 40 min
Prep Time
30 minutes
30 min
Cook Time
3 hr 10 min
3 hr 10 min
Ingredients
for 4 servings
Dry Brine
½ cup kosher salt

(100 g)

¼ cup sugar

(50 g)

1 tablespoon gochugaru, (Korean chile flakes)
2 lb chicken wings

(910 g)
Confit
1 ginger, peeled and sliced - 3 in (7 cm)
8 cloves garlic, peeled
4 scallions, cut into 2 in (5 cm)
3 cups olive oil

(720 mL)

, plus more as needed
Sauce
¼ cup rice vinegar

(60 mL)

¼ cup soy sauce

(60 mL)

½ cup honey

(165 g)

4 cloves garlic, minced
2 tablespoons fresh ginger, grated
¼ cup gochujang

(85 g)

, (Korean chile paste)
Batter
2 cups cornstarch

(250 g)

, divided
1 cup all purpose flour

(125 g)

2 teaspoons kosher salt
1 ¾ cups water

(420 mL)
For Garnish
toasted sesame seed
fresh cilantro leaf
scallion, sliced
Preparation
Dry brine the wings: Set a wire rack inside a rimmed baking sheet.
In a small bowl, combine the salt, sugar, and gochugaru.
Add the wings to a large bowl and sprinkle with the dry brine, tossing to coat evenly. Arrange the wings right side up on the wire rack and refrigerate, uncovered, for at least 4 hours, or overnight.
Confit the wings: Preheat the oven to 300°F (150°C).
Transfer the brined wings to an 8 x 11-inch baking dish. Scatter the ginger, garlic, and scallions around the wings. Pour the olive oil into the baking dish, adding more oil if needed to ensure the wings are fully submerged.
Cover the baking dish with aluminum foil and place on a rimmed baking sheet. Bake for 2½–3 hours, until the meat starts to pull away from the bones, but is still intact and tender.
Line a baking sheet with foil. Remove the wings from the oven and let cool slightly. Lift out of the oil and drain well, then set on the prepared baking sheet. Transfer to the refrigerator and chill for at least 1 hour. If desired, reserve the leftover oil to confit more wings. The oil will keep in an airtight container in the freezer for up to 2 month.
Meanwhile, make the sauce: In a medium pan over medium heat, combine the rice vinegar, soy sauce, honey, garlic, ginger, and gochujang. Cook, stirring often, until the sauce is bubbling and thickened, 3–4 minutes. Remove the pan from the heat and set aside.
Fry the wings: Heat the canola oil in a large Dutch oven over high heat until it reaches 350°F (180°C).
Make the batter: Add 1 cup of cornstarch to a large bowl and set aside. Add the remaining cup of cornstarch to a separate large bowl, along with the flour, salt, and water and whisk until smooth with no lumps.
Coat a chicken wing in the cornstarch, shaking off excess, then gently dredge the wing in the batter, letting any excess drip off.
Working in 2 batches, add the wings to the hot oil and fry for 4–5 minutes, until golden brown and crispy. Transfer to a paper towel-lined baking sheet to drain.
Transfer the wings to a large bowl and pour the sauce over. Toss to coat well.
Transfer the wings to a serving platter and pour more sauce over, then garnish with toasted sesame seeds, cilantro, and scallions.
Enjoy!
Don't let a good recipe slip away. Download the Tasty app and save your favorites for easy access.