Sweet Potato Gingerbread Winter Smoothie
June 10, 2019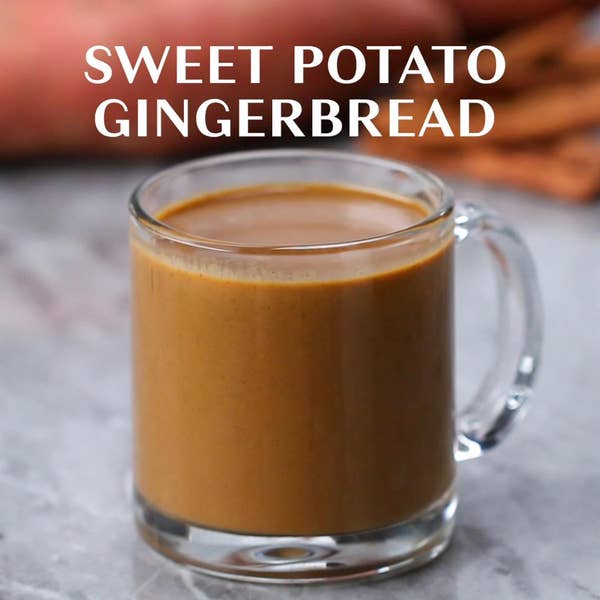 Ingredients
for 1 serving
½ cup mashed sweet potato

(125 g)

1 tablespoon almond butter
1 tablespoon molasses
½ teaspoon vanilla extract
½ teaspoon cinnamon
½ teaspoon ground ginger
1 cup milk

(240 mL)

, of choice
1 pinch salt
Nutrition Info
Calories

331

Fat

13g

Carbs

43g

Fiber

4g

Sugar

29g

Protein

12g
Estimated values based on one serving size.
Preparation
In a blender, combine the sweet potato, almond butter, molasses, vanilla, cinnamon, ginger, milk, and salt. Blend on high speed for 3 minutes, or until completely smooth.
Transfer the sweet potato mixture to a small saucepan and heat over medium-low heat until just warmed through. Do not boil.
Pour into a mug and serve immediately.
Enjoy!
Nutrition - Sweet Potato Gingerbread - Calories: 480, Total fat: 22 grams, Sodium: 361 mg, Total carbs: 60 grams, Dietary fiber: 4 grams, Sugars: 33 grams, Protein: 14 grams
Ingredients
for 1 serving
½ cup mashed sweet potato

(125 g)

1 tablespoon almond butter
1 tablespoon molasses
½ teaspoon vanilla extract
½ teaspoon cinnamon
½ teaspoon ground ginger
1 cup milk

(240 mL)

, of choice
1 pinch salt
Nutrition Info
Calories

331

Fat

13g

Carbs

43g

Fiber

4g

Sugar

29g

Protein

12g
Estimated values based on one serving size.
Preparation
In a blender, combine the sweet potato, almond butter, molasses, vanilla, cinnamon, ginger, milk, and salt. Blend on high speed for 3 minutes, or until completely smooth.
Transfer the sweet potato mixture to a small saucepan and heat over medium-low heat until just warmed through. Do not boil.
Pour into a mug and serve immediately.
Enjoy!
Nutrition - Sweet Potato Gingerbread - Calories: 480, Total fat: 22 grams, Sodium: 361 mg, Total carbs: 60 grams, Dietary fiber: 4 grams, Sugars: 33 grams, Protein: 14 grams