Sweet Potato Mushroom Penne
This delicious and wholesome penne pasta dish is loaded with savory mushrooms, tender sweet potatoes, and fragrant herbs and spices, all cooked together to create a comforting and satisfying meal.
May 14, 2023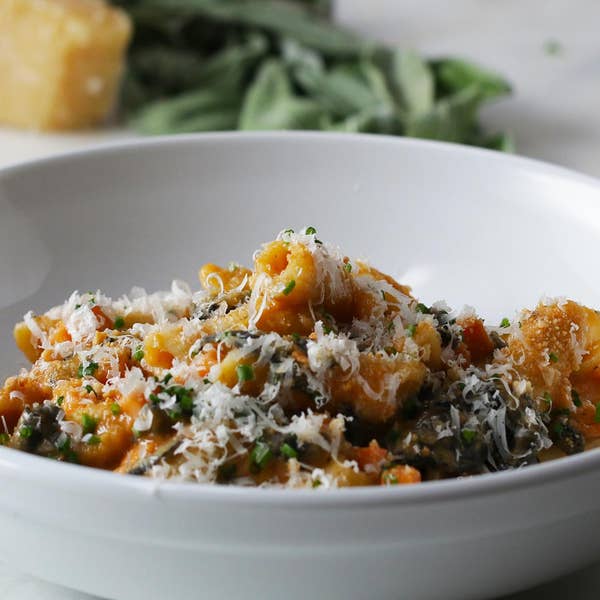 Ingredients
for 4 servings
2 sweet potatoes
2 tablespoons olive oil, divided
6 oz wild mushroom

(170 g)

, such as black trumpet or cremini
7 tablespoons butter, divided
1 sprig fresh sage
½ cup chicken stock

(120 mL)

¾ lb cooked penne

(340 g)

, al dente
1 teaspoon sherry wine vinegar
½ cup grated parmesan cheese

(55 g)

, plus more for serving
salt, to taste
pepper, to taste
5 amaretti cookies, crushed, to serve
½ cup fresh chives

(20 g)

, chopped, to serve
Preparation
Use a fork to poke holes into 1 sweet potato. Wrap the sweet potato in a damp paper towel and microwave on high for 10-12 minutes, until fork-tender.
Peel and dice the other sweet potato into 1-centimeter (½ inch) cubes.
Carefully scoop the pulp of the cooked sweet potato into a food processor or blender. Add about 1 teaspoon each of salt and pepper and blend under smooth. Add a splash of water if the puree is too thick.
In a pan over medium heat, add 1 tablespoon olive oil and the mushrooms. Cook until the mushrooms start to crisp, about 3 minutes.
Add 1 teaspoon each salt and pepper to the mushrooms and remove from the heat. Drain the mushrooms of excess oil in a paper towel-lined bowl.
Add 6 tablespoons of the butter and sage to the pan and cook until brown bits start to form on the bottom, being very careful to not burn the butter.
Once slightly brown, remove the sage and add the cubed sweet potato and 1 teaspoon each of salt and pepper. Cook about 5 minutes, until the potato becomes tender.
Stir in the reserved purée and chicken stock. Simmer for two minutes, until the sauce thickens slightly and the mixture comes together smoothly.
Add the penne and mushrooms and coat evenly in the sauce.
Finish the pasta with 1 tablespoon butter, 1 tablespoon of olive oil, and sherry wine vinegar, stirring to combine. Remove from heat and stir in the Parmesan cheese.
Serve warm, garnished with chives, crushed amaretti cookies, and more Parmesan.
Enjoy!
Love this recipe? Download the Tasty app to save it and discover others like it.