Sweet Pretzel Snaps Cookies
Make chewy peanut butter cookies (or use store-bought cookie dough), then top off with sweet snaps, Snyder's of Hanover® Pretzel Snaps topped with chocolate caramel candies.
December 05, 2022
Total Time
55 minutes
55 min
Prep Time
40 minutes
40 min
Cook Time
15 minutes
15 min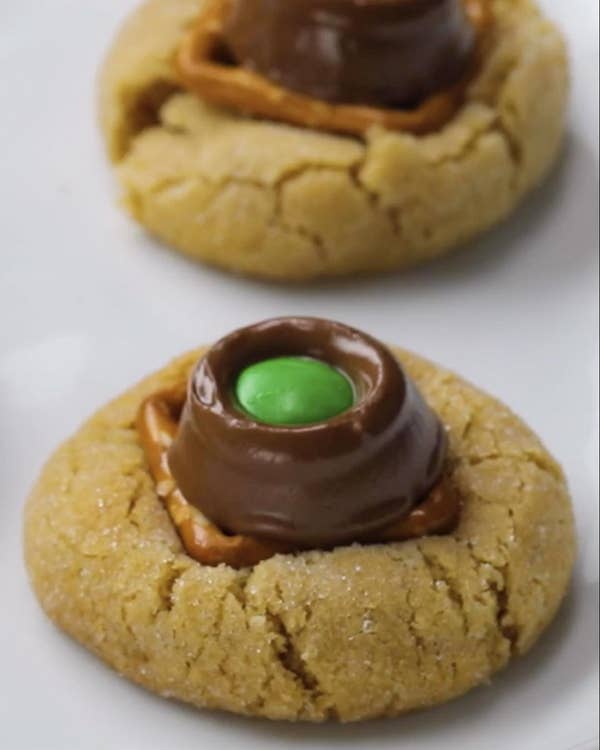 Total Time
55 minutes
55 min
Prep Time
40 minutes
40 min
Cook Time
15 minutes
15 min
Ingredients
for 30 cookies
Peanut Butter Cookie
1 ½ cups all-purpose flour

(185 g)

1 teaspoon baking soda
½ teaspoon kosher salt
½ cup vegetable shortening

(95 g)

¾ cup creamy peanut butter

(180 g)

⅓ cup granulated sugar

(65 g)

, plus more for rolling
⅓ cup light brown sugar

(65 g)

1 large egg
1 teaspoon vanilla extract
2 tablespoons whole milk
Sweet Snaps
30 Snyder's of hanover® pretzel snaps
30 chocolate caramel candies, assorted flavors
30 candy-coated chocolates, assorted colors
This recipe isn't available to shop.
Unfortunately, not all our recipes can be shopped through Tasty.
Preparation
Make the peanut butter cookie dough: In a medium bowl, whisk together the flour, baking soda, and salt.
In a large bowl, cream together the shortening, peanut butter, granulated sugar, and brown sugar with an electric hand mixer on high speed until light and fluffy, about 3 minutes. Scrape down the sides of the bowl, then beat in the egg, vanilla, and milk on medium speed until combined.
Add the dry ingredients to the wet ingredients, beating on low speed until combined. The dough should be crumbly, but hold together when pressed. Set aside.
Make the sweet snaps: Preheat the oven to 175ºF (95°C). Line a baking sheet with parchment paper.
Arrange the Snyder's Pretzel Snaps on the prepared baking sheet in a single layer. Place a chocolate caramel candy on top of each pretzel snap. Bake for 1–2 minutes, watching closely, until the chocolate is shiny and soft, but not melting. Remove from the oven and carefully place a candy-coated chocolate on top of each drop, gently pressing down to spread the chocolate drop across the pretzel. Refrigerate while you roll out the cookies.
Increase the oven temperature to 375ºF (190°C). Line 2 baking sheets with parchment paper.
Roll the cookie dough into 1-inch balls, then roll in granulated sugar to coat. Place on the prepared baking sheets, spacing about 1½ inches apart.
Bake the cookies for 10–12 minutes, or until the edges are light golden brown. Remove from the oven and press a sweet snap into the top of each cookie, then let cool for 10 minutes.
Enjoy!