Sweet Roll Stuffing
Our tropical take on stuffing is made with Hawaiian sweet rolls, diced honey ham, and a colorful blend of diced peppers. We finish it off with a citrus-soaked toasted coconut and poppy seed topping for a sweet crunch.
November 05, 2019
Total Time
2 hr 10 min
2 hr 10 min
Prep Time
20 minutes
20 min
Cook Time
1 hr 40 min
1 hr 40 min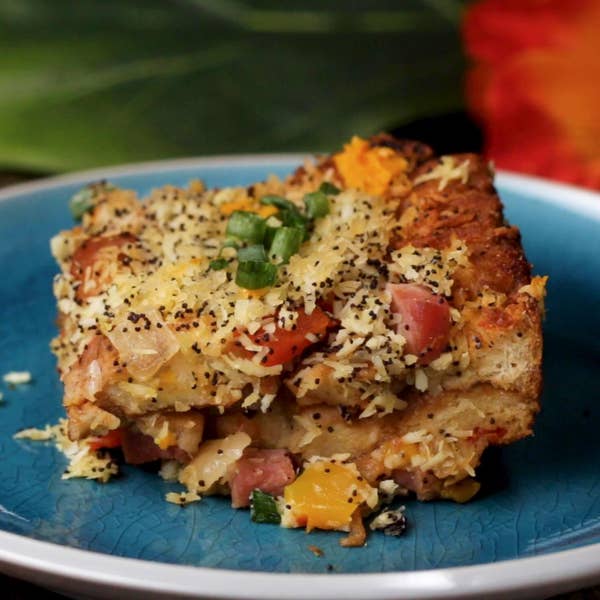 Total Time
2 hr 10 min
2 hr 10 min
Prep Time
20 minutes
20 min
Cook Time
1 hr 40 min
1 hr 40 min
Ingredients
for 12 servings
unsalted butter, for greasing
2 tablespoons vegetable oil
1 sweet yellow onion, diced
3 cloves garlic, thinly sliced
½ teaspoon red pepper flakes
1 red bell pepper, seeded and diced
1 yellow bell pepper, seeded and diced
2 cups honey ham

(300 g)

, diced
24 hawaiian sweet rolls, cut into 1 in (2 1/2 cm) cubes, toasted
2 teaspoons kosher salt
1 teaspoon freshly ground black pepper
3 large eggs
1 cup chicken stock

(240 mL)

4 tablespoons unsalted butter, melted
Coconut Topping
½ cup unsweetened coconut flakes

(50 g)

, shredded
1 tablespoon poppy seeds
2 oranges, juiced
For Garnish
3 scallions, thinly sliced
2 orange zests
Preparation
Preheat the oven to 350°F (180°C). Grease a 9 x 13-inch (22 x 33 cm) baking dish with butter.
In a large skillet, heat the vegetable oil over medium heat. Add the onion and sauté, stirring occasionally, until translucent and starting to caramelize, 15–20 minutes. Reduce the heat to medium-low if the onion starts to burn.
Add the garlic and red pepper flakes and continue to cook until the garlic is fragrant, about 5 minutes.
Add the red and yellow bell peppers and ham to the pan and cook for about 5 minutes, stirring frequently, until the peppers are tender.
Transfer the toasted Hawaiian rolls to a very large bowl. Pour the onion and ham mixture over the bread cubes and season with the salt and pepper.
In a medium bowl or liquid measuring cup, whisk together the eggs, chicken stock, and melted butter until well combined.
Pour about ½ cup (120 ml) of the stock mixture at a time over the bread mixture and stir until well combined.
Transfer the stuffing mixture to the prepared baking dish. Gently press the mixture down so the stuffing sits below the rim of the dish. Cover with foil.
Bake the stuffing for 45 minutes.
While the stuffing bakes, make the topping: In a small bowl, combine the shredded coconut, poppy seeds, and orange juice and mix well. Stir every 10 minutes or so as the stuffing bakes.
Uncover the stuffing and top with the soaked coconut mixture, sprinkling evenly over the entire surface. Leave any excess orange juice behind in the bowl.
Return the stuffing to the oven and bake until the coconut is light golden brown and crisp, 10–15 minutes.
Remove the stuffing from the oven and let rest for 10–15 minutes, then top with the scallions and orange zest.
Serve warm.
Enjoy!