Tempura Veggie Platter
Dive into this crispy Tempura Veggie Platter that's perfect for sharing! With a light and airy batter, these delightful bites will have everyone reaching for seconds.
August 14, 2023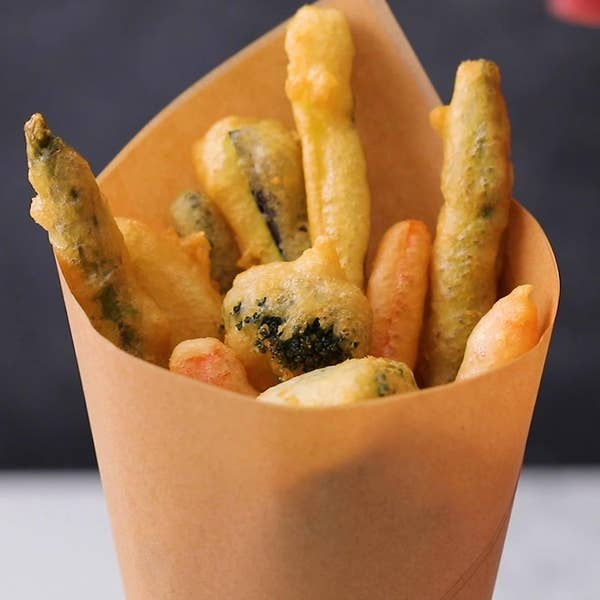 Ingredients
for 4 servings
2 cups canola oil

(480 mL)

, plus more as needed
1 cup all purpose flour

(125 g)

2 tablespoons cornstarch
1 tablespoon baking powder
½ teaspoon kosher salt
1 cup sparkling water

(240 mL)

1 large carrot, peeled and cut into 1/2 in sticks (1.2 cm)
6 asparagus, white ends trimmed
½ head broccoli, cut into florets
½ large zucchini, or eggplant, cut into 1/2 in (1.2 cm) sticks
1 container Heluva Good!® Buttermilk Ranch Dip
This recipe isn't available to shop.
Unfortunately, not all our recipes can be shopped through Tasty.
Preparation
Fill a large, high-walled skillet with 2 inches of canola oil. Heat over medium heat until the temperature reaches 400°F (200°C). Line a baking sheet with paper towels and set a wire rack on top.
While the oil heats, make the tempura batter: In a large bowl, whisk together the flour, cornstarch, baking powder, and salt. Whisk in the sparkling water until the batter just comes together, about 1 minute.
Working in small batches, use tongs or a fork to dip the carrot sticks, asparagus, broccoli florets, and zucchini sticks in the batter until completely covered. Let any excess batter drip off, then transfer to the hot oil and fry, flipping occasionally, for 4–5 minutes, until the tempura is crispy and golden brown. Transfer to the baking sheet and repeat with the remaining vegetables.
Serve tempura warm with Heluva Good!® Buttermilk Ranch Dip.
Enjoy!