Thanksgiving Dip Sandwich
How to make a Thanksgiving sandwich
August 14, 2023
Total Time
1 hr 10 min
1 hr 10 min
Prep Time
15 minutes
15 min
Cook Time
45 minutes
45 min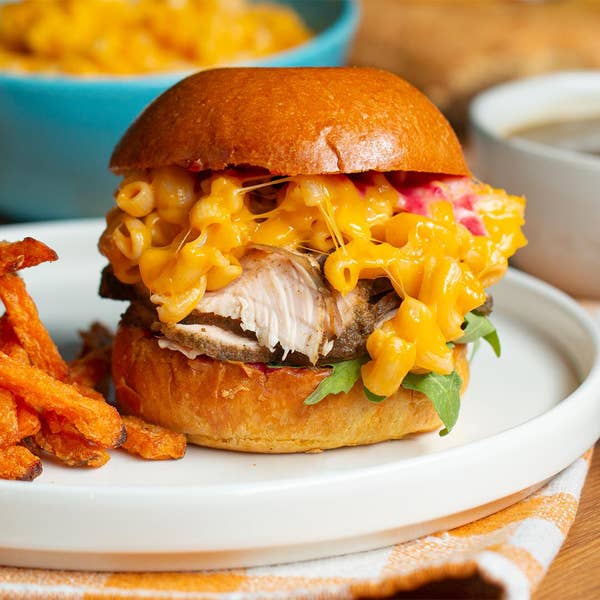 Total Time
1 hr 10 min
1 hr 10 min
Prep Time
15 minutes
15 min
Cook Time
45 minutes
45 min
Ingredients
for 4 servings
Dry-Rubbed Turkey Tenderloin
1 tablespoon onion powder
1 teaspoon garlic powder
1 tablespoon ground sage
1 tablespoon dried thyme
2 tablespoons packed light brown sugar
½ teaspoon ground nutmeg
2 teaspoons kosher salt
12 oz 2 turkey tenderloins

(360 mL)

1 tablespoon vegetable oil, divided
1 cup turkey stock

(240 mL)
Creamy Cranberry Sauce
1 cup fresh or frozen cranberries

(125 g)

2 orange peels
Juice of 1 orange
2 light brown sugars
1 sprig of fresh rosemary
½ cup cold water

(120 mL)

4 teaspoons mayonnaise
¼ teaspoon kosher salt
Jus
2 tablespoons unsalted butter
2 tablespoons all-purpose flour
3 cups Chicken or Turkey Stock

(720 mL)

1 teaspoon kosher salt
Assembly
4 brioche buns
4 tablespoons unsalted butter, softened, (1/2 stick)
2 cups arugula

(40 g)

1 ⅓ cups Prepared Mac 'n' Cheese

(265 g)

Sweet potato fry, for serving
Preparation
Make the turkey tenderloin: Preheat the oven to 375°F (190°C).
In a small bowl, mix together the onion powder, garlic powder, sage, thyme, brown sugar, nutmeg, and salt.
Using your hands, rub each turkey tenderloin with 1 teaspoon vegetable oil, then generously coat all over with the spice rub.
Heat the remaining tablespoon of oil in a 12-inch cast iron or oven-safe skillet over medium-high heat until it begins to shimmer. Add the turkey tenderloins to the skillet and sear for 3 minutes on each side, until golden brown. Remove the pan from heat and pour in the chicken stock.
Cover the pan tightly with foil and transfer to the oven. Bake for 20–25 minutes, or until the turkey is cooked through and a thermometer inserted into the thickest part of the tenderloin registers at least 165°F (74°C). Transfer the turkey from the pan to a cutting board, tent with foil, and let rest for at least 10 minutes, or until ready to serve. Leave any juices behind in the pan.
While the turkey roasts, make the creamy cranberry sauce: In a small saucepan, combine the cranberries, orange peels, orange juice, brown sugar, rosemary, and water. Bring to a boil over medium heat, then reduce the heat to medium-low and simmer for 8–10 minutes, until the cranberries have softened and burst and the liquid has thickened. Remove the pot from the heat and let cool for 10 minutes. Remove the orange peels and rosemary sprig and discard.
Transfer the cranberry mixture to a small food processor, along with the mayonnaise and salt. Pulse until smooth. Transfer to a small bowl and refrigerate until ready to use.
Make the jus: Return the skillet used to roast the turkey to the stove and melt the butter over medium heat. Add the flour and whisk to incorporate. Cook for 3–4 minutes, until bubbling and thickened. Add the chicken stock and bring to a boil, then reduce the heat to medium-low and simmer for 8–10 minutes, until thickened. Season with the salt
Set a fine-mesh sieve over a measuring cup or serving bowl and strain the jus to remove any solid bits.
When ready to serve, thinly slice the turkey against the grain.
Spread about ½ tablespoon of softened butter on each side of the brioche buns. Working in batches if needed, place the buns, buttered-side down, in a clean large skillet over medium heat and toast until the buns are golden brown, about 4 minutes.
Assemble the sandwiches: Spread 1–2 teaspoons of creamy cranberry sauce over each side of the buns. Place ½ cup arugula, 6 ounces turkey, and ⅓ cup mac 'n' cheese on each bottom bun and top with the top buns. Serve with sweet potato fries, more cranberry sauce, and the hot jus for dipping.
Enjoy!
Cook smarter, not harder. Use our AI chef Botatouille on the Tasty app. Download now.