The Best Ever Vegan Mac 'N' Cheese
Whether you're lactose intolerant or just looking to cut back on dairy, this creamy, dreamy mac stands up to the real thing. Made with velvety cashew milk and roasted garlic, you'll be going back for seconds and thirds.
February 27, 2020
Total Time
5 hr 40 min
5 hr 40 min
Prep Time
10 minutes
10 min
Cook Time
1 hr 30 min
1 hr 30 min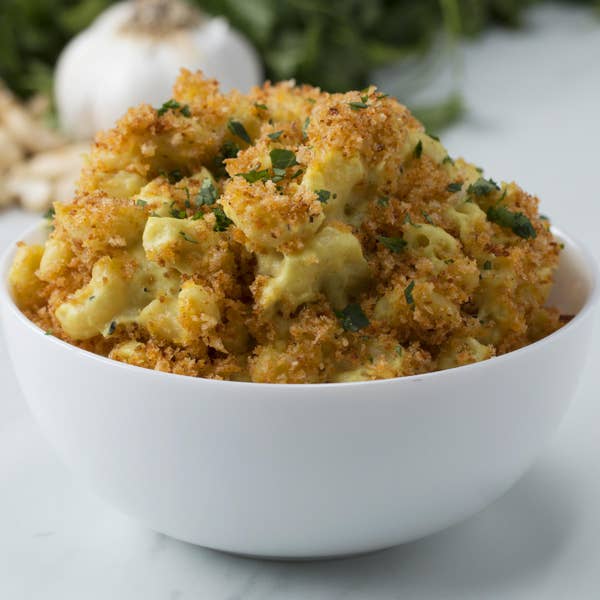 Total Time
5 hr 40 min
5 hr 40 min
Prep Time
10 minutes
10 min
Cook Time
1 hr 30 min
1 hr 30 min
Ingredients
for 6 servings
1 cup raw cashews

(130 g)

warm water, for soaking cashews
1 head garlic
5 tablespoons olive oil, divided
3 cups cold water

(720 mL)

1 ¼ cups panko breadcrumbs

(60 g)

½ teaspoon paprika
3 teaspoons kosher salt, divided
2 tablespoons vegan butter
3 cloves garlic, minced
3 tablespoons all-purpose flour
3 tablespoons nutritional yeast
2 teaspoons apple cider vinegar
¼ teaspoon ground turmeric
¾ teaspoon freshly ground black pepper
3 cups elbow pasta

(600 g)
Nutrition Info
Calories

615

Fat

23g

Carbs

83g

Fiber

4g

Sugar

4g

Protein

17g
Estimated values based on one serving size.
Preparation
Add the cashews to a medium bowl and cover with warm water by 1 inch (2 ½ cm). Soak for 3–4 hours, until the cashews are softened and plump, then drain.
While the cashews are soaking, make the roasted garlic: Preheat the oven to 400°F (200°C).
Cut off the top ½ inch (1 ¼ cm) of the head of garlic and drizzle the exposed cloves with 1 tablespoon olive oil. Replace the top of the head of garlic and wrap tightly in foil. Roast for 35–40 minutes, until the cloves are easily pierced with a fork. Unwrap the garlic and let cool completely. Once cooled, squeeze all of the cloves from their skins.
Add the soaked cashews, roasted garlic cloves, and cold water to a high-powered blender. Blend on high speed until completely smooth. 30–60 seconds. Set aside.
Heat 2 tablespoons of olive oil in a 12-inch (30 G) cast iron skillet over medium-high heat. When the oil is shimmering, add the panko, paprika, and 1 teaspoon of salt. Stir with a spatula to coat the bread crumbs in the oil. Toast, stirring frequently, for 3–5 minutes, until the bread crumbs are lightly golden brown. Transfer the bread crumbs to a bowl and set aside. Wipe out the skillet.
In the same skillet, melt together the vegan butter and remaining 2 tablespoons of olive oil. Add the minced garlic and sauté for 2–3 minutes, until fragrant but not browned. Whisk in the flour, making sure there are no clumps. Cook the roux for 3–4 minutes, whisking continuously, until the flour is golden in color and fragrant.
Add the blended cashew mixture to the skillet and whisk well to combine with the roux. Add the nutritional yeast, apple cider vinegar, turmeric, pepper, and the remaining 2 teaspoons of salt. Reduce the heat to medium-low and simmer the sauce for 2–3 minutes, until slightly thickened. It should be thick enough to coat the back of a spoon and pool when drizzled, but not so thick that it is gloppy. If the cheese sauce is too thick, add more water, 2 tablespoons at a time, until it reaches the desired consistency.
Add the elbow noodles to the sauce and toss until well coated.
Sprinkle the toasted bread crumbs on top of the pasta in an even layer.
Bake for 15–20 minutes, until the sauce is bubbling around the edges of the skillet and the bread crumbs are deep golden brown.
Garnish with fresh minced parsley and serve.
Enjoy!
Your favorite recipes are just a click away. Download the Tasty app to save and organize your favorites.