The Crispiest Fried Chicken
We tested dozens of different methods to fried chicken and we finally found what we think is the crispiest and juiciest version. The first step is to dry brine the chicken, which is a fancy way of saying to season it overnight. This process actually helps the meat retain its moisture while frying, making it extra juicy. The next step is the double-dredge method where you dip the chicken in seasoned flour, then in buttermilk, then back in the flour before frying to get those extra crackly bits. Let us know what you think!
July 26, 2021
Total Time
5 hr 15 min
5 hr 15 min
Prep Time
15 minutes
15 min
Cook Time
30 minutes
30 min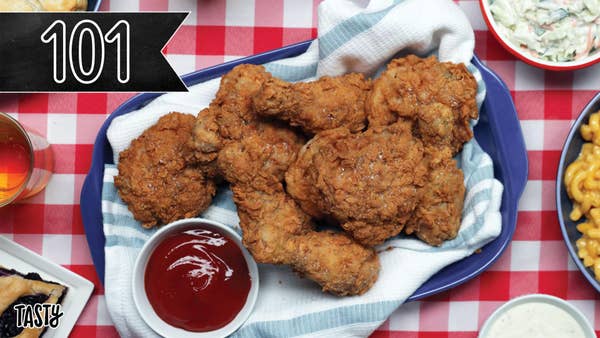 Total Time
5 hr 15 min
5 hr 15 min
Prep Time
15 minutes
15 min
Cook Time
30 minutes
30 min
Ingredients
for 4 servings
Dry Brine
1 tablespoon kosher salt
1 teaspoon freshly ground black pepper
1 teaspoon garlic powder
1 teaspoon onion powder
2 teaspoons lemon zest, about 1 lemon
8 bones in chicken pieces, (4 drumsticks and 4 thighs)
6 cups canola oil

(1.4 mL)

, for frying
Coating
2 cups all purpose flour

(250 g)

2 teaspoons baking powder
1 teaspoon onion powder
1 teaspoon garlic powder
1 ½ teaspoons kosher salt, plus more to taste
1 cup buttermilk

(240 mL)

2 large egg whites
2 tablespoons vodka
Preparation
Dry brine the chicken: In a small bowl, mix together the salt, black pepper, garlic powder, onion powder, and lemon zest.
Pat the chicken pieces dry with a paper towel and season with the salt mixture, evenly coating each piece.
Line a large resealable container with paper towels and add the seasoned chicken. Refrigerate uncovered for at least 4 hours, preferably overnight.
30 minutes before frying, remove the chicken from the refrigerator to bring to room temperature.
Add the canola oil to a large Dutch oven and heat over medium heat until the temperature reaches 350°F (180°C). Place a wire rack over a rimmed baking sheet and set nearby.
In a large bowl, whisk together the flour, baking powder, onion powder, garlic powder, and salt.
In a separate large bowl, whisk together the buttermilk, egg whites, and vodka.
Working with one piece at a time, coat the dry-brined chicken in the flour mixture, then in the buttermilk mixture, then again in the flour, shaking off any excess.
Add 2–3 pieces of chicken to the hot oil and fry for 7–10 minutes, flipping once, until the internal temperature reaches 165°F (75°C) and the exterior is golden brown and crispy. Remove from oil, transfer to the wire rack, and season with salt. Repeat with the remaining chicken.
Enjoy!
Don't just wing it -- plan it! Use our meal planner tool in the Tasty app. Download here.