The Easiest Way To Make Great BBQ Ribs
June 20, 2019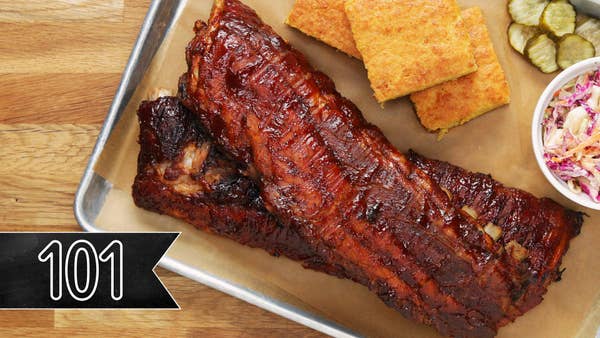 Ingredients
for 4 servings
Sauce
2 cups ketchup

(480 g)

½ cup brown sugar

(110 g)

¼ cup molasses

(85 g)

½ cup apple cider vinegar

(120 mL)

1 teaspoon worcestershire sauce
1 tablespoon kosher salt
2 teaspoons black pepper
2 teaspoons smoked paprika
Rub
½ cup dark brown sugar

(110 g)

3 tablespoons kosher salt
2 teaspoons black pepper
1 ½ tablespoons cumin
1 ½ tablespoons onion powder
1 ½ tablespoons paprika
1 ½ tablespoons cayenne
2 teaspoons ground mustard
1 ½ tablespoons garlic powder
4 lb baby back ribs

(2 kg)
Special Equipment
4 cups wood chips

(355 g)
Preparation
Make the smoke bombs: Add the wood chips to a bowl and cover with water. Let soak for 1 hour, then drain. Place 1 cup of the damp wood chips on a piece of aluminum foil and fold into a packet. Poke multiple holes in the top with a toothpick or fork. Repeat with the remaining wood chips, creating 4 packets total.
Make the sauce: Add the ketchup, brown sugar, molasses, apple cider vinegar, Worcestershire, salt, pepper, and smoked paprika to a small pot over medium heat, whisking to combine. Once the sauce begins to boil, reduce heat to low and simmer for 15 minutes. Remove from the heat and let cool to room temperature.
Make the rub: In a medium bowl, whisk together the brown sugar, salt, pepper, cumin, onion powder, paprika, cayenne, ground mustard, and garlic powder.
On a large cutting board, pat the ribs dry with paper towels. If necessary, remove the membrane on the bone-side of the ribs by using a paring knife to gently loosen and pulling it up in one sheet.
Generously season the ribs all over with the dry rub.
Wrap the ribs in aluminum foil until completely covered.
Preheat the grill to 300°F (150°C) with the lid closed.
Place the foil-wrapped ribs over indirect heat and close the lid. Cook for 2½ hours, until the meat is tender and starting to pull away from the bone, flipping every 30 minutes.
Remove the ribs from the grill and let rest for 10 minutes. Meanwhile, carefully remove the grates and place the smoke bombs over the flames. Close the lid and let smoke build up for 10 minutes.
Unwrap the ribs and discard the foil.
Baste one side of the ribs with the sauce and place directly on the grill, sauce side down. Baste the other side, now facing up. Continue to flip and baste every 5 minutes for 15 minutes total.
Remove the ribs from the grill and serve with extra barbecue sauce.
Enjoy!