The Sweetest Pasta You'll Ever Eat
Use your leftover pasta to make dessert! This Croatian dessert pasta, called stonska torta, features tube-like noodles, such as ziti or penne, tossed in a mixture of ground nuts, and grated chocolate, all wrapped up in a pastry dough and topped with fresh berries.
March 29, 2020
Total Time
2 hr 55 min
2 hr 55 min
Prep Time
20 minutes
20 min
Cook Time
2 hr 20 min
2 hr 20 min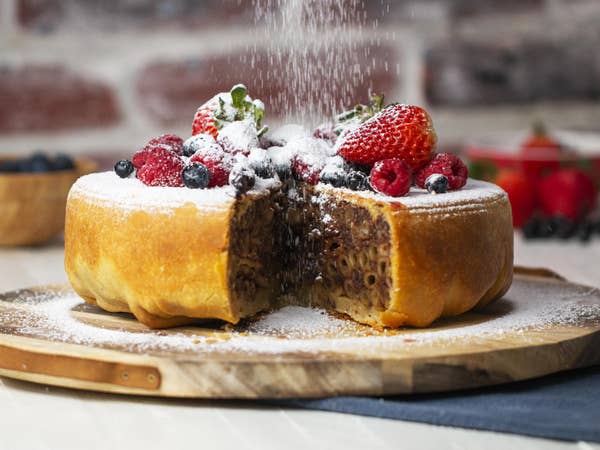 Total Time
2 hr 55 min
2 hr 55 min
Prep Time
20 minutes
20 min
Cook Time
2 hr 20 min
2 hr 20 min
Ingredients
for 10 servings
Dough
3 cups all purpose flour

(375 g)

, plus more for dusting
1 teaspoon kosher salt
⅓ cup olive oil

(80 mL)

1 tablespoon apple cider vinegar
2 large eggs
¼ cup cold water

(60 mL)

, plus more as needed
Filling
2 cups raw almonds

(280 g)

1 ½ cups raw walnut

(150 g)

1 cup granulated sugar

(200 g)

2 teaspoons ground cinnamon
4 oz bakers chocolate

(115 g)

, finely grated
1 lb ziti pasta

(455 g)

, or penne pasta, cooked until al dente and cooled
1 tablespoon olive oil
1 lemon, zested
lemon, juiced
2 tablespoons dark spiced rum
6 large eggs
2 teaspoons vanilla extract
8 tablespoons unsalted butter, softened, cut into small pieces
2 tablespoons unsalted butter, melted
nonstick cooking spray
Topping
2 tablespoons powdered sugar
½ cup blueberry

(75 g)

½ cup raspberry

(60 g)

½ cup strawberry

(75 g)
Nutrition Info
Calories

964

Fat

61g

Carbs

83g

Fiber

14g

Sugar

26g

Protein

25g
Estimated values based on one serving size.
Preparation
Make the dough: In a large bowl, stir together the flour and salt.
In a medium bowl or liquid measuring cup, whisk together the olive oil, apple cider vinegar, and eggs.
Make a well in the center of the dry ingredients and pour in the wet ingredients, along with ¼ cup (60 ml) cold water. Mix together with a spoon or spatula until well combined. Add more cold water as needed, 1 tablespoon at a time, until the dough begins to come together.
Use your hands to knead the dough in the bowl until most floury bits are incorporated. Turn the dough out onto a clean surface and knead for 1–2 minutes, until smooth and supple. Return to the bowl and cover with plastic wrap. Let rest for 30 minutes.
While the dough rests, make the filling: Add the almonds and walnuts to a food processor and blend until finely ground. Transfer to a large bowl.
Add the granulated sugar, cinnamon, and grated chocolate to the bowl with the ground nuts and mix well.
In a separate large bowl, toss the cooked ziti with the olive oil, lemon zest, lemon juice, and rum until well coated.
In a medium bowl, whisk together the eggs and vanilla until smooth.
Preheat the oven to 350˚F (180˚C).
On a lightly floured surface, roll out the dough to a 24-inch circle, about ¹⁄₁₆-inch thick.
Lightly grease a 10-inch springform pan with nonstick spray and dust with flour.
Center the dough over the pan, making sure there is equal overhang on all sides. Press the dough against the bottom and sides of the pan so it lays flush, working gently so the dough doesn't tear.
Sprinkle about ⅓ of the nut mixture over the dough in an even layer. Top with ½ of the pasta, then another ⅓ of the nut mixture. Dollop 4 tablespoons of softened butter all over the nut mixture. Repeat to make another layer with the remaining pasta, nuts, and butter.
Pour the beaten egg mixture over everything, making sure it seeps down through the pasta layers. Press down with a spatula to release any air pockets. Fold the overhanging dough over the filling. Brush the top with the melted butter.
Bake for 70 minutes, until the crust is golden brown. Remove from the oven and let cool for 15 minutes.
Invert the stonska torta onto a cutting board or serving platter. Release the springform, then remove the ring and bottom of the pan.
Dust powdered sugar on top and garnish with the blueberries, raspberries, and strawberries. Slice and serve.
Enjoy!
Don't let a good recipe slip away. Download the Tasty app and save your favorites for easy access.