Turrón De Doña Pepa
Turrón de Doña Pepa was created to celebrate mes morado, or purple month, in Peru. It's colorful, flavorful, and packed with crunchy sprinkles, making it the perfect dessert for any celebration!
September 19, 2021
Total Time
2 hr 10 min
2 hr 10 min
Prep Time
1 hr 15 min
1 hr 15 min
Cook Time
25 minutes
25 min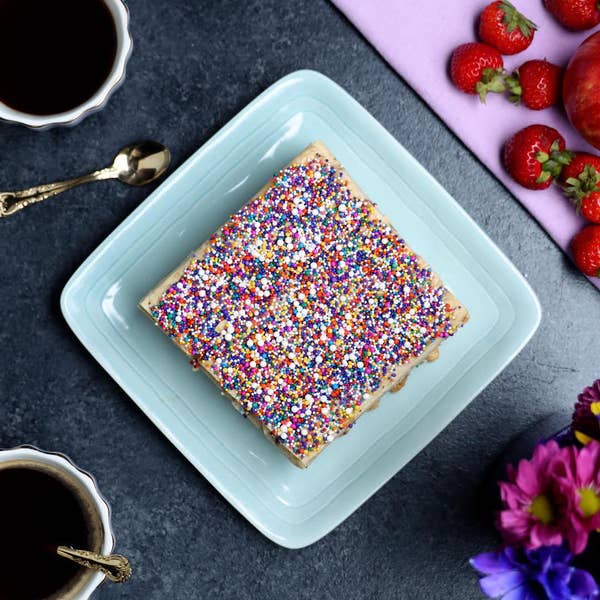 Total Time
2 hr 10 min
2 hr 10 min
Prep Time
1 hr 15 min
1 hr 15 min
Cook Time
25 minutes
25 min
Ingredients
for 12 servings
Cookies
1 tablespoon whole anise seeds, divided, plus 3 teaspoons
1 teaspoon whole annatto seeds
1 cup boiling water

(240 mL)

½ teaspoon vanilla extract
2 teaspoons sesame seeds
4 cups all purpose flour

(500 g)

2 teaspoons kosher salt
1 teaspoon baking powder
1 stick unsalted butter, softened
½ cup vegetable shortening

(120 mL)

3 large egg yolks
nonstick cooking spray, for greasing
½ cup multi-colored sprinkles

(85 g)
Syrup
6 large strawberries
2 small red apples, quartered
1 small pineapple, chopped
1 large orange, cut in half
4 cups water

(960 mL)

3 star anises
6 whole cinnamon sticks
2 ½ cups granulated sugar

(500 g)

1 cup chancaca sugar

(200 g)
Preparation
Make the cookies: In a medium heat-proof bowl, whisk together 1 tablespoon anise seeds, the annatto seeds, and boiling water. Steep for 30 minutes, then strain the anise tea, discarding the solids. Stir in the vanilla. Refrigerate until ready to use.
In a medium skillet over medium-high heat, toast the remaining 3 teaspoons of anise seeds and the sesame seeds until fragrant, about 3 minutes. Pour the toasted spices onto a clean surface and use a rolling pin or small heavy-bottomed pan to gently crush the seeds into a coarse powder.
In a large bowl, whisk together the crushed seeds, flour, salt, and baking powder.
In a separate large bowl, use a fork to mash together the butter and shortening until well combined. Add the egg yolks and continue mixing until smooth. Add the flour mixture and use a wooden spoon or your fingertips to mix until the mixture resembles coarse sand. Slowly drizzle in the anise tea, mixing between additions until the dough is smooth, but not tacky. Wrap the dough in plastic wrap and refrigerate for 30 minutes.
Preheat the oven to 350°F (180°C). Line 2 baking sheets with parchment paper and lightly grease with nonstick spray.
Remove the dough from the refrigerator and divide into 27 pieces. Roll each piece into a 6-inch-long log and place on the prepared baking sheets, spacing about ½ inch apart.
Bake the cookies until hardened and light golden, about 25 minutes. Let cool completely.
Make the syrup: In a large pot, combine the strawberries, apples, pineapple, orange, water, star anise pods, and cinnamon sticks. Bring the mixture to a boil over medium-high heat and cook until the fruit softens and begins to break apart. Strain the mixture, discarding the solids.
Return the fruit water to the pot and add the granulated and chancaca sugars. Bring to a boil over medium-high heat and cook until mixture turns thick and syrupy, about 15 minutes. Remove the pot from the heat.
Assemble the turrón: Use a sharp knife to shave the edges and tops of the cookies to create a flat layer, reserving the crumbs.
Arrange 6 cookies side-by-side on a sheet of parchment paper. Fill in any gaps between the cookies with the reserved crumbs. Pour ¾ cup of syrup over the cookies, spreading evenly with a spatula. Repeat with the remaining cookies, alternating directions, and syrup to make 3 more layers. Spread the sprinkles evenly across the top. Trim the edges of the turrón into an even square.
Cut the excess parchment paper from around the turrón, then transfer to a serving platter. Cut into 12 pieces.
Enjoy!
Cook smarter, not harder. Use our AI chef Botatouille on the Tasty app. Download now.