Ultimate Lasagna As Made By Joe Sasto
Chef Joe Sasto shares the most important dish on his holiday table: a beautifully layered lasagna. When you're assembling your lasagna, don't worry about trimming any overlapping edges of your handmade pasta. These pieces will turn to crispy golden perfection during baking. Your family might just fight over them.
January 08, 2020
Total Time
9 hr 5 min
9 hr 5 min
Prep Time
55 minutes
55 min
Cook Time
4 hr 25 min
4 hr 25 min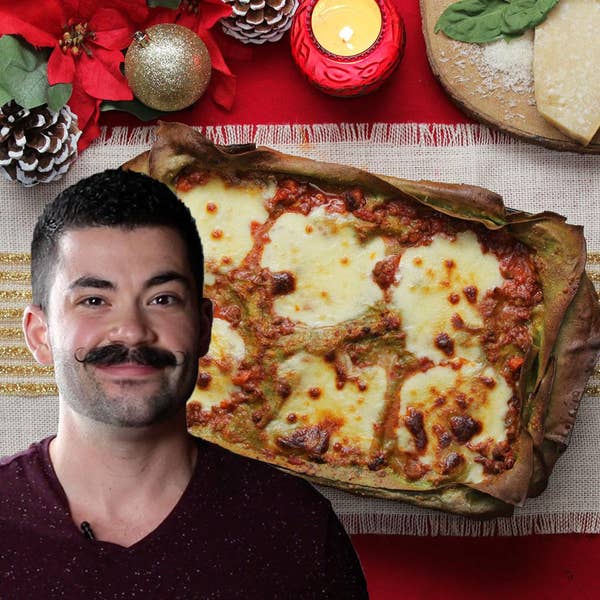 Total Time
9 hr 5 min
9 hr 5 min
Prep Time
55 minutes
55 min
Cook Time
4 hr 25 min
4 hr 25 min
Ingredients
for 8 servings
Pasta Dough
3 cups flour

(400 g)

, plus 1 1/2 teaspoon and more for dusting
¼ cup spinach powder

(30 g)

, plus 1 tablespoon
¼ teaspoon kosher salt
14 large egg yolks
2 large eggs
water, room temperature
semolina flour, for dusting
Bechamel
3 tablespoons unsalted butter
¼ cup yellow onion

(35 g)

, finely chopped
¼ cup all purpose flour

(30 g)

4 cups whole milk

(960 mL)

½ teaspoon kosher salt
½ teaspoon white pepper
⅛ teaspoon nutmeg, freshly grated
Meat Gravy
1 tablespoon vegetable oil
6 tablespoons unsalted butter
½ cup yellow onion

(75 g)

, chopped
8 cloves garlic, finely chopped
⅔ cup carrot

(80 g)

, chopped
⅔ cup celery

(150 g)

, chopped
1 ½ teaspoons kosher salt, plus more to taste
½ teaspoon freshly ground black pepper, plus more to taste
1 lb ground beef, 80/20
water, as needed
1 cup whole milk

(240 g)

⅛ teaspoon nutmeg, freshly grated
1 cup dry white wine

(240 mL)

4 cups crushed tomato

(800 g)
Lasagna Assembly
nonstick cooking spray, for greasing
kosher salt, for cooking pasta
2 cups grated parmesan cheese

(220 g)

2 cups shredded mozzarella cheese

(200 g)

1 ball mozzarella cheese, sliced
fresh basil leaf, for garnish
Nutrition Info
Calories

1151

Fat

64g

Carbs

73g

Fiber

15g

Sugar

15g

Protein

66g
Estimated values based on one serving size.
Preparation
Make the pasta dough: In a large bowl, whisk together the 00 flour, spinach powder, and salt. Transfer to a clean surface and make a large well in the center. Add the egg yolks and eggs and mix with a fork, slowly incorporating the flour with egg mixture until a loose dough begins to form.
Once all of the flour has been incorporated, knead the dough by hand for 20 minutes, until stiff. Depending on the size of the eggs, a few tablespoons of water or a light dusting of flour may be needed to bring the dough together.
Wrap the dough in plastic wrap and let rest at room temperature for 2 hours.
Lightly dust the dough with flour and roll out to a long oval. Divide the oval in half and wrap one portion in plastic wrap. With the other portion, using the pasta roller attachment on a stand mixer, laminate and roll out the dough to setting #5. Repeat with the remaining dough.
Cut sheets of dough to fit a 9 x 13-inch (22 x 33 cm) baking pan. Dust semolina between each sheet to prevent sticking.
Make the bechamel: In a medium saucepan, melt the butter over medium heat. Add the onion and cook for 5 minutes, until translucent.
Add the flour and continue to cook, stirring constantly, for about 4 minutes, until golden brown and fragrant. Slowly stream in the milk, whisking continuously. simmer for 2-3 minutes, until the sauce thickens.
Season with the salt, pepper, and nutmeg to
Remove the pot from the heat and let the sauce cool to room temperature.
Make the meat gravy: Add the vegetable oil, butter, and onion to a large pot over medium heat. Cook, stirring occasionally, until the onion is translucent, 5 minutes. Add the garlic, celery and carrot and cook for about 4 minutes, stirring the vegetables to coat in the butter until fragrant. Season with the salt and pepper.
Add the ground beef. Break up the meat very well, then season with more salt. Cook until the beef has lost its raw, red color, 4–5 minutes. Add water as needed to help the beef break down.
Increase heat to medium-high. Add the milk and simmer, stirring frequently, until it has bubbled away slightly, 15–20 minutes. Add the nutmeg and stir to combine. Add the wine and simmer until it has slightly evaporated, 10–15 minutes.
Add the tomatoes and stir thoroughly. When the tomatoes begin to bubble, reduce the heat to low to maintain a simmer. Cook, uncovered, for 2 hours or more, stirring often until the tomatoes have reduced slightly, and the fat has separated on the top. Remove the pot from the heat, season with salt and pepper to taste, and let cool.
Preheat the oven to 350°F (180°C). Line a baking sheet with parchment paper and grease with nonstick spray.
Assemble the lasagna: Bring a large pot of salted water to a boil. Prepare an ice bath in a large bowl and set nearby.
Working in batches, blanch the pasta sheets in the boiling water for 30–60 seconds, then transfer to the ice bath to stop the cooking process. Immediately transfer to the prepared baking sheet. Separate each pasta sheet with nonstick spray and parchment paper.
Begin layering the lasagna in a 9 x 13-inch (22 x 33 cm) baking dish, starting with the meat gravy, then pasta, then bechamel, Parmesan cheese, gravy, shredded mozzarella, and more pasta. Repeat with the remaining ingredients, then finish with a layer of sliced mozzarella
Bake the lasagna for 45–60 minutes, or until the cheese is melted and bubbly. Turn the oven to broil and cook until the cheese on top is golden brown, 1–2 minutes.
Let rest for 15–30 minutes before serving.
Top with fresh basil, then slice and serve.
Enjoy!
Busy? Plan your meals for the week using our exclusive meal planner tool in the Tasty app. Download now and get organized.