Valentine's Day Pancakes
Indulge in decadent red velvet pancakes this Valentine's Day. Fluffy pancakes are stacked velvety cream cheese icing and drizzled with sweet and tangy strawberry sauce and melted chocolate for a dish that is guaranteed to wow any special person in your life.
January 18, 2021
Total Time
1 hr 5 min
1 hr 5 min
Cook Time
40 minutes
40 min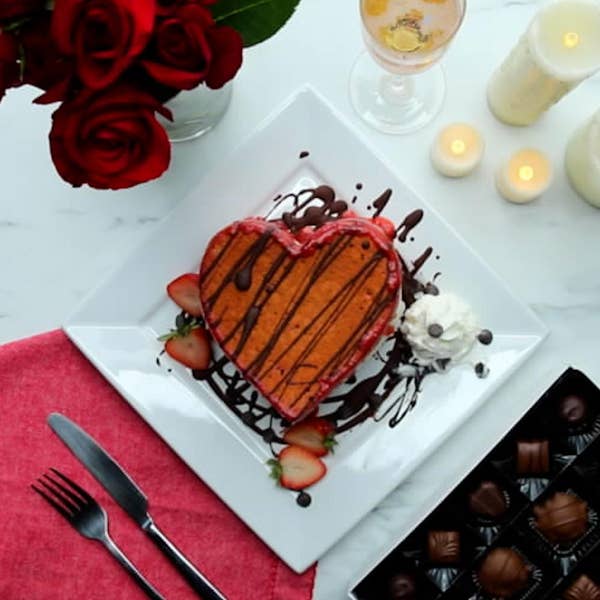 Total Time
1 hr 5 min
1 hr 5 min
Cook Time
40 minutes
40 min
Ingredients
for 2 servings
Strawberry Sauce
½ lb strawberry

(225 g)

, stemmed and diced
¼ cup granulated sugar

(25 g)

1 tablespoon lemon juice
Cream Cheese Filling
4 cups powdered sugar

(440 g)

8 oz cream cheese

(225 g)

, room temperature
1 stick unsalted butter, room temperature
½ cup heavy cream

(120 mL)

1 teaspoon McCormick® vanilla extract
Red Velvet Pancakes
2 ½ cups all purpose flour

(310 g)

1 ½ tablespoons cocoa powder
3 tablespoons granulated sugar
2 teaspoons kosher salt
1 teaspoon baking powder
1 teaspoon baking soda
2 ½ cups buttermilk

(600 mL)

1 tablespoon white vinegar
2 large eggs, yolks and whites seperated
1 teaspoon McCormick® vanilla extract
1 stick unsalted butter, melted and cooled
1 ½ tablespoons McCormick® Red Food Coloring
nonstick cooking spray, for greasing
Chocolate Sauce
8 oz 60% dark chocolate

(225 g)

, roughly chopped
For Serving
whipped cream
chocolate chip
4 strawberries, halved lengthwise
Special Equipment
heart shaped cookie cutter, 6 in (15 cm)
Preparation
Make the strawberry sauce: Add the strawberries, sugar, and lemon juice to a small saucepan and bring to a boil over medium-high heat. Reduce the heat to medium-low and simmer for 10–15 minutes, until thickened. Transfer to a liquid measuring cup or medium bowl and let cool to room temperature.
Once cooled, purée the strawberry mixture with an immersion or standing blender until smooth. Set aside.
Make the cream cheese filling: In a large bowl, combine the powdered sugar, cream cheese, butter, cream, and vanilla. Beat with an electric hand mixer on medium speed until completely smooth, about 3 minutes. Transfer the filling to a piping bag and cut an opening about 1 inch (3 centimeters) from the tip. Chill in the refrigerator until ready to use.
Make the red velvet pancakes: In a large bowl, sift together the flour, cocoa powder, granulated sugar, salt, baking powder, and baking soda.
In a medium bowl, mix together the buttermilk and vinegar and let sit for 2 minutes. Add the egg yolks, vanilla, melted butter, and red food coloring and mix until well combined.
Whisk the wet ingredients into the dry ingredients.
In a large bowl, whip the egg whites with an electric hand mixer until stiff peaks form, 3–5 minutes, being careful not to overmix.
Gently fold the egg whites into the batter. Let sit at room temperature for 5 minutes.
Preheat the oven to 250°F (120°C). Set a wire rack over a baking sheet.
Heat a large nonstick skillet over medium-low heat. Place a 6-inch heart-shaped cookie cutter in the center of the pan and spray the inside with nonstick spray. Scoop pancake batter into the mold, filling halfway up. Cover the pan and cook until bubbles form all over the surface and the pancake doesn't jiggle too much, 6–8 minutes. Uncover the pan and, using a wide spatula, carefully and quickly flip the mold. Cover and cook the pancake for another 3–4 minutes. Remove the pancake and mold from the pan, set the pancake on the wire rack to cool, and repeat with the remaining batter. If any batter leaks out of the mold while cooking, simply use a knife or kitchen scissors to trim off the excess once the pancakes have cooled a bit.
Transfer the pancakes to the oven to keep warm until ready to serve.
Make the chocolate sauce: In a medium microwave-safe bowl, melt the chocolate in 30-second intervals on medium power, stirring between, until melted and smooth.
When ready to serve, drizzle some of the chocolate sauce onto 2 serving plates. Set a pancake in the center of each plate and pipe the cream cheese filling on top. Continue stacking, alternating between the pancakes and filling, with 3 pancakes per plate. Drizzle the top pancakes with more chocolate sauce. Using a piping bag or spoon, drizzle the strawberry sauce around the top edges and down the sides of the pancake stacks. Decorate the plates with whipped cream, chocolate chips, and strawberries.
Enjoy!
Don't let a good recipe slip away. Download the Tasty app and save your favorites for easy access.