Western Omelet
Looking for an omelet that's a bit less fussy and a little easier to make? Or maybe you're looking for a breakfast loaded with delicious fillings? This golden-brown-on-the-outside and flavorful-on-the-inside, American-style omelet is the one for you.
March 23, 2021
Total Time
20 minutes
20 min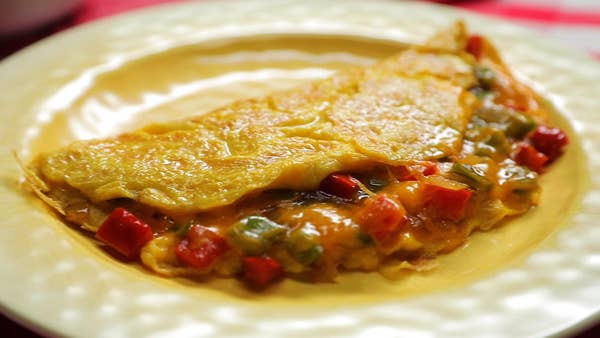 Total Time
20 minutes
20 min
Ingredients
for 1 serving
4 large eggs
⅛ teaspoon kosher salt, plus more to taste
2 teaspoons water
2 tablespoons unsalted butter, divided
¼ cup yellow onion

(35 g)

, diced
¼ cup green bell pepper

(25 g)

, diced
¼ cup red bell pepper

(25 g)

, diced
⅓ cup deli ham

(40 g)

, diced into 1/2 in (1/4 cm) cubes
½ cup shredded cheddar cheese

(50 g)
Preparation
Add the eggs, ⅛ teaspoon salt, and the water to a medium bowl. Use a wire whisk or fork to beat until the whites and the yolks are completely combined, with no spots of egg white remaining. The mixture should flow off the whisk evenly. Let sit at room temperature for 10–15 minutes.
Melt 1 tablespoon of butter in a 9- or 10-inch nonstick skillet over medium heat. Add the onion and green and red peppers, season with salt, and cook until softened, about 5 minutes. Add the ham and cook until browned, 2–3 minutes. Transfer the vegetable mixture to a bowl.
Wipe the skillet clean, then add the remaining tablespoon of butter and melt over medium-high heat. Cook until the butter starts to brown, then pour in the egg mixture. As the eggs start to set, use a rubber spatula to push from the edges toward the center of the pan. Tilt the pan as needed to let the uncooked eggs run under the cooked eggs. Continue until the eggs are mostly set, about 1 minute. The top should still look wet, but not runny.
Remove the pan from heat and sprinkle the vegetable mixture and cheese over half of the omelet. Cover the pan with a lid and let sit for 1–2 minutes, until the cheese is melted and the omelet looks fluffy and cooked through.
Run a rubber spatula around the edge of the pan to loosen the omelet. Gently fold in half, then slide onto a serving plate. Serve immediately.
Enjoy!
Don't just wing it -- plan it! Use our meal planner tool in the Tasty app. Download here.