Whipped Feta Dip With Marinated Tomatoes
August 14, 2023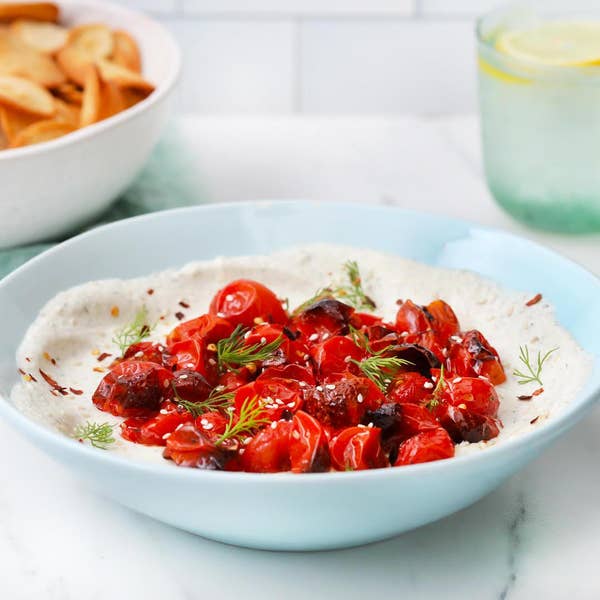 Ingredients
for 6 servings
1 container Simple Truth™ Organic Grape Tomatoes
1 tablespoon Simple Truth™ Organic Olive Oil
2 teaspoons kosher salt, divided
4 oz feta crumbles

(110 g)

1 clove garlic, smashed
⅓ cup Simple Truth™ Organic Sour Cream

(80 g)

⅓ cup Simple Truth™ Organic Whole Milk Greek yogurt

(80 g)

½ Simple Truth™ Organic Lemon, zested
½ Simple Truth™ Organic Lemon, juiced
1 tablespoon Simple Truth™ Organic Dill, plus more for garnish
2 teaspoons Simple Truth™ Organic Oregano Leaves
1 tablespoon Simple Truth™ Organic Sesame Seeds, for garnish
1 teaspoon Simple Truth™ Organic Red Pepper Flakes, for garnish
1 bag Simple Truth™ Sea Salt Pita Crisps
This recipe isn't available to shop.
Unfortunately, not all our recipes can be shopped through Tasty.
Preparation
Preheat the oven to 450°F (230°C). Line a baking sheet with foil.
Spread the Simple Truth™ Grape Tomatoes on the prepared baking sheet and toss with the olive oil and 1 teaspoon salt.
Roast the tomatoes for 15–18 minutes, or until lightly charred and softened.
While tomatoes roast, make the whipped feta dip: In a blender or food processor, combine the feta, garlic, sour cream, Greek yogurt, Simple Truth™ Organic Lemon zest and juice, dill, oregano, and remaining teaspoon of salt. Puree until smooth.
Spread the whipped feta dip in a shallow bowl. Pile the roasted tomatoes in the center, drizzling over any extra olive oil from roasting. Garnish with a few sprigs of dill, the sesame seeds, and red pepper flakes. Serve with Simple Truth™ Sea Salt Pita Crisps for dipping.
Enjoy!