Winter Vegetable Gratin
November 04, 2021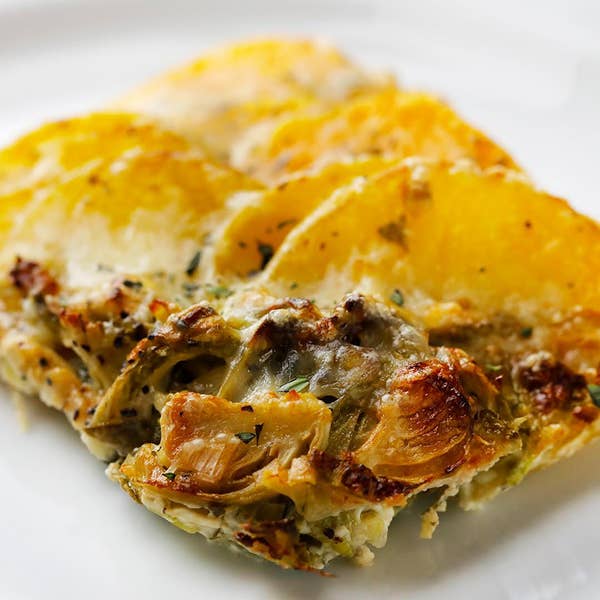 Ingredients
for 6 servings
1 lb parsnip

(425 g)

, peeled
1 lb butternut squash

(425 g)

, neck only, peeled
1 lb Yukon Gold potatoes

(425 g)

, scrubbed
½ lb Kroger Brand Brussels Sprouts

(55 g)

, stemmed
2 ½ cups heavy cream

(600 mL)

, divided
6 oz parmesan cheese

(175 g)

, finely grated
1 ½ teaspoons fresh thyme, divided
1 teaspoon kosher salt, plus more to taste
1 teaspoon freshly ground black pepper, plus more to taste
1 tablespoon unsalted butter
2 cloves garlic, minced
1 large leek, white part only, finely chopped
3 oz gruyère cheese

(85 g)

, finely grated
This recipe isn't available to shop.
Unfortunately, not all our recipes can be shopped through Tasty.
Preparation
Preheat the oven to 400°F (200°C).
Thinly slice the parsnips, butternut squash, potatoes, and Kroger Brand Brussels Sprouts on a mandoline or with a very sharp knife. Transfer each vegetable to a separate medium bowl.
Add ½ cup cream, 1 ounce Parmesan cheese, 1 teaspoon thyme, ½ teaspoon salt, and ¼ teaspoon pepper to each bowl, and toss until the vegetables are well coated.
Grease a 3-quart baking dish on all sides with the butter. Pour the remaining ½ cup cream into the bottom of the baking dish. Stir in the garlic and leek until evenly distributed, then sprinkle with 1 ounce of Parmesan.
Arrange the sliced vegetable in the baking dish, alternating between vegetables, by stacking a few slices together and fanning out at an angle in the dish. Continue arranging in rows until the dish is filled, tucking smaller slices into any gaps. Sprinkle more salt and pepper and the remaining ounce of Parmesan over the top.
Cover the dish with foil, then bake for 25 minutes. Uncover and bake for another 20 minutes, or until the vegetables are tender and the sauce has thickened. Cover again with foil if the top is browning too quickly.
Remove the gratin from the oven and top with the Gruyère cheese.
Turn the oven to broil. Return the gratin to the oven and broil for 3–5 minutes, or until browned and bubbling on top. Remove from the oven and let sit for 5–10 minutes.
Before serving, sprinkle with the remaining ½ teaspoon of thyme.
Enjoy!