Zucchini Cheddar Muffins
June 10, 2019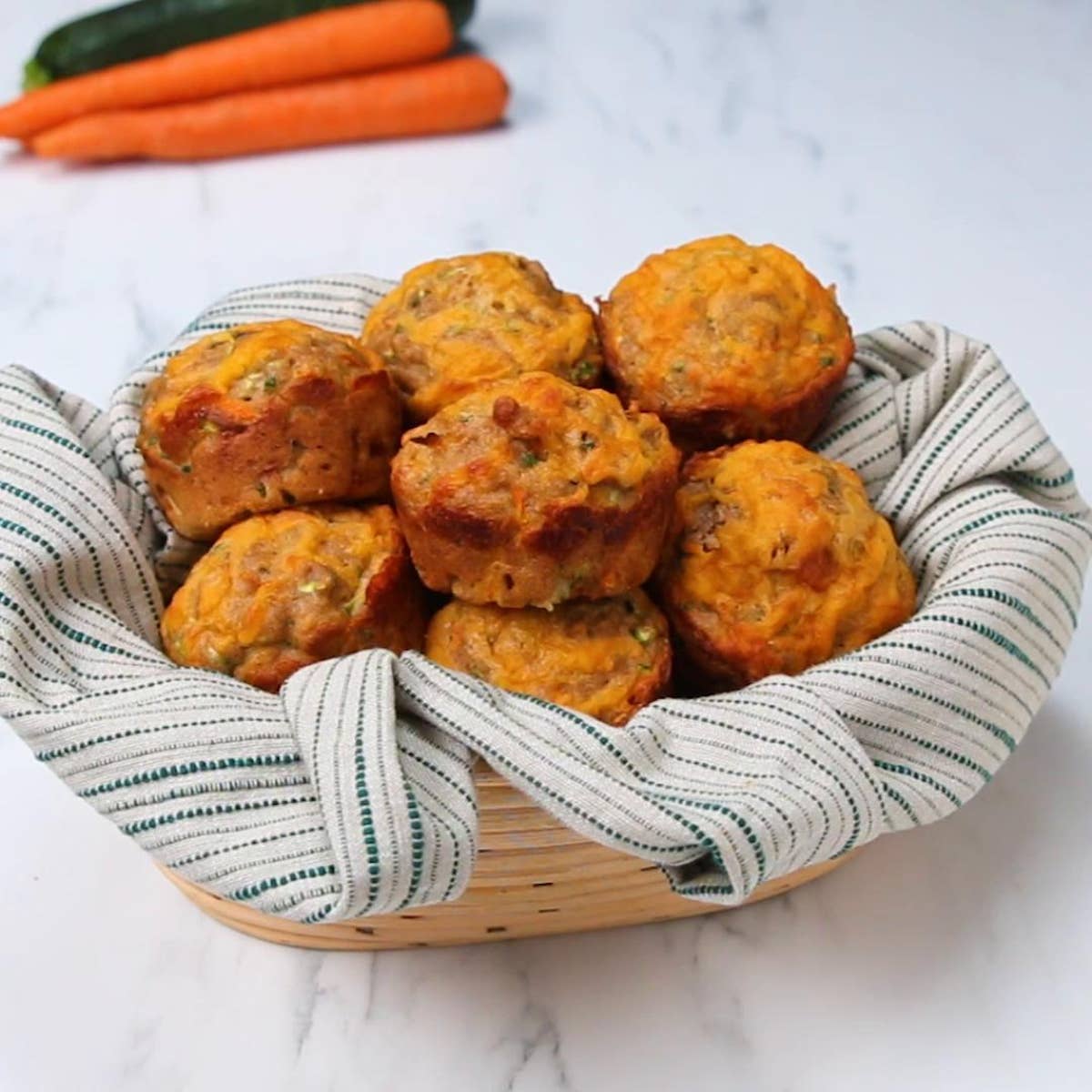 Ingredients
for 12 muffins
nonstick cooking spray, for greasing
2 cups whole wheat flour

(260 g)

1 teaspoon baking powder
½ teaspoon baking soda
1 teaspoon kosher salt
1 teaspoon black pepper
1 pinch sugar
3 large eggs
1 cup buttermilk

(240 mL)

, 1 cup (240 ml) milk mixed with 1 teaspoon white vinegar
5 tablespoons unsalted butter, or olive oil
1 cup zucchini

(150 g)

, shredded
1 cup carrot

(110 g)

, shredded
1 cup shredded cheddar cheese

(100 g)

, plus more for topping
¼ cup chives

(10 g)

, thinly sliced
Nutrition Info
Calories

201

Fat

10g

Carbs

20g

Fiber

3g

Sugar

2g

Protein

8g
Estimated values based on one serving size.
Preparation
Preheat the oven to 350˚F (180˚C). Grease a 12-cup muffin tin with nonstick spray.
Make the batter: In a large bowl, stir together the whole wheat flour, baking powder, baking soda, salt, pepper, and sugar. Set aside.
In a medium bowl, whisk together the eggs, buttermilk, and butter.
Add the zucchini, carrot, cheddar cheese, and chives the egg mixture and stir to combine.
Pour the egg mixture into the dry ingredients and fold to combine, being careful not to overmix.
Using an ice cream scoop, divide the batter between the muffin cups, filling almost completely.
Sprinkle more cheddar cheese on top of the muffins.
Bake for 18 minutes, rotating the muffin tin halfway through baking, until browned on top and a toothpick inserted in the center of a muffin comes out clean.
Let cool for 10 minutes before removing the muffins from the tin. Serve or store in the refrigerator for up to 5 days.
Enjoy!
Nutrition, per muffin - Calories: 182, Total fat: 10 grams, Sodium: 433 mg, Total carbs: 17 grams, Dietary fiber: 3 grams, Sugars: 2 grams, Protein: 7 grams
Ingredients
for 12 muffins
nonstick cooking spray, for greasing
2 cups whole wheat flour

(260 g)

1 teaspoon baking powder
½ teaspoon baking soda
1 teaspoon kosher salt
1 teaspoon black pepper
1 pinch sugar
3 large eggs
1 cup buttermilk

(240 mL)

, 1 cup (240 ml) milk mixed with 1 teaspoon white vinegar
5 tablespoons unsalted butter, or olive oil
1 cup zucchini

(150 g)

, shredded
1 cup carrot

(110 g)

, shredded
1 cup shredded cheddar cheese

(100 g)

, plus more for topping
¼ cup chives

(10 g)

, thinly sliced
Nutrition Info
Calories

201

Fat

10g

Carbs

20g

Fiber

3g

Sugar

2g

Protein

8g
Estimated values based on one serving size.
Preparation
Preheat the oven to 350˚F (180˚C). Grease a 12-cup muffin tin with nonstick spray.
Make the batter: In a large bowl, stir together the whole wheat flour, baking powder, baking soda, salt, pepper, and sugar. Set aside.
In a medium bowl, whisk together the eggs, buttermilk, and butter.
Add the zucchini, carrot, cheddar cheese, and chives the egg mixture and stir to combine.
Pour the egg mixture into the dry ingredients and fold to combine, being careful not to overmix.
Using an ice cream scoop, divide the batter between the muffin cups, filling almost completely.
Sprinkle more cheddar cheese on top of the muffins.
Bake for 18 minutes, rotating the muffin tin halfway through baking, until browned on top and a toothpick inserted in the center of a muffin comes out clean.
Let cool for 10 minutes before removing the muffins from the tin. Serve or store in the refrigerator for up to 5 days.
Enjoy!
Nutrition, per muffin - Calories: 182, Total fat: 10 grams, Sodium: 433 mg, Total carbs: 17 grams, Dietary fiber: 3 grams, Sugars: 2 grams, Protein: 7 grams