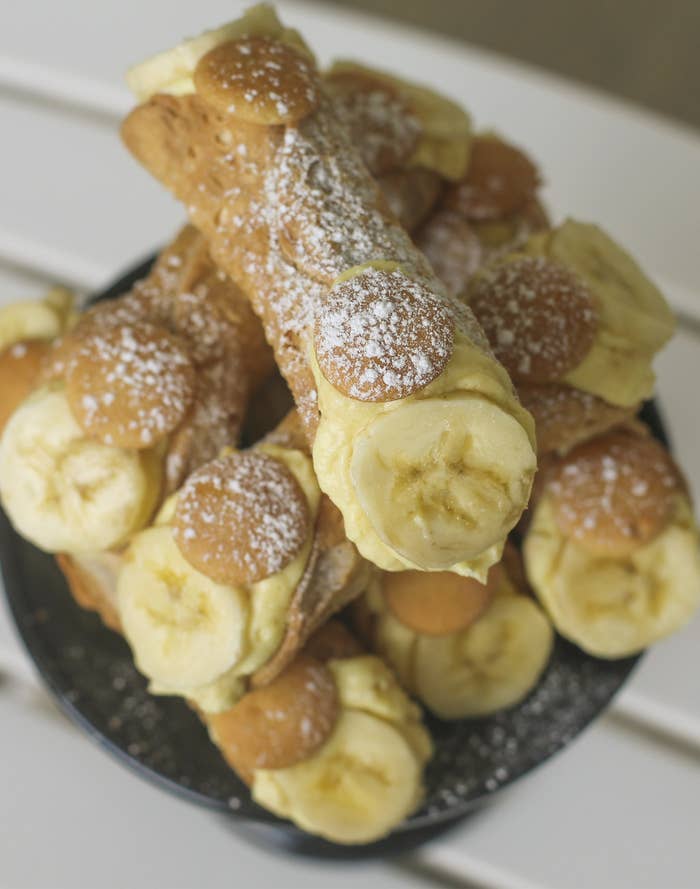 I know it sounds like I'm over-selling this one, but trust me when I say: You have not lived until you've bitten into a fried shell lined with sweet banana slices and filled with wafer crumb-studded, instant-pudding flavored ricotta cream. The bannoli will change you, and that change will be for the better.
Banana Pudding Cannoli AKA "Bannoli"
Recipe by Christine Byrne
Makes 8 Bannolis
INGREDIENTS
3/4 cup heavy cream
3/4 cup whole milk
1 3.4-ounce package vanilla instant pudding mix
1 cup ricotta cheese
2 large bananas
1 cup mini vanilla wafers, divided
8 large cannoli shells
1/4cup powdered sugar, for dusting
PREPARATION
1. In a medium mixing bowl, beat heavy cream, milk and pudding mix with a hand mixer on medium speed, until the mixture is thick and gelatinous and the pudding mix is completely dissolved, about 2 minutes. Add ricotta and mix on medium speed until there are no lumps and the mixture is smooth, about 1 minute more.
2. Set aside 12 mini vanilla wafers, and crush the rest to the consistency of tiny pebbles. (To do this, you can put them in sealed plastic bag and whack at them with the back of a wooden spoon.) Add the crushed vanilla wafers to the ricotta pudding mixture, and fold everything together with a rubber spatula until the wafer crumbs are spread evenly throughout.
3. Slice the two bananas into at least 32 slices total (so, 16 slices per banana — you'll need four slices of banana for each bannoli) and lay 2 slices of banana inside each cannoli shell, along the bottom of the opening.
4. Use the rubber spatula to transfer the pudding mixture to a large pastry bag (no need to use a pastry tip. Cut a dime-sized hole in the top of the pastry bag. Pipe the filling into the cannoli shells from both ends, on top of the banana slices, so that each shell is completely filled.
5. When all of the bannolis are filled, put one banana slice topped with a vanilla wafer at each end of the bannolis, where the cream is bursting out of the shell. Dust with powdered sugar, and serve.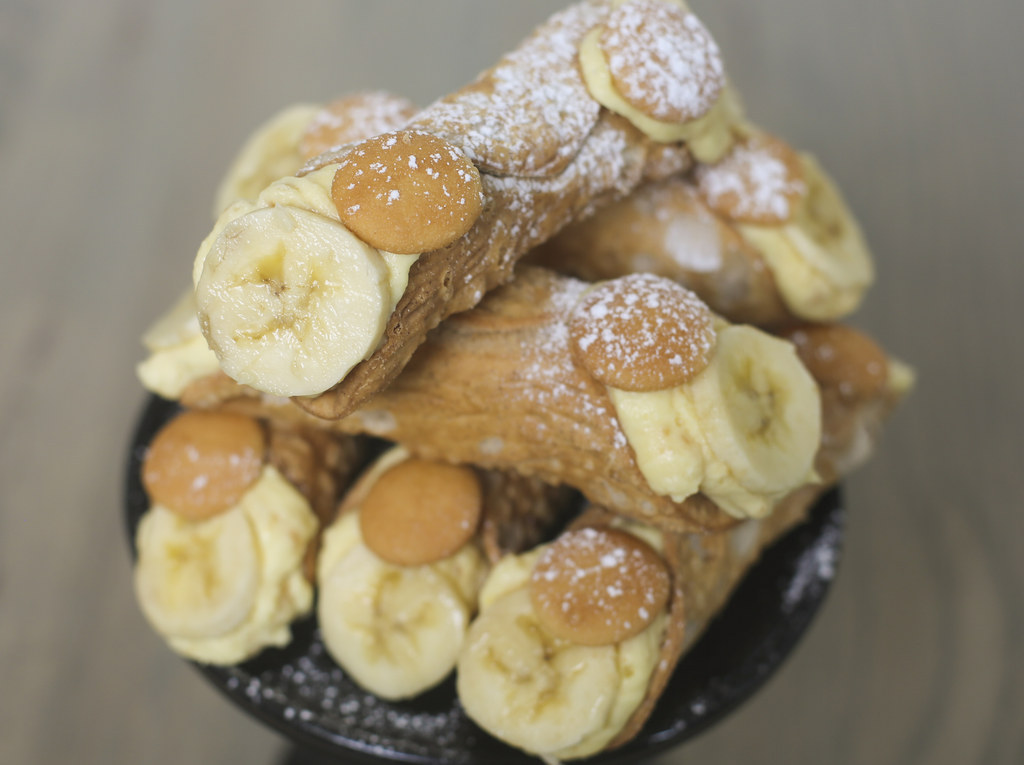 This recipe is one of the delicious contestants in an epic three-day Mix & Mash-Up food tournament happening this week on Good Morning America.