How To Make The Best Garlicky Smashed Potatoes
Leave the potato skins on for extra texture, and add roasted garlic for a little zing. To learn more about how to make mashed potatoes exactly the way you like, click here.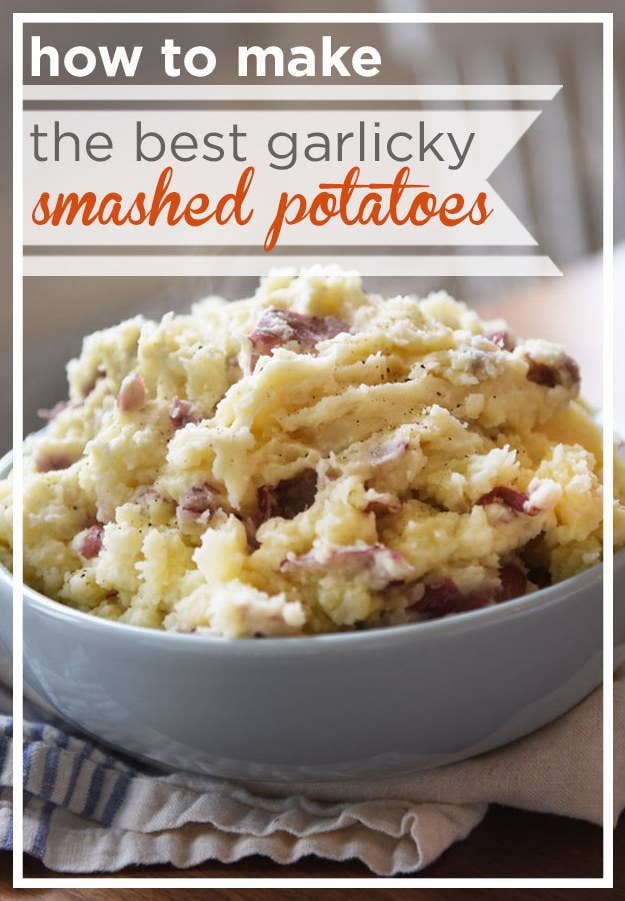 Here are the ingredients you'll need: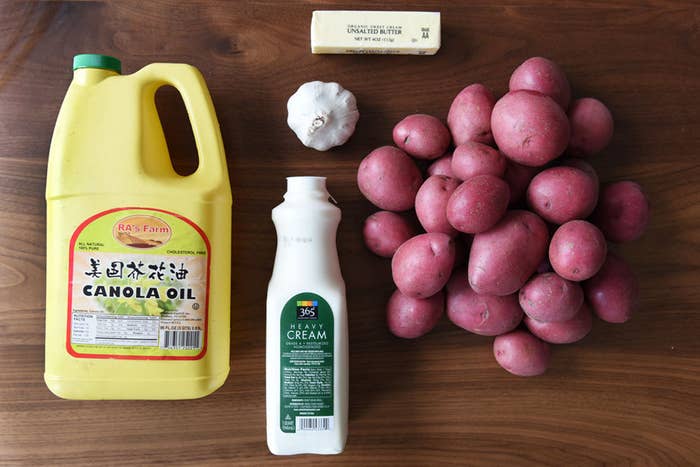 Here is the equipment you'll need: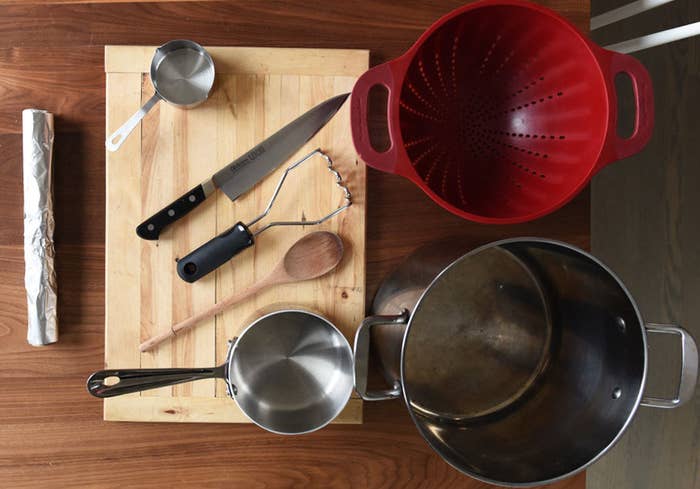 Garlicky Smashed Potatoes
Recipe by Christine Byrne
Serves 10
INGREDIENTS
1 head garlic
1 teaspoon canola oil
½ cup unsalted butter, cut in ½-inch cubes
5 red bliss potatoes, washed
1 cup cream
kosher salt and freshly ground pepper
PROCEDURE
Preheat oven to 400°F. Cut the top off of the head of garlic so that the top of the cloves are exposed, and peel away the outermost layer of papery skin. Place on a square of aluminum foil, drizzle with canola oil, and sprinkle with kosher salt and freshly ground pepper. Wrap tightly in aluminum foil and roast about 45 minutes, top side-up, until soft. Let the garlic cool slightly, still wrapped in foil, until it's cool enough to handle. Squeeze the soft, roasted garlic out of the skin and mix with a fork until paste-like.
Meanwhile, fill a large pot about halfway with cold water. Chop them into rough 1-inch cubes, putting the cubes straight into the water as you chop (this will prevent browning). DO NOT PEEL THE POTATOES. When all the potato cubes are in the pot, they should be covered by about an inch of water; add water or pour some out, as needed, then stir in 2 tablespoons of kosher salt.
Bring to a boil over high heat, then reduce the heat to medium and simmer the potatoes until they are tender and mash easily with a fork, about 15-20 minutes. Drain the potatoes, shaking off any excess water, then return them to the pot and cook over very low heat for 2 minutes, just to dry them out completely.
While the potatoes are drying, heat cream in a small sauce pot over medium heat until it is heated through and just starting to simmer, 1-2 minutes.
Remove the pot of potatoes from the heat, and add cubed butter, mashed roasted garlic, a tablespoon of kosher salt, and some freshly ground pepper. Mash with a potato masher, scraping the sides of the pot often, until the potatoes are lightly mashed but still pretty chunky. Add the warm cream mixture and stir everything together with a wooden spoon.
Serve immediately.