How To Make Spaghetti Scallion Pancakes
Or, "How To Make Spaghetti You Can Eat With Your Hands." Check out more easy spaghetti dinners here.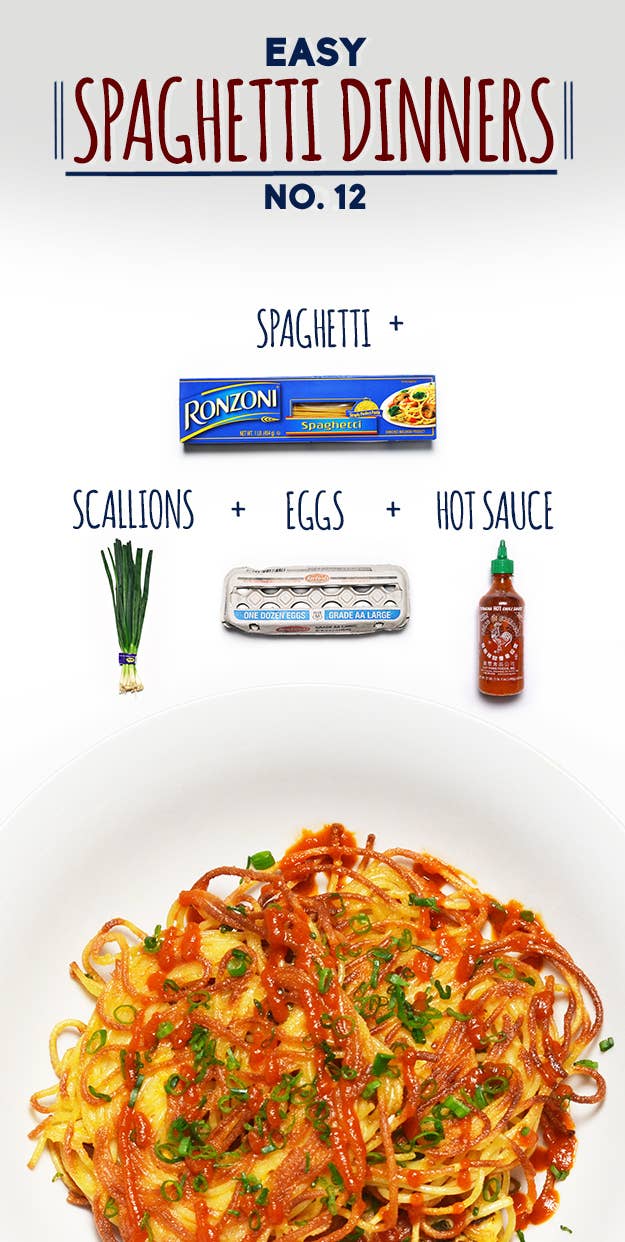 Spaghetti Scallion Pancakes with Hot Sauce
Serves 4
Recipe by Rebekah Peppler
INGREDIENTS
1 lb spaghetti
2 bunches scallions, green part only
4 eggs, beaten
2 tablespoons hot sauce
Neutral oil (such as canola)
kosher salt and freshly ground pepper, to taste
PREPARATION
Cook spaghetti according to package directions, until al dente. Drain through a colander.
Thinly slice 1 tablespoon scallion greens and reserve for garnish, then slice the remaining scallion greens into ½-inch pieces. Combine the cooked spaghetti, 4 eggs, 2 tablespoons hot sauce, scallion pieces, salt and pepper in a large mixing bowl.
In a large skillet over medium heat, heat 3 tablespoons neutral oil (like canola) until hot but not smoking. To test heat, drop a small piece of spaghetti in. If it immediately starts to sizzle and bubble, the oil is hot enough. If the spaghetti immediately starts to turn a dark brown, the oil is too hot. Use your hands to form a flat, 4-inch round out the spaghetti mixture. Add the spaghetti pancake to the hot oil, reshaping it with a spatula in the skillet if it starts to spread too much. Cook, 3 minutes on each side, until golden brown and crisp on both sides. Remove finished pancakes from the skillet and drain on a paper towel-lined plate, then season with salt and pepper on both sides. Repeat until all of the spaghetti mixture has been used, adding more oil when needed.
To serve, garnish with thinly sliced scallions and additional hot sauce.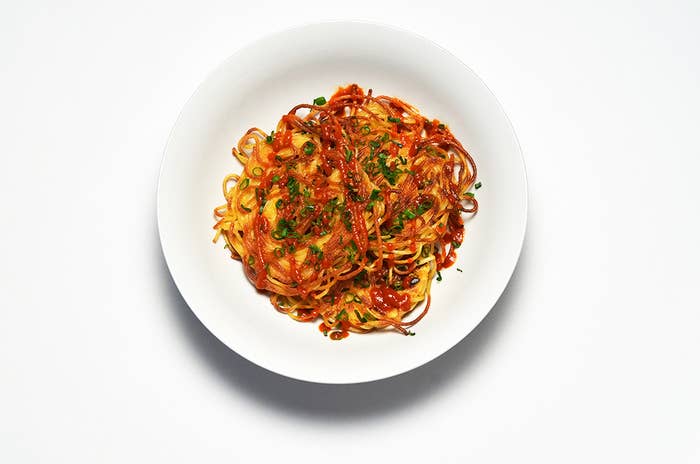 For this recipe, you'll need a 12-inch skillet and a large pot to cook the pasta.