How To Make Spaghetti With Herbed Ricotta And Garlic
So easy, you'll kick yourself for never having tried this before. Check out more easy spaghetti dinners here.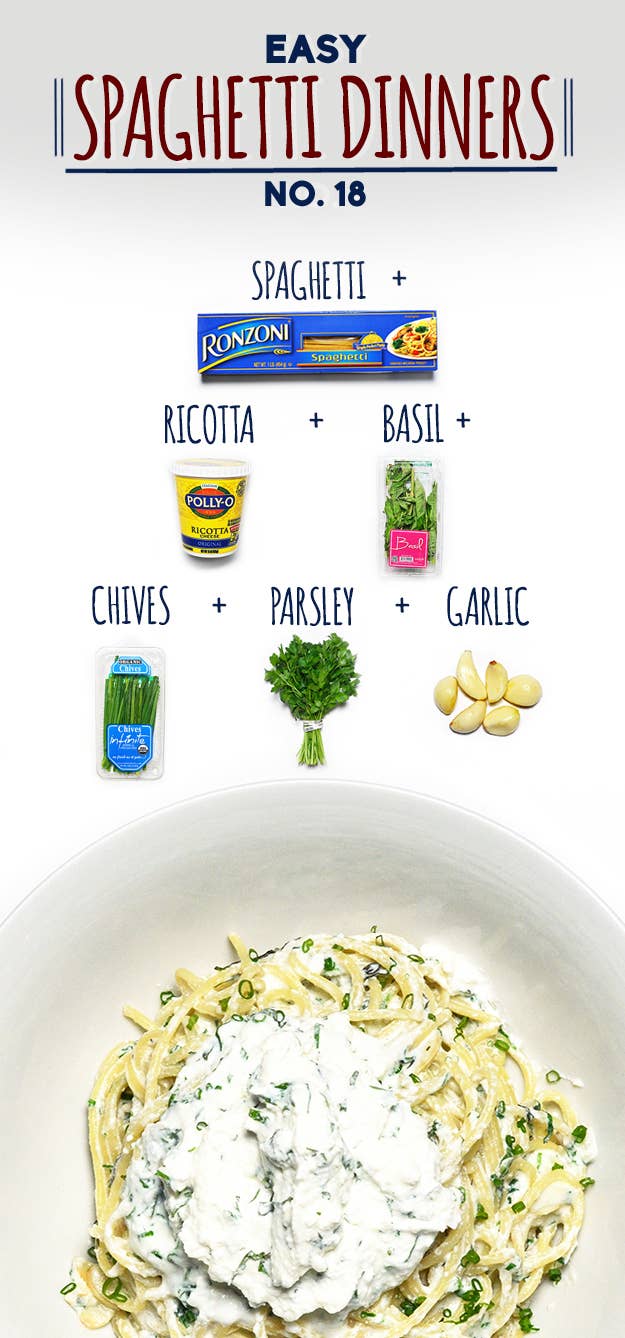 Spaghetti with Herbed Ricotta and Garlic
Serves 4
Recipe by Rebekah Peppler
INGREDIENTS
1 lb spaghetti
5 cloves garlic
1/2 cup basil leaves
1/2 cup parsley leaves
1 small bunch chives (about 1/2 cup, chopped)
2 cups ricotta cheese
1 tablespoon olive oil
kosher salt and freshly ground pepper, to taste
PREPARATION
Cook spaghetti according to package directions, until al dente. Drain through a colander, reserving about a cup of the pasta water.
Thinly slice garlic cloves, and set aside. Slice basil leaves into thin ribbons, and coarsely chop chives and parsley. In a medium mixing bowl, combine the chopped herbs and the ricotta, and mix to combine.
In a large skillet, heat olive oil over medium-low heat, and add sliced garlic. Cook for 2 minutes, until garlic is soft, then add the cooked pasta, 1 1/2 cups of the herbed ricotta, and ¼ cup of the reserved pasta water. Toss together and season with salt and pepper. Continue to heat, tossing occasionally, until the cheese has melted and a sauce has formed.
Transfer to a serving bowl and dollop with the remaining 1/2 cup ricotta.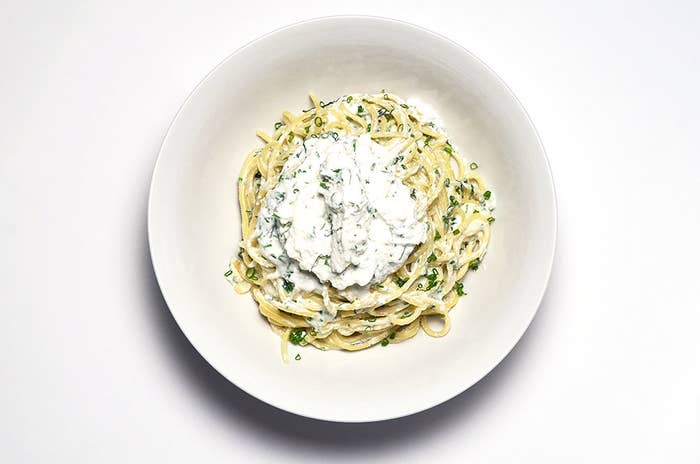 For this recipe, you'll need a 12-inch skillet and a large pot to cook the pasta.