How To Make Slow-Cooker Short Rib Hash
Restaurant-level brunch without having to change out of your pajamas.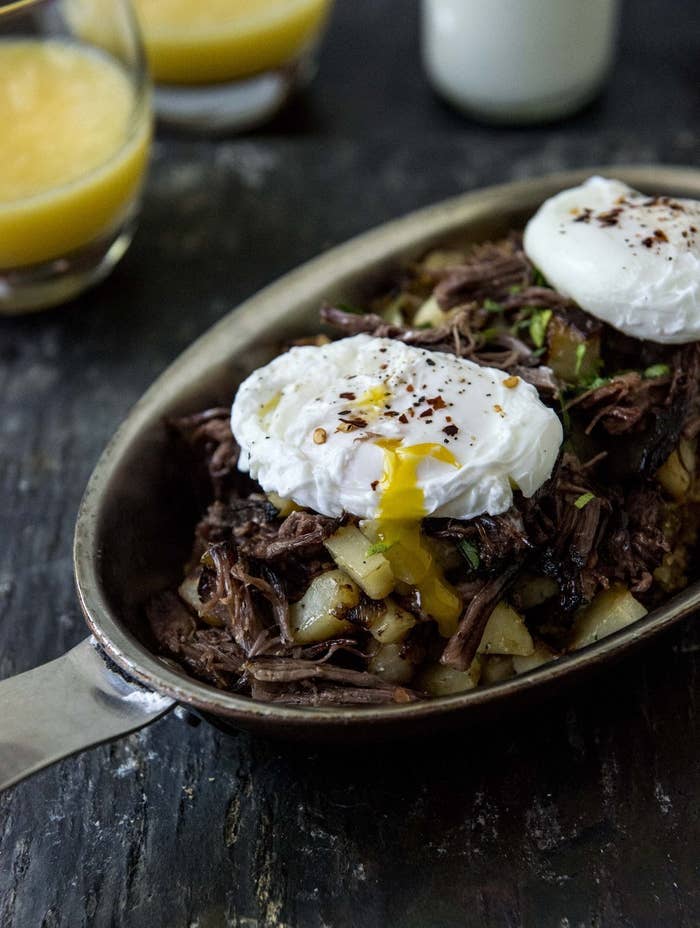 Slow Cooker Short Rib Hash
Recipe by Jessica Merchant
Serves 4
INGREDIENTS
Short Ribs:
21⁄2 pounds beef short ribs
1 teaspoon salt
1 teaspoon freshly ground black pepper
1⁄2 teaspoon onion powder
1⁄4 teaspoon garlic powder
1 tablespoon canola oil
1 cup low-sodium beef stock (or beer!)
Hash:
4 slices bacon, chopped
1 sweet yellow onion, diced
1⁄2 green bell pepper, diced
2 garlic cloves, minced
4 Yukon gold potatoes, chopped
1⁄4 teaspoon salt
1⁄4 teaspoon freshly ground black pepper
4 to 8 large eggs
1⁄4 teaspoon crushed red pepper flakes
1 tablespoon chopped fresh herbs
(basil, parsley, oregano, or your choice)
PREPARATION
For the ribs, season the ribs with the salt, pepper, onion powder, and garlic powder. Heat a large skillet over high heat and add the oil. Add the ribs to the skillet and sear until golden on all sides, 1 to 2 minutes per side. Remove the ribs from the skillet and add them to a 7-quart slow cooker. Add the stock and cook the ribs on low for 8 hours, turning once or twice if you can. Once the ribs are finished, remove from the slow cooker and place them on a plate. Allow them to cool to the touch, then shred the beef and discard the bones and fat.
For the hash, heat a large skillet over medium heat and add the bacon. Cook until it's crispy and the fat has rendered, then remove the bacon with a slotted spoon and allow it to drain on a paper towel. Add the onions and peppers to the same skillet and toss to coat. Cook, stirring, until the onions begin to soften, 5 minutes. Add the garlic, potatoes, salt, and pepper and stir. Cover the skillet and cook until the potatoes are tender and slightly crispy, 10 minutes, tossing once or twice while cooking. Once the potatoes are tender, add the bacon and beef to the skillet and toss to mix. Turn the heat down to low and cover.
Cook the eggs to your liking and sprinkle them with the crushed red pepper flakes. To serve the hash, spoon the beef and potatoes onto a plate and add an egg on top. Garnish with a bit of chopped herbs.
Reprinted with permission from the publisher Houghton Mifflin Harcourt from Seriously Delish by Jessica Merchant. Copyright 2014.
For more creative recipes that everyone will love, check out Seriously Delish.