Here's A Burger Stuffed With Pimento Cheese And Fried Like A Corn Dog
A ~very~ important culinary innovation: The Pimento Cheeseburger Corn Dog.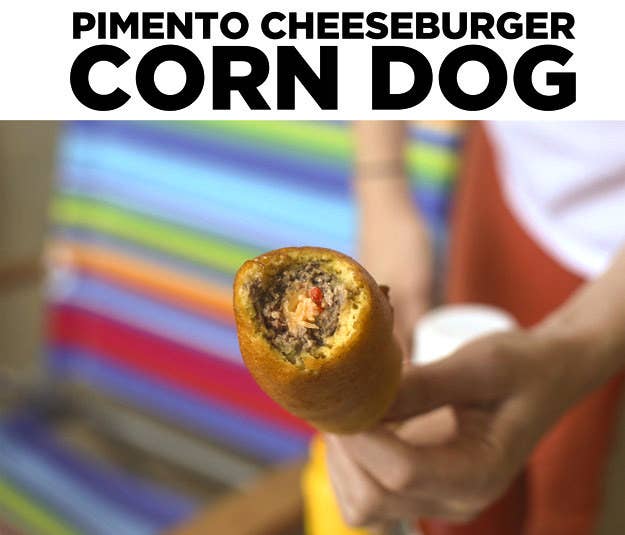 I am not going to lie to you. These were not easy to make. We had to tweak and retest the recipe several times to get it to work. When you do it, the batter might seem too thick. The popsicles sticks won't want to stay in your meat; you'll have to be careful and deliberate as you dip and fry. The first few dogs may not be pretty. But if your goal is to achieve culinary greatness by way of a burger patty stuffed with pimento cheese then battered and fried like a corn dog with all that gorgeously puffy, bready state fair magic, then this is your path. Go boldly.
PIMENTO CHEESEBURGER CORNDOGS
Makes 6 corndogs
INGREDIENTS
For the batter
1 ½ cups yellow cornmeal
1 ¼ cups all-purpose flour
¼ cup sugar
1 tablespoon baking powder
¼ teaspoon salt
1 egg, beaten
1 cup buttermilk
1 cup whole milk
1 tablespoon vegetable oil
1 tablespoon honey
For pimento cheese-burgers
1 gallon vegetable oil, for frying
1 pound ground chuck (15-20 percent fat content), chilled
1 ¼ teaspoons kosher salt
¼ teaspoon freshly ground pepper
1 egg, beaten
½ cup pimento cheese
Special equipment
Deep fryer
Deep try thermometer
6 popsicle sticks or other thick wooden sticks to skewer cheeseburger corndogs
PREPARATION
Set aside about 2 tablespoons of vegetable oil (for searing beef later on) then pour the gallon of vegetable oil into a deep fryer or large heavy pot and heat it to 350°F.
For the batter: In a large bowl, combine cornmeal, flour, sugar, baking powder and salt. Stir to mix with a fork, then add the beaten egg, buttermilk, milk, oil, and honey. Stir with a wooden spoon until combined.
For the corndogs: Mix ground chuck, egg, salt, and pepper in a medium mixing bowl and mix until evenly combined. Divide the meat beef mixture into 6 equal portions.
On a large tray or baking sheet, flatten each portion of meat into a rectangle roughly 3 inches wide, 4 inches long, and ½-inch thick. Spoon a tablespoon of pimento cheese onto each rectangle and shape it into a straight, thin line down the middle of the rectangle, leaving about ¼ inch at each end. Roll the rectangles of meat into hot dog-shaped tubes so the pimento cheese is in the middle, and pinch at the ends. Be sure that none of the cheese is visible.
Heat 2 tablespoons canola oil a large skillet over high heat. When the oil is almost smoking, turn the heat down to medium-high, and lay the shaped patties down in the skillet, making sure they're not touching. Cook, without touching, until the underside of the meat is completely cooked and starting to brown, about 3 minutes. Flip the patties and cook until the meat is cooked through, about 3 minutes. Transfer cooked patties to a paper towel-lined plate, and refrigerate for 15 minutes.
Fill a large cup ¾ of the way with cornmeal batter. (The cup should be at least 5-inches tall and wide enough to easily dip the meat sticks into it.)
When the cooked meat sticks have cooled slightly, skewer each with a popsicle stick through the center, being sure to leave at least 2 inches of the stick hanging out at the end.
When you are ready to fry, set your cup of cornmeal batter near the fryer. Line a baking sheet with paper towels to set the cheeseburger corndogs on when they are finished frying.
Dip a cheeseburger corndog into the cup of batter, holding it by the end of the popsicle stick and coating it completely with batter. Dip the battered cheeseburger corndog immediately into the fryer, submerging the dog completely but still holding the popsicle stick with your hand. Fry, spinning it occasionally, until the dog is a deep golden brown evenly. Transfer to the paper towel-lined tray, and repeat the process with the remaining cheeseburger corndogs, refilling the cup with batter as it empties.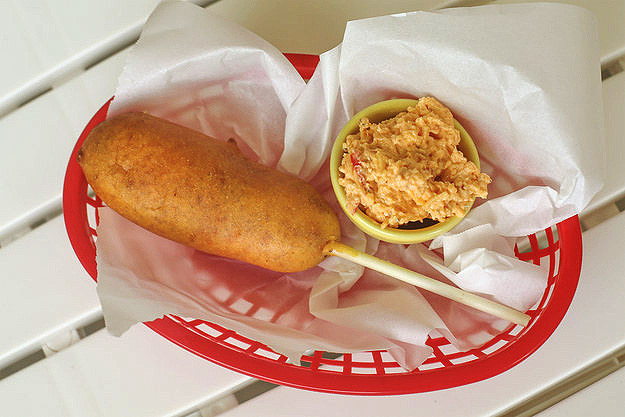 This recipe is one of the delicious contestants in an epic three-day Mix & Mash-Up food tournament happening this week on Good Morning America.