The Essential Wedding Registry List For Your Kitchen
The basics you absolutely need — and what brand, and what size — then some next-level things you might just want.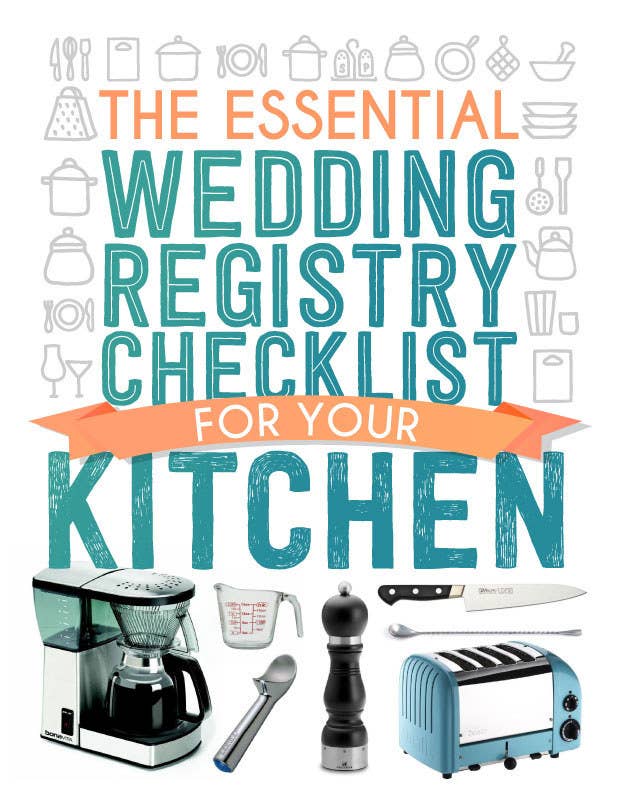 Congratulations! Mazel Tov! You're getting married!
By now you know that getting engaged mean you're instantly bombarded by annoying logistics, and one of them is setting up your wedding registry. With this, I can help!
Where should you register?
I recommend registering at Williams-Sonoma and Amazon for kitchen equipment (or Bed, Bath, and Beyond if the prices at Williams-Sonoma offend you). But Williams-Sonoma has the best selection of high-quality kitchen equipment — Amazon has the few essential cool things that Williams-Sonoma does not — and now is the time to treat yourself to pots and pans that will last a lifetime.
Williams-Sonoma does sell a lot of overpriced, useless things like stainless-steel monogrammed salt and pepper mills that are, for some reason, electric. You will not find those things on my list. The suggestions I have made below are not a waste of money. (And one huge plus with Williams-Sonoma, you can return for credit at West Elm or Pottery Barn).
There are also categories of things you might want on your registry that aren't covered in this post: bedding, bathroom, dinnerware, home decor, luggage. Most of these items are a matter of style, so you might register at Crate & Barrel if you like clean modern design or at Bloomingdales if you want fancy name brands. I've included a master list of all those things at the bottom of this post, but won't go into them or brand recommendations in detail.
Do you need all the stuff in this post?
NO. This post is divided up into BASICS that everyone needs and then after that, NEXT-LEVEL stuff you might want, depending on your interests. Maybe you're thinking you don't really want a lot of cooking stuff, you're registering for it because that's what people do. OR maybe you cook for yourself and host dinner parties occasionally, but you'd like to do those things more often, and you think it would help if you had more/better stuff. In that case, get the basics, browse the others, email me with questions.

A FOOD PROCESSOR
Why: You will be surprised how often recipes call for these to save you time chopping and mixing a large quantity of things: to make pesto, hummus, falafel, chop things for tomato sauce, to shred carrots or potatoes for latkes, pie crust. You should get one I promise.
What to get: Magimix by Robot-Coupe Food Processor, 16-Cup This is the best one AND it comes with a juicer attachment which will really come in handy if you like to make cocktails for parties. Also good and less expensive: Cuisinart Elite Die-Cast Food Processor, 16-Cup
A HAND MIXER
Why: To make cakes and cookie and frosting and whipped cream, only the most important things in the world.
What to get: Cuisinart 7-Speed Hand Mixer
COFFEE MAKER
Why: Because coffee owns you, but that doesn't means Starbucks has to.
What to get: Bonavita BV1800 8-Cup Coffee Maker
A SLOW COOKER
Why: Sometimes they're called Crock-Pot (which is actually a brand, like calling all tissue Kleenex), they plug in and use a timer to let you simmer something unattended for many hours. So you'll use them for pot roast, stews, soups, dips, braises, even dessert. There are many meatless things you can make and dishes suitable for warmer weather months.
What to get: Crock-Pot 6-1/2-Quart Programmable Touchscreen Slow Cooker
A BLENDER
Why: There's no reason to create a wedding registry and not put a really awesome blender on it, and Vitamix is unarguably the very best. "Not registering for a Vitamix" is a legit regret that several married friends have expressed to me. Use it to make smoothies, obvs, but also soups, salad dressing, juices, flours, and more.
What to get: Vitamix Professional Series 300 Blender. Also good and less expensive: Breville Hemisphere Control Blender. But just register for the Vitamix — what else are registries for.
A TOASTER
Why: Toooooaaaasssssst.
What to get: Dualit New Generation Classic 2- or 4-Slice Toaster.

For most of your basic pots and pans, All-Clad is the brand you want. End of conversation. It doesn't matter what line of All-Clad, honestly the cheapest stainless steel one is fine. (I'm recommending the d5 series because it's the least expensive option on Williams Sonoma). As for registering for a cookware set vs. individual pans, I vote for individual pans. Cookware sets always come with two pans you need and five pans you don't. Also if you register for individual pans, this means no one guest has to pay $800 for a set. Plus even if you bought a set, you'd need some other pots and pans — cast iron, nonstick — that never come in one set. (If you insist on a set, get this All-Clad d5 Stainless-Steel 10-Piece set. BTW when they say 10-piece set, that means FIVE pots/pans not ten; they count the lids as "pieces," which is confusing and rude).
THE BASIC POTS AND PANS YOU NEED ON YOUR WEDDING REGISTRY:
A STAINLESS STEEL SAUTE PAN
Why: A saute pan has straight sides and a wider bottom than a skillet (Serious Eats has a great post on the difference between a skillet and a saute pan), so it has more cooking surface area. You'll use it to simmer a batch of meatballs in tomato sauce or shallow pan-fry a bunch of chicken thighs and then take them out and throw in veg and liquids and then nestle them back in there, etc etc.
What to get: All-Clad 3qt Saute pan
STAINLESS STEEL SAUCEPANS
Why: Saucepans are used to heat up liquid, maybe cream and butter that you're going to add to potatoes make mashed potatoes, or heat leftover soup, or blanch or steam veggies, or even to cook a small batch of pasta.
What to get: You should get at least one. If you only get one, get a 3-quart size. I also like to have smaller saucepans around, like a 1.5-quart or a 2-quart size. All-Clad Stainless Steel Saucepans in 3-qt and 1.5-qt sizes
A NONSTICK SKILLET
Why: Nonstick doesn't work for most cooking. The only thing you should ever use this pan for is making scrambled eggs and omelets, but those things are important and common enough that everyone needs this.
What to get: The size you get depends on how many people you typically make eggs for. I would get a 10" if you usually make eggs for 2 people and a 12" if you want the option of making more. All-Clad Stainless 10" or 12" Nonstick Skillet.
STAINLESS STEEL SKILLET
Why:You use this to saute meat, chicken and fish, to saute vegetables. All the things.
What to get: Get a 12" one. All-Clad 12" Tri-Ply Stainless-Steel Fry Pan
STOCK POT
Why: This isn't just for stock though if you ver want to have the best Thanksgiving food of your life you'll use it to make turkey stock and put that stock in everything — but typically you'll use this to make big pots of pasta, stews, chili, big batches of soup.
What to get: All-Clad Tri-Ply Stainless-Steel Stock Pot, 12-Qt
A DUTCH OVEN
Why: The #1 most essential kitchen thing. Here are all the reasons.
What to get: Le Creuset Round 5.5-quart dutch oven. Or 7 quart if you cook for big groups or a big family a lot.
A CAST-IRON SKILLET
Why: If you want to sear the best steak of your life, you will need a cast-iron skillet. Shakshuka, pizza, cobbler, roast chicken, you can make it all in one — you can even bake bread in it. NEVER use soap to clean it (just rinse and scrub with kosher salt and rinse again) and ALWAYS dry it thoroughly and you'll love it and have it forever.
What to get: 12" Lodge Cast Iron Skillet
LARGE ROASTING PAN WITH RACK
Why: You will use this to roast chickens and larger cuts like beef tenderloin or a pork roast.
What to get: There are usually two sizes available — small and large. Unless you have a weirdly small oven, definitely get the large one because you'll never know when you need to host Thanksgiving. All-Clad Stainless Roasting Pan with Rack
RIMMED BAKING SHEETS
Why: Also called rimmed baking sheets and called for constantly in recipes. The brand isn't that important here, honestly. But you will use them to roast veggies, bake chicken and fish, and lots of other stuff.
What to get: The best/biggest size that will fit in a standard oven is called a "half sheet pan" but you could also get "quarter sheet pan" size if you see yourself using these a lot and have the space in your kitchen. Two half sheet pans and maybe two quarter sheet pans
BAKING SHEET RACKS
Why: These fit inside of your baking sheets to elevate the food so heat circulates evenly. They are great for making big batches of bacon in the stove, keeping something hot in the oven, and they double as cooling racks for cookies.
What to get: Two racks that fit in the half sheet pans you got. And maybe one of the quarter sheet size if you got quarter sheet pans, too.
LASAGNA PANS/BAKING DISHES
Why: You'll use a 13" by 9" baking dish for casseroles, lasagna, gratin, crisps and cobblers.
What to get: If you cook a lot or if you host Thanksgiving or plan to, you might want more than one and in different sizes. Le Creuset and Emile Henry are great brands — Pyrex is good too. You definitely need a 13" by 9" rectangular one for lasagna and because that's what most casserole recipes call for, but you may also want an 8"x8" size to make smaller casseroles. (On top of that, if you want to get an oval-shaped one just get one that you like the way it looks in the 11" size.) HIC Porcelain Lasagna Pan, White, 13 by 9 Inch and/or a glass baking dish or Emile Henry and a 8"x8" glass baking dish.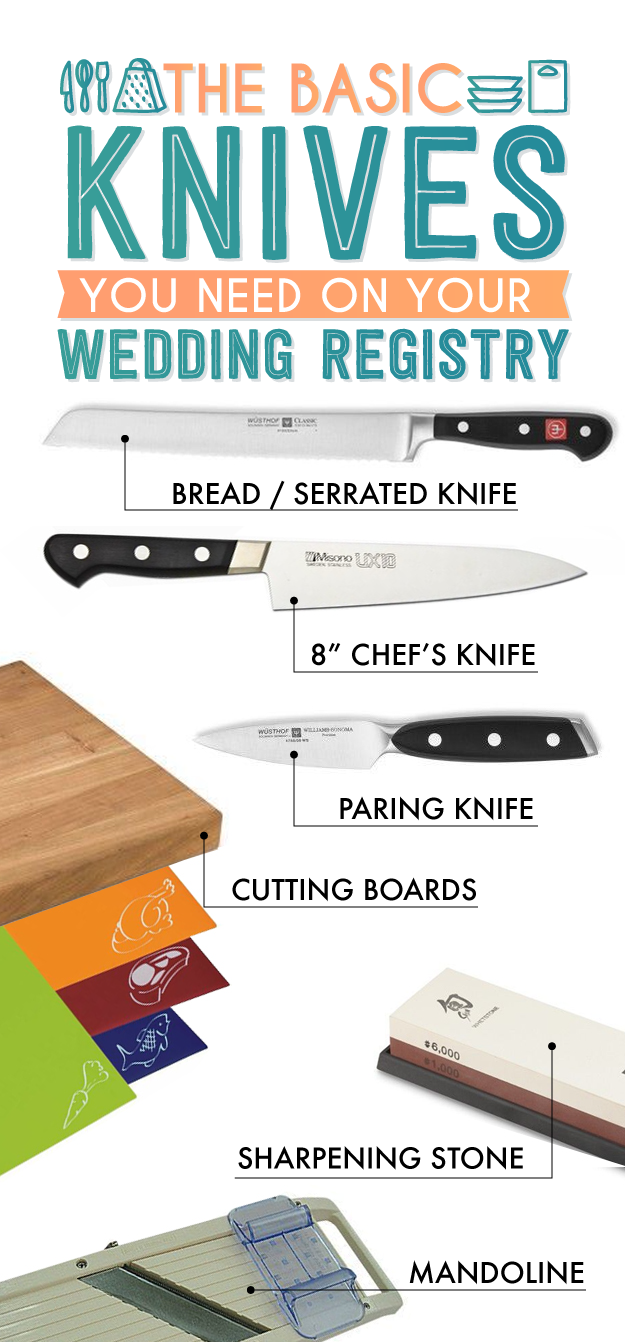 AN 8-INCH CHEF'S KNIFE
What to get: People tend to get overexcited and buy 9" or 10" chef's knife that then end up being too heavy and make cooking less fun. Don't do that. Buying a knife is personal because it's about how it feels in your hand. But these three are sort of universally loved: Victorianox (excellent, comfy and not too pricey); Misono UX10 Gyutou (cool swaggy pro chef knife that anyone can use); Wüsthof Classic 8" Chef's Knife (classic workhorse).
A PARING KNIFE
Why: For peeling vegetables, cutting slices out of citrus. Stuff like that.
What to get: Wüsthof Precision Paring Knife or also great and less expensive is the Wüsthof Classic 3 1/2" Paring Knife.
BREAD / SERRATED KNIFE
Why: Bread.
What to get: Wüsthof Classic Double Serrated Bread Knife.
MANDOLINE
Why: You will use these to thinly slice potatoes for gratins, radishes for salads, or to make "noodles" out of squash or cucumbers. They are great — though sharp and dangerous.
What to get: I think Benriner's $50 slicer, from the Japanese company famous for making these, is the only way to go. But Williams-Sonoma doesn't carry Benriner, god knows why. So you can either register for one on Amazon or my second choice via Williams-Sonoma would be this $25 ceramic slicer.
SHARPENING STONE
Why: Because dull knives are horrible. SERIOUSLY you need this. Get one and learn how to use it because it's totally not hard.
What to get: Shun 1,000/6,000-Grit Combination Whetstone. Soak the medium side but never soak the fine (#6000) side.
CUTTING BOARDS
Why: Get one big wooden one in a size that's right for your countertop, and a few plastic sleeves that are dishwasher safe and great for raw meat that you don't want to contaminate other stuff. Boos Edge-Grain Rectangular Cutting Board and any plastic cutting boards. You could also consider a reversible carving board. One side has a moat to hold the juice as you carve your roast chicken or turkey and one side is just a cutting board. Get this in addition or instead of a Boos cutting board, depending on how much kitchen storage you have.
If you want to get a knife set:
Get this Wüsthof Grand Prix II 10-Piece Knife Block Set, $380.

THE COOKING TOOLS YOU NEED
HAND JUICER
Why: Marinating fish. Margaritas. Etc.
What to get: OXO Citrus Juicer Press.
CORKSCREW
Why: 25 Reasons.
What to get: Do not get a stupid fancy wine opener or one of those things that looks like it has two arms. Just get a couple of regular waiters corkscrews and learn how to use them, like this: Pulltaps Corkscrew
CITRUS REAMER
Why: Salad dressings, cocktails, etc.
What to get: Wooden reamer.
WHISK
Why: To mix sauces as they're heating up, emulsify salad dressings, etc.
What to get: There are a lot of different kinds of whisks and here's a good guide, but if you just get one, get this standard OXO French whisk.
CAN OPENER
Why: If asking for a $22 locking magnetic can opener isn't a reason to get married, I just don't know what is.
What to get: OXO Magnetic Locking Can Opener.
TONGS
Why: They are your hands in the kitchen.
What to get: Get two of these. 12" OXO Locking Tongs. But NOT the ones with the silicone tips. If you grill, get another longer pair.
SPATULAS
What to get:
1. Set of three Silicone spatulas. For pancake batter, cookie batter, etc.
2. All-Clad Stainless-Steel Flexible Angled Spatula. And do not underestimate the importance of a good fish spatula if you ever want to cook fish.
3. A nonstick spatula for pancakes and things you do on a nonstick pan.
MICROPLANES
Why: If you think that no cooking tools have really been "improved" or "invented" since the 70s then you don't know about the story behind wood tool-company Microplane. You'll use them to grate cheese and zest citrus and its sharpness will change your life.
What to get: A http://www.williams-sonoma.com/products/microplane-box-grater/>Microplane® Box Grater, which you'll use mostly for cheese, and a Microplane® Rasp Grater, which you'll use to zest citrus.
MIXING BOWLS
What to get: Please do not get a fancy set of ceramic or even clear glass mixing bowls. They are heavy and breakable and make cooking more difficult than necessary. Stainless-Steel Restaurant Mixing Bowls, Set of 5.
ICE TRAYS THAT MAKE LARGE ICE CUBES
Why: Because cocktails, or even just a fancy lemonade spritzer.
What to get:King Cube Silicone Ice Cube Trays or Silicone Ice Sphere Molds.
LIQUID MEASURING GLASS
Why: You don't want to use your dry measuring cups for milk or spillable things especially if you ever want to cook with children who are less dexterous even than I am.
What to get: 2 Cup Anchor Hocking Glass Measuring Cup.
FISH SPATULA
Why: You know how it's hard to cook fish because turning it over and ruining the skin and it falling apart and all that? You don't have the right spatula yet. (And other things but this is a good start.)
What to get: Global Small Round Tip Turner
KITCHEN TOWELS
Why: You can never have enough.
What to get: Some that you like the way the look but mostly a ton that are workhorse and you don't mind getting dirty like these or these.
COLANDER
Why: That draining pasta and scrubbing potatoes lifestyle.
What to get: Stainless steel colander
KITCHEN SHEARS
Why: Cutting lettuces into smaller pieces, spatchcocking chickens, etc.
What to get: Shun Classic Kitchen Shears.
MEASURING CUPS AND SPOONS
What to get: The quality and brand of these two things doesn't matter that much relative to other things on this list, but you do need to have a set of each. Narrow Measuring Spoons and Measuring Cups.
PEPPER MILL
Why: Fresh cracked pepper is better, and you should be able to control the grind size.
What to get: Peugeot Paris Classic 9-Inch Pepper Mill
OVEN MITT
Why: For pulling that beautiful roast out of the oven in your new roasting rack!
What to get: Whatever you want. These are fine.
PEELER
Why: Carrots, zucchini ribbons, peeling potatoes, so many things.
What to get: The cheap plastic ones by Kuhn Rikon are the best. Get a new one once or twice a year because they get dull and are only $4.
ICE CREAM SCOOP
Why: Owning a good ice cream scoop is an important rite of passage into adulthood.
What to get: Zeroll Ice Cream Scoop.
THERMOMETERS
Why: These are likely the most overlooked essential cooking item; they will make a huge different in the quality of the food you can make.
What to get:
1. Instant Read: At the very least you should own an inexpensive instant read thermometer — either this cheap dial one or preferably a digital. The best one though, if you're treating yourself because it's your wedding registry, is this Splash-Proof Super-Fast Thermapen, $96. If your registry is only on Williams-Sonoma, then this one is fine.
2. Oven Thermometer: There's a very good chance your oven isn't the temperature it says it is. Having an oven thermometer in there to help you know how to make adjustments is huge for baking. Get the Cooper-Atkins Oven Thermometer, or the Williams Sonoma brand one is fine too, but overpriced.
PREP BOWLS
Why: Before you start cooking anything, all of your ingredients should be set out in front of you. And if any ingredients require an extra step — like exact measuring, cleaning, chopping, peeling, separating, roasting — that should be done ahead of time. Then you put the prepped ingredients in prep bowls like this so the cooking part is easy. And instantly you are a much better, and faster, cook.
What to get: Glass Prep Bowls, Set of 8
SALAD SPINNER
Why: This is so important, don't even play. The easiest and fastest way to wash salad is to submerge it in a bowl of cold water, let any grit fall to the bottom, lift it out of the water, and spin dry.
What to get: Large Oxo Salad Spinner. And yes you need the large size because think how huge one bunch of kale is and how it always cooks down to less than you thought.
SPOONS + LADLE
What to get: This is the kind of thing that kills me to tell you to get at Williams Sonoma, because they only carry overpriced versions. Also any of those tool sets are THE WORST and only contain like one thing you need and 5 that you don't. If you want all the basics on your registry, this is how to do it.
1. A slotted spoon
2. A plain stainless steel spoon
3. A a ladle
4. And if you don't already have them, one or two wooden spoons
* I also love an angled wooden spatula for stirring sauces.
STRAINER
What to get: OXO Stainless-Steel Strainer. (If you make cocktails or infusions a lot, a conical strainer comes in handy, which I'll cover below in the cocktail section. If you see yourself making stocks regularly, a chinois strainer will change your life.)
STEAMER BASKET
Why: To steam things like broccoli, spinach, etc, put a little water in a saucepan bring it to a boil, put this in, pile veggies on top and cover until they're just cooked.
What to get: OXO Vegetable Steamer. If you steam a ton of vegetables that maybe consider getting this big steamer instead but otherwise a basic steamer basket is perfect.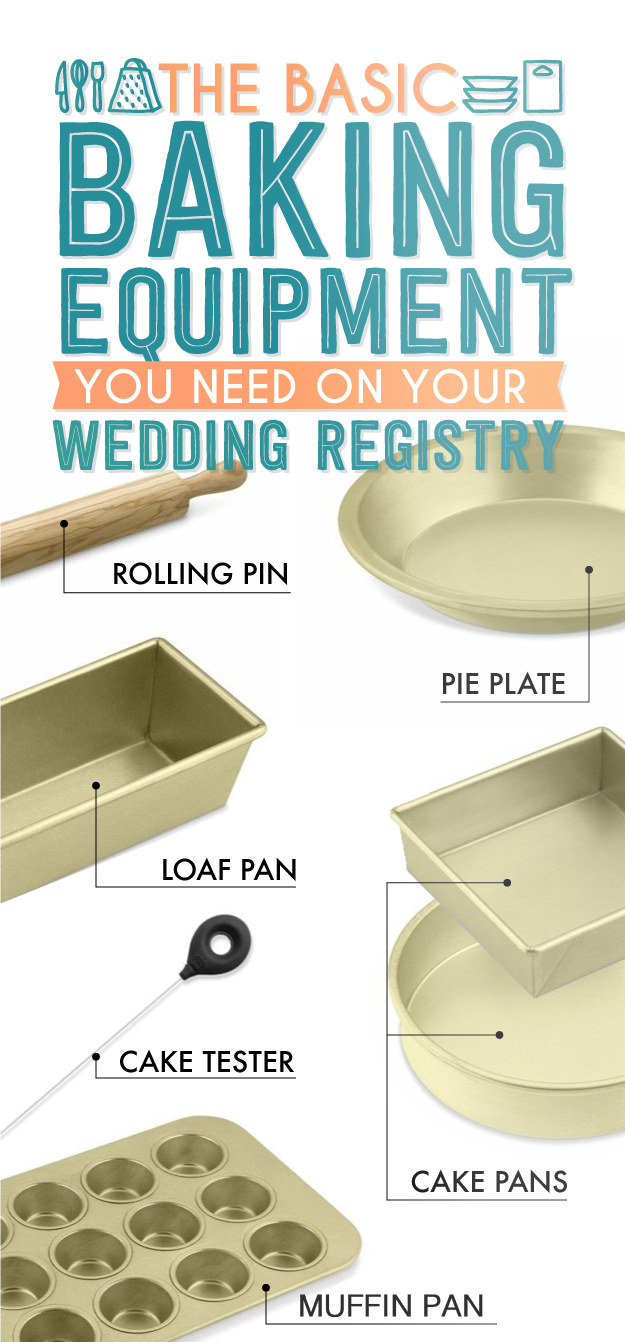 ROLLING PIN
Why: Rolling out cookie dough, pie crusts, biscuits, etc.
What to get: Maple Rolling Pin
PIE PLATE
Why: You should totally make a pie, anyone can do it. Not that hard.
What to get: Any 9" pie plate is fine, I just like a basic one (that doesn't have a fancy ruffled edge) like this or the glass Pyrex ones.
CAKE PAN
Why: Because birthdays and any other reason.
What to get: Two 9" round ones and two 8" square ones. You'll use the circular one more for cakes and the square one more for things like brownies or cornbread (or jello shots). Not a bad idea to get the sets of two because then you can make layer cakes and more double the brownies.2 Williams-Sonoma Goldtouch® Nonstick Round Cake Pan, 9", $44 and 8" Williams-Sonoma Goldtouch® Nonstick Square Cake Pans, $50 for set of 2
MUFFIN PAN
Why: There are so many fun treats you can make in a muffin tin.
What to get: Williams-Sonoma Goldtouch® Nonstick Muffin Pan, 12-Well
CAKE TESTER
Why: You could use a fork, but this actually comes in handy more than you'd think because finding a toothpick is always impossible.
What to get: Oxo cake tester
LOAF PAN
Why: Pumpkin bread, banana bread, etc.
What to get: Williams-Sonoma Goldtouch® Nonstick Loaf Pan, 1 Lb., $20> for things like banana bread and pumpkin bread.

What follows are things that not everyone needs or wants. But they can be really useful for certain tasks, so register for them if you want to get more into cooking.
WOK
Why: Stir frying, sauteeing big amounts of greens, steaming, deep-frying.
What to get: Joyce Chen 14" Carbon Steel Wok. Learn more in this great wok post on Serious Eats. And here is how to take care of it and other tips.
RICE COOKER
Why: Especially if you're feeding a family, a rice cooker really comes in handy to make a big pile of rice perfectly with no effort. And then there's other stuff they can do too, of course.
What to get: Zojirushi Rice Cooker
SLICING / CARVING KNIFE
Why: Thanksgiving turkey. Big roasts. This isn't that necessary, honestly, if you have a good sharp chef's knife. But they can definitely come in handy during holidays.
What to get: Victorinox Fibrox Granton Edge 12-inch Slicing/Carving Knife
MINI WHISK
Why: For when you need to whisk a small amount, like scramble eggs or salad dressing.
What to get: 5" whisk like this one
GRILL TONGS
Why: You need longer tongs when you're grilling because the heat from the grill might burn your hands otherwise.
What to get: Oxo Good Grips Locking Tongs
GRILL SPATULA
Why: Fish, mostly. Because for everything else you'll use tongs.
What to get: Steven Raichlen's Best Of Barbecue Spatula
GRILL BRUSH
Why: Clean and oil your grill before and after you use it like this every time. Then give it more of a deep clean either in September at the end of grilling season, or in spring at the beginning.
What to get: Weber Bamboo Grill Brush
BONING KNIFE
Why: A boning knife is a narrow knife with a sharp point. Traditionally they have a rigid blade that's not flexible and used by butchers to separate meat from the bone. But you can also get flexible boning knives (technically more of a filet knife, since they flex), which are also great for breaking down chicken and fish. This is advanced stuff of course, but it's REALLY FUN.
What to get: Victorinox Fibrox Flex 6-inch Straight Boning Knife
FISH TWEEZERS
Why: Because salmon and other fish often have the most annoying pin bones and these make removing them easier. Here's how.
What to get: If you want them on your registry from Williams-Sohoma get the Shun Fish Tweezers but if you're registered on Amazon get the Win-Ware Fish Tweezers instead.
ELECTRIC KETTLE
Why: Tea! So fast! So luxurious!
What to get: Breville Variable Temperature Kettle has different settings for green tea (175°F), white tea (185°F), oolong tea (195°F), French-press coffee (200°F) and boil/black tea (212°F). PRETTY IMPRESSIVE.
GRILL
Why: CHAR MARKS. OUTDOOR COOKING. SUMMER. BLISS.
What to get: Everyone should start with a basic Weber Silver One-Touch 22-1/2-Inch Kettle Grill, Black and learn to grill with charcoal. If you insist on convenience like a gas grill, Weber's Performer Platinum Charcoal Grill will ignite with a button. But seriously just get the classic grill and then you'll be happier. And if you only have room for a miniature grill (NYC, hello) get this Weber Smokey Joe Grill.
CHIMNEY STARTER
Why: Put newspaper in the bottom, pile coals on top, light the newspaper. No need for those terrible matchlight coals or gasoline.
What to get: Weber Rapidfire Chimney Starter
FOOD SCALE
Why: Because baking is easier and more reliable when you do it by weight, and because sometimes you find international cooking blogs with recipes that look cool but everything's in grams and ounces.
What to get: Oxo Food Scale
MINI CHOPPER
Why: Sometimes you want to make a smaller amount of dip, or pesto or something like that, and your regular food processor would be too big.
What to get: KitchenAid 3.5-Cup Food Chopper
POTATO RICER
Why: Many people believe using a potato ricer leads to the world's fluffiest mashed potatoes. I just use a hand masher (below) most of the time, but get my ricer out for special occasions. (And honestly, the ol' fork/wooden spoon combo just fine.)
What to get: RSVP Potato Ricer and Baby Food Strainer. The one that OXO makes is OK but not as good as RSVP's.
POTATO MASHER
Why: Mashed potatoes.
What to get: Oxo Good Grips Potato Masher
MEAT TENDERIZER
Why: To pound out chicken breasts, which you can also do with the back of a skillet, but you know.
What to get: Meat tenderizer
MORTAR + PESTLE
Why: Grinding up fresh spices and peppers for curries, marinades, rubs, and sauces will take your cooking to an entirely new level.
What to get: Cole & Mason Granite Mortar & Pestle, 7" or this one by Import Food.

Love to bake? Then you'll love these things.
STAND MIXER
Why: A stand mixer does all the same things as a hand mixer except that you can walk away from it, so it's better if you're whipping, beating, or kneading big quantities of something for a long time, like when you make meringue or frosting or bread. If you enjoy baking, go ahead and register for a stand mixer, you'll end up using it.
What to get: Either the KitchenAid Artisan Stand Mixer, which is big enough for most uses, the more affordable option, and comes in all the cuter colors. Or if you REALLY see yourself using it a lot, the KitchenAid Pro Line® Stand Mixer, 7-Qt., which has more capacity, more power. They both work with all the attachments.
RAMEKINS
Why: You'll use them for things like molten cakes, souffles, custards, baked eggs, etc.
What to get: Apilco Ramekins, Set of 4 Large. If you throw big dinner parties a lot, you might get two sets of four so you have eight.
PASTRY BRUSH
Why: For brushing glaze onto pie crusts and other pastries, making caramel, etc.
What to get: 1 1/2" Pastry Brush
TART PAN WITH REMOVABLE BOTTOM
Why: Tarts and quiches, which can be either desserty or like savory egg things that are great for a brunch.
What to get: Gobel Nonstick Tart Pan, 9 1/2"
PASTRY BAG AND TIPS
Why: These are actually very handy not just for cookie, cake, and cupcake frosting but also piping deviled egg filing and meringue.
What to get: Pastry Bag Decorating Kit
OFFSET SPATULA
Why: It will blow your mind how much easier it is to frost a cake beautifully with an offset spatula.
What to get: Offset stainless steel spatula
DOUGH SCRAPER
Why: Gathering dough you've just kneaded, transfering it in or out of a bowl — these things are much easier with a good scraper.
What to get: Plastic dough scraper
BUNDT PAN
Why: Not just for bundt cakes, but also for ice blocks.
What to get: Anything works but Nordic Ware's Anniversary Bundt Pan is a nice classic shape.
COOKIE SHEETS
Why: You can use baking sheets — which are listed in the basic stuff you definitely need — but if you plan to bake cookies a lot you will have better consistency with true cookie sheets.
What to get: Vollrath Cookie Sheet
SIFTER
Why: This isn't really that necessary since you can totally use a mesh sieve, but if you bake a lot it keep things clean and is faster.
What to get: Traditional Flour Sifter
PASTRY BLENDER
Why: Good for cutting fat into flour when you're making pie crust, biscuits, etc by hand.
What to get: Stainless-Steel Pastry Blender
SPRINGFORM PAN
Why: A springform pan is like a cake pan but the sides can be easily remove when it's time to serve, so you don't have to turn out the cake. You'll use it for cheesecakes, frozen desserts, quiches, and maybe even deep dish pizza.
What to get: Nordic Ware Leakproof Springform Pan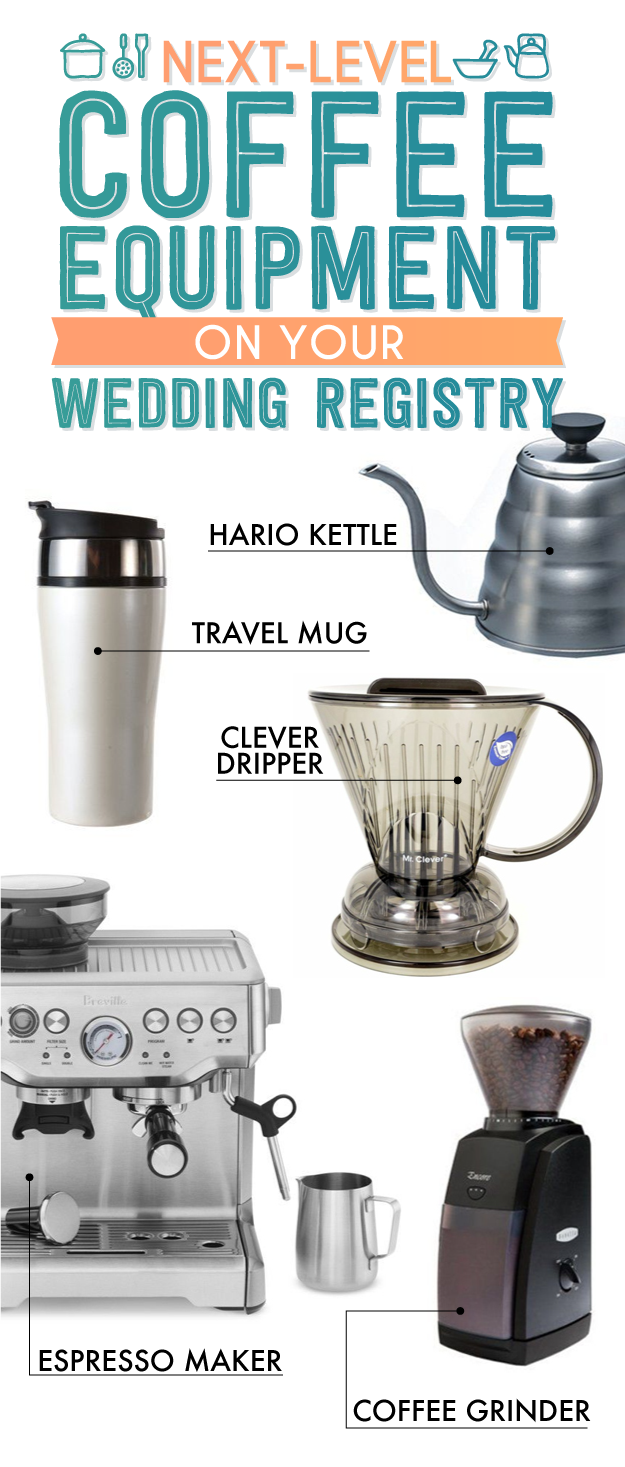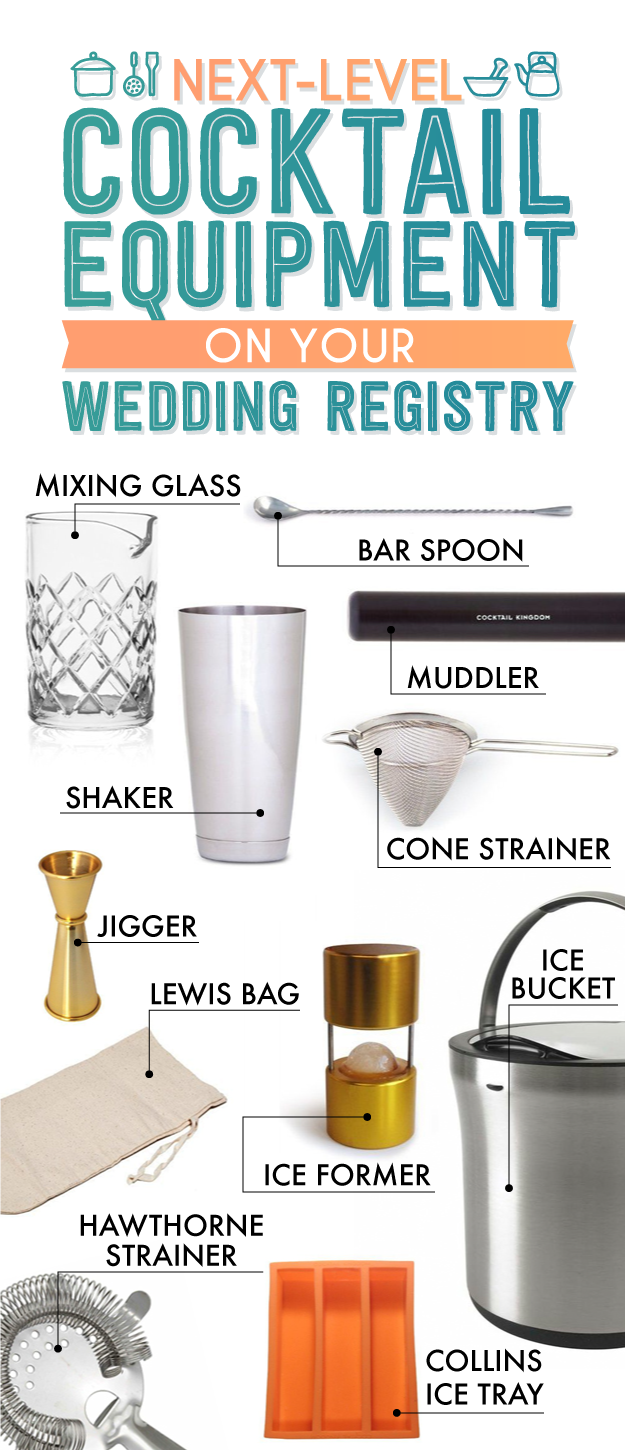 Let's be clear, these are toys. Few home cooks really NEED these items, but they are so fun and if you'll use them, they are fantastic and so helpful to have.
MEAT GRINDER
Why: Awesome for making burgers and sausage — but also the kind of thing that could sit around and never be used, so choose wisely.
What to get: If you have room and want the best, get the Waring Die-Cast Meat Grinder. If you are already asking for a KitchenAid, just get the meat grinder attachment for it.
SELTZER MAKER
Why: Because as Bon Appetit magazine editor Adam Rapoport once said, it makes water miraculously crispy.
What to get: SodaStream Penguin Sparkling Water Maker
SMOKER
Why: In case you ever want to smoke meat or fish. This is for seriously ambitious cooks.
What to get: Weber Smokey Mountain Cooker Smoker 18.5 Inch
PIZZA WHEEL
Why: Pizza.
What to get: Oxo Nonstick Pizza Wheel.
PIZZA STONE
Why: If you read this recent NYTimes article about how easy and rewarding it is to make pizza at home and got excited then just go on and get a stone!
What to get: Fibrament Baking Stone or Emile Henry Pizza Stone
PIZZA PEEL
Why: Getting homemade pizza out of your oven isn't actually very easy so if you want to make pizza get one of these.
What to get: Pizzacraft Aluminum Pizza Peel
PASTA MACHINE
Why: rolling out homemade pasta! Ravoli! Fettuccini! Pappardelle!
What to get: Marcato Pasta Machine
KITCHEN TORCH
Why: Creme brulee. Making meringue looks super perfect.
What to get: Don't bother with a mini kitchen specialized torch because they are wimpy and annoying to refill. Just get a Bernzomatic Self-Igniting Torch Kit like you'd find at Home Depot.
GRILL PAN
Why: When you don't feel like firing up the big grill, pop this on the stovetop.
What to get: Le Creuset Signature Cast-Iron Square Grill Pan
GRIDDLE
Why: Awesome for things like pancakes and eggs and bacon — if you're a big brunch person
What to get: Anolon Advanced Nonstick Double Burner Griddle.
CARBON STEEL KNIFE
Why: Carbon steel is more trouble to take care of but it is SHARP SHARP SHARP and so many professional chefs swear by it.
What to get: Suisin High Carbon Steel Gyutou
APPLE SLICER
Why: Cute slices of apples. Also useful for apple pie. Probably not a necessary thing but this is the toy section of this post.
What to get: Dial-A-Slice Apple Divider
EGG TOPPER
Why: Taking the tops off of soft boiled eggs so you can scoop deliciousness out of the shell like French people do.
What to get: Rosle Egg Topper
ELECTRIC CITRUS PRESS
Why: In my life, this is essential because I'll host a party with margaritas or some kind of citrus punch something and do not want to juice like 20 limes and lemons by hand.
What to get: The Breville Electric Citrus Press is the one to get. Note that if you already asked for the MagiMix Robot Coupe Food Processor featured in another section of this post, it comes with a citrus juicer attachment, so you don't necessarily need this.
FANCY TOASTER OVEN
Why: If you have the counter space or for some reason your regular oven doesn't work very well or you need a little extra oven space.
What to get: The Smart Oven Toaster Oven is amazing not just for toasting bagels but for roasting chickens or baking brownies.
HAND BLENDER
Why: Blending mixtures without transferring them to a blender, so for example apple sauce in the pot, tomato sauce you want to keep just a little chunky, or chunky soups.
What to get: KitchenAid KHB2351 3 Speed Hand Blender
JUICER
Why: JUICING. Not smoothies, but putting stalks of celery or kale or beets into a machine and getting juice out of it.
What to get: Breville Juice Fountain Plus 850-Watt Juice Extractor
ICE CREAM MAKER
Why: OMG so many reasons.
What to get: Cuisinart Ice Cream Maker with Extra Freezer Bowl.
MELON BALLER
Why: You might think you'll use your only for cantaloupe, but they are absolutely essential for crafting innovative Jell-O shots. And what's essential if not innovative Jell-O shots.
What to get: 1" Melon Scoop/Fruit Baller
OYSTER KNIFE
Why: SHUCKING.
What to get: R Murphy New Haven Oyster Knife Shucker
CHINOIS
Why: If you see yourself making stocks regularly, this will make that so much easier.
What to get: Winco Strainer
WAFFLE MAKER
Why: Otherwise browsing Pinterest isn't even that fun.
What to get:Go ahead and get Belgian because you can use it for any recipe. The nicest one is the All-Clad, which comes in 2-slice and 4-slice and that basically depends on your storage space. The ones that Chef's Choice (square and round) makes are just as good and less expensive, but only available on Amazon.
SALT PIG
Why: Give your kosher salt a nice home.
What to get: Le Creuset Stoneware Salt Crock or whichever one you like. This is more a matter of style.
So, that's it for kitchen stuff.
Below is a complete wedding registry checklist of everything else. Selecting most of these products is based on your personal style, so I haven't made brand recommendations.
DINNERWARE / ENTERTAINING
formal and/or casual place settings (8 to 12 sets - dinner plate, salad plate, bowl, bread-and-butter plate, dessert plate)
silverware (8 to 12 sets)
steak knives
casual and/or formal wine glasses (8 to 12 - red and/or white)
casual drinking glasses (8 to 12)
champagne flutes (8 to 12)
other glassware (highball glasses? margarita glasses? martini glasses? your call!)
mugs (8 to 12)
cups and saucers (8 to 12)
pitcher (1 or 2)
tablecloths
cloth napkins (8 to 12)
place mats (8 to 12)
chargers (8 to 12)
salad bowl and serving utensils
serving platters and trays (2 to 4)
serving bowls (2)
serving utensils set
gravy boat
butter dish
cake stand
punch bowl
cheese board
cheese utensils set
sugar and creamer set
salt and pepper set
coasters
BEDDING
flat sheets (3 sets)
fitted sheets (3 sets)
duvet cover
mattress pad
pillows (2)
pillow case set (2)
sham
bed skirt
BATHROOM
bath towels (6)
hand towels (6)
washclothes (6)
shower curtain and liner
soap dish and/or liquid soap dispenser
hamper
toothbrush holder
shower radio
bath mat (2)
CLEANING / HOUSEWORK
trash can
vacuum
mini vacuum
iron
handheld steams
ironing board
washer / dryer
dishwasher
gardening tools
leaf blower
lawn mower
TRAVEL
luggage
toiletry kit
digital camera
USB Battery Pack
FURNITURE / DECOR
lamps
sofas or chairs
ottomans
bar cart
wall art and frames
mirrors
vases
throw blankets
patio furniture
outdoor umbrella
ENTERTAINMENT
TVs
board games
video game console
SEASONAL / HOLIDAYS
picnic blanket and basket
wheeled cooler
beach towels and chairs

plastic barware (margarita glasses)
seder plate
christmas ornaments
menorah

fireplace tools