Slutty Vegan Is A Mega-Popular Plant-Based Burger Chain, So I Tried It, And I Am Seriously Stunned By How Good It Is
My life has been changed for the better. 🍔
Earlier this month, the popular plant-based fast food chain Slutty Vegan opened their ninth location in Harlem, New York.
The restaurant has risen to fame for its delicious vegan burgers and fries, but what makes it distinct from other plant-based fast food chains is its sexy, suggestive menu. I mean, wouldn't you be curious about ordering a "Sloppy Toppy"?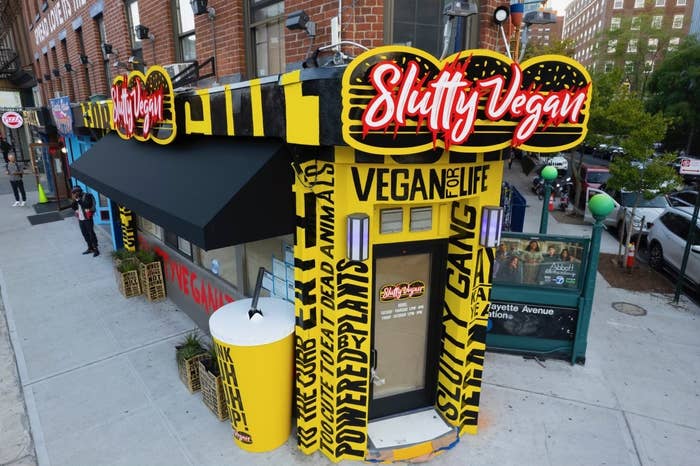 The restaurant also has a really great story. Entrepreneur Pinky Cole launched Slutty Vegan back in 2018 after her first restaurant burned down a few years prior. "This is a full circle moment for me," Pinky said in a press release. "I had a restaurant a few blocks away that was destroyed in a grease fire. To come back to the place that helped me get started is such a big deal for the realization of my dream, and this, quite frankly, is my redemption story!"
I was already planning on visiting Slutty Vegan, but after hearing that uplifting story, I was like, "Okay, I HAVE to go now."
So without further ado, here's what my visit to Slutty Vegan Harlem was like. And spoiler alert, it was definitely an unforgettable experience!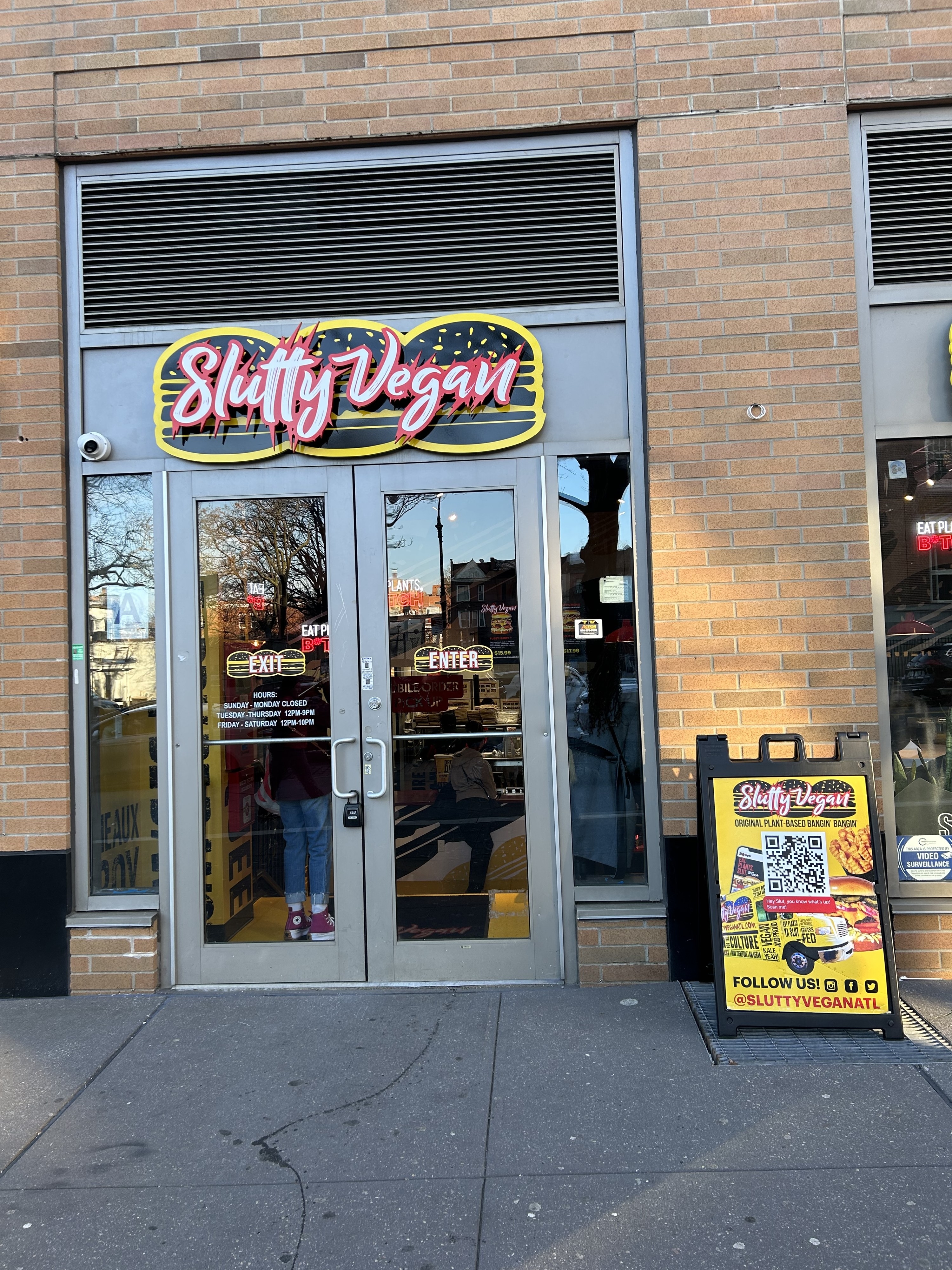 So basically, I walked in, and I was already greeted with an exciting, appropriately colorful wall.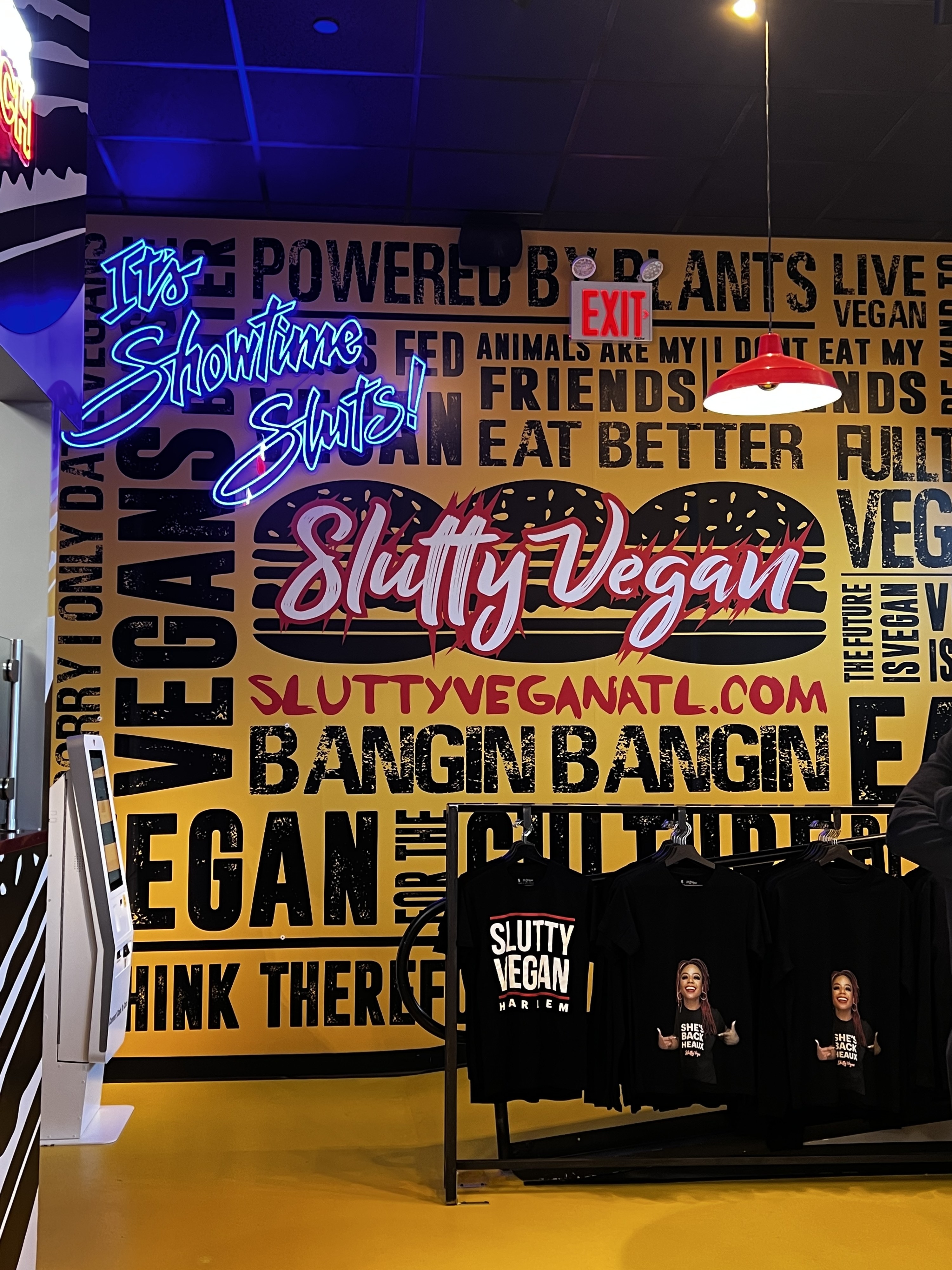 As I lined up to order, a corner of the restaurant held merchandise available for purchase, which included the restaurant's famous "Slut Dust" seasoning and many hats, including one that said "Big Slut Energy."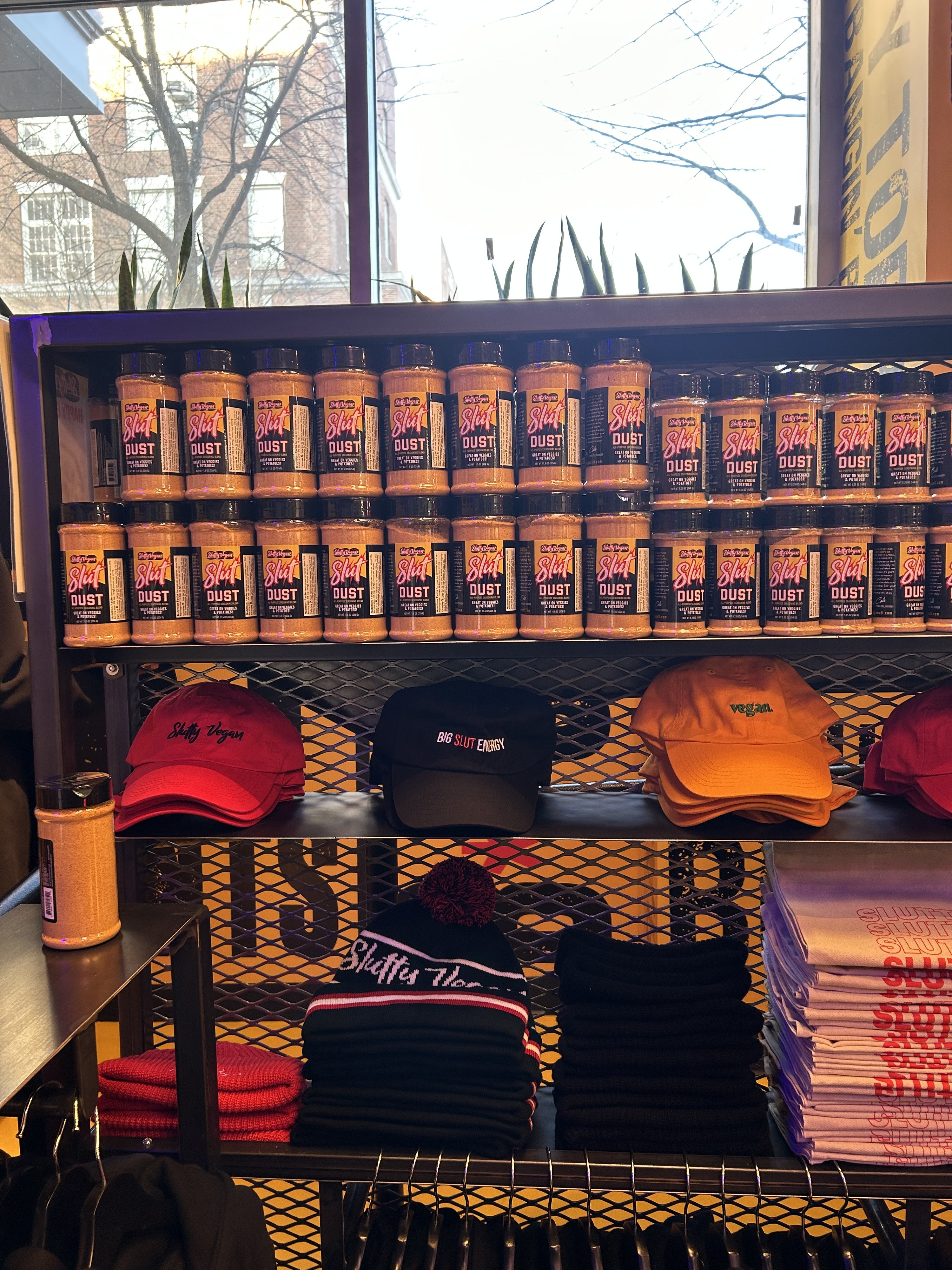 It was time to order, and that day, the restaurant was serving three burgers: the "Fussy Hussy," the "Sloppy Toppy," and the "One Night Stand." And don't worry, the restaurant has more than three entrees — they just switch out the menu items so people can try different burgers every day.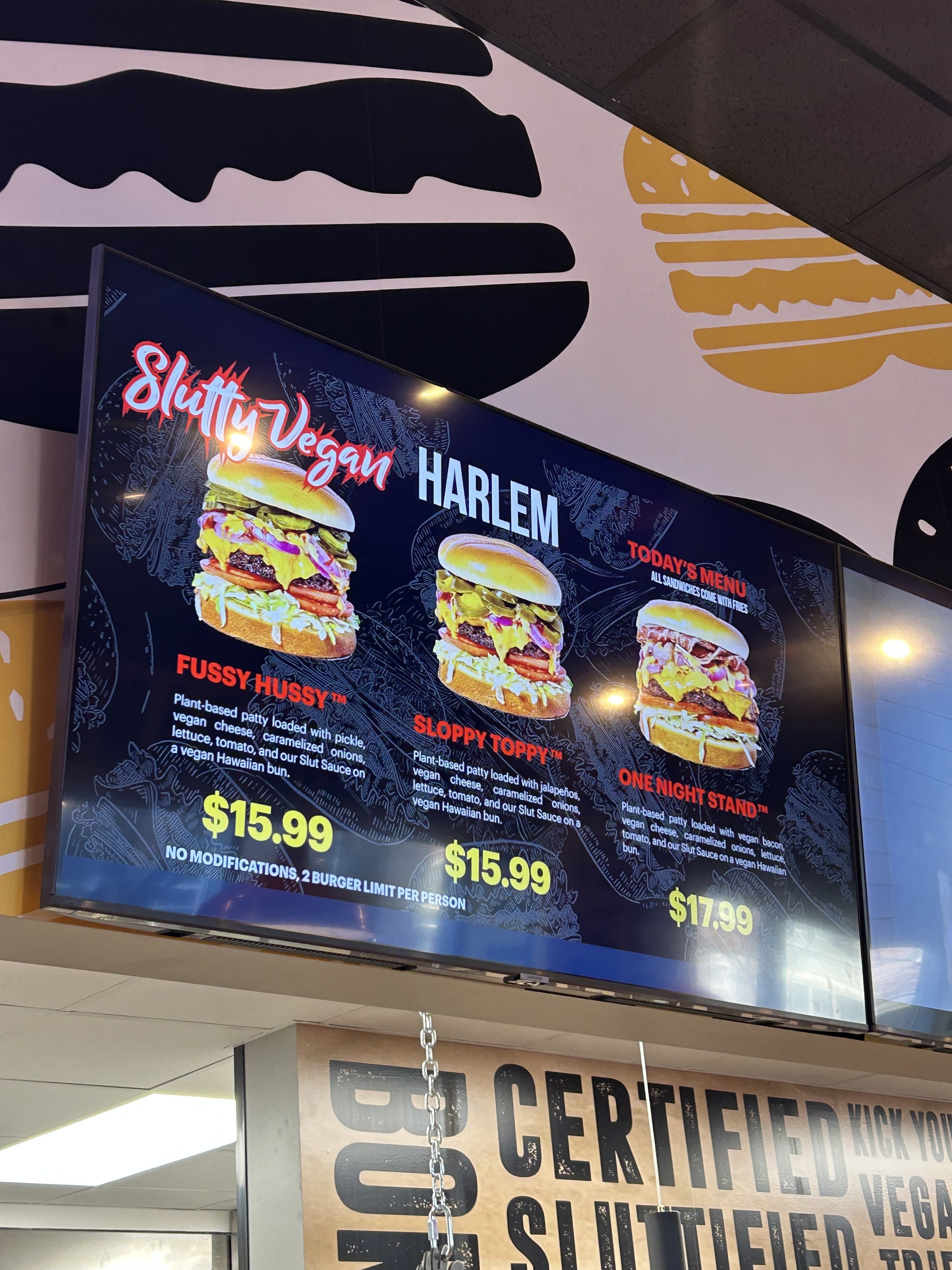 I was ordering for two, so I decided on the "Sloppy Toppy" and the "One Night Stand," which also happen to be two of the most popular menu items, according to executive chef Jumoke Jackson. Each burger comes with an order of "Slutty Fries," so it only felt right to order "Slutty Lemonade" to wash it all down. I also got a dessert, or a "Happy Ending" in Slutty Vegan–speak, which that day was the Seamoss Banana Pudding.
Once I ordered, the person working the cash register asked me if I had been to the restaurant before. I said no, and they yelled into the microphone pictured below, "WE HAVE A VIRGIN IN THE HOUSEEEEEE!," and everyone cheered. It was amazing.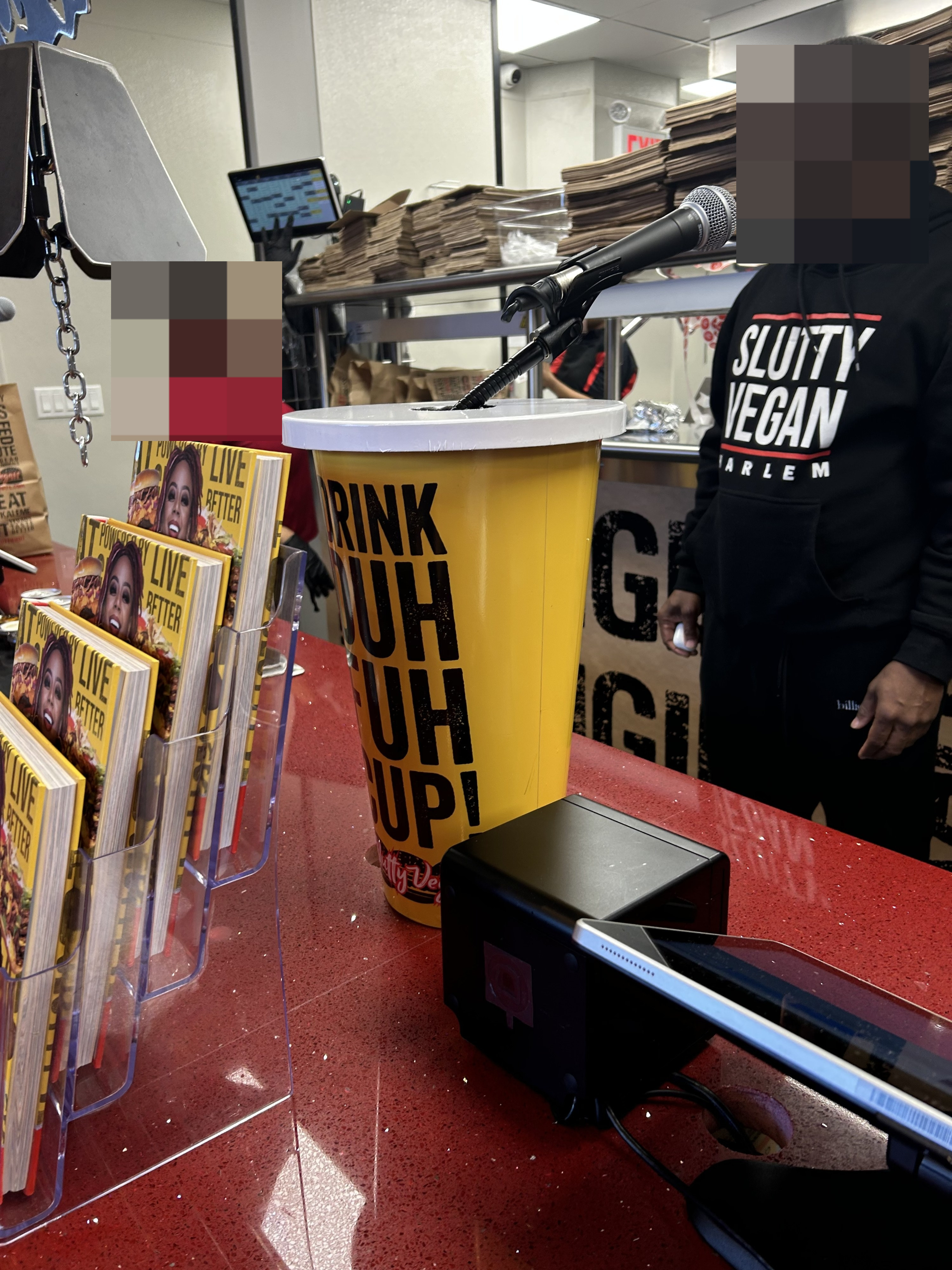 A few minutes later, I got my food. Unfortunately, the restaurant doesn't have tables to sit down, so I ventured to a park nearby to enjoy my meal.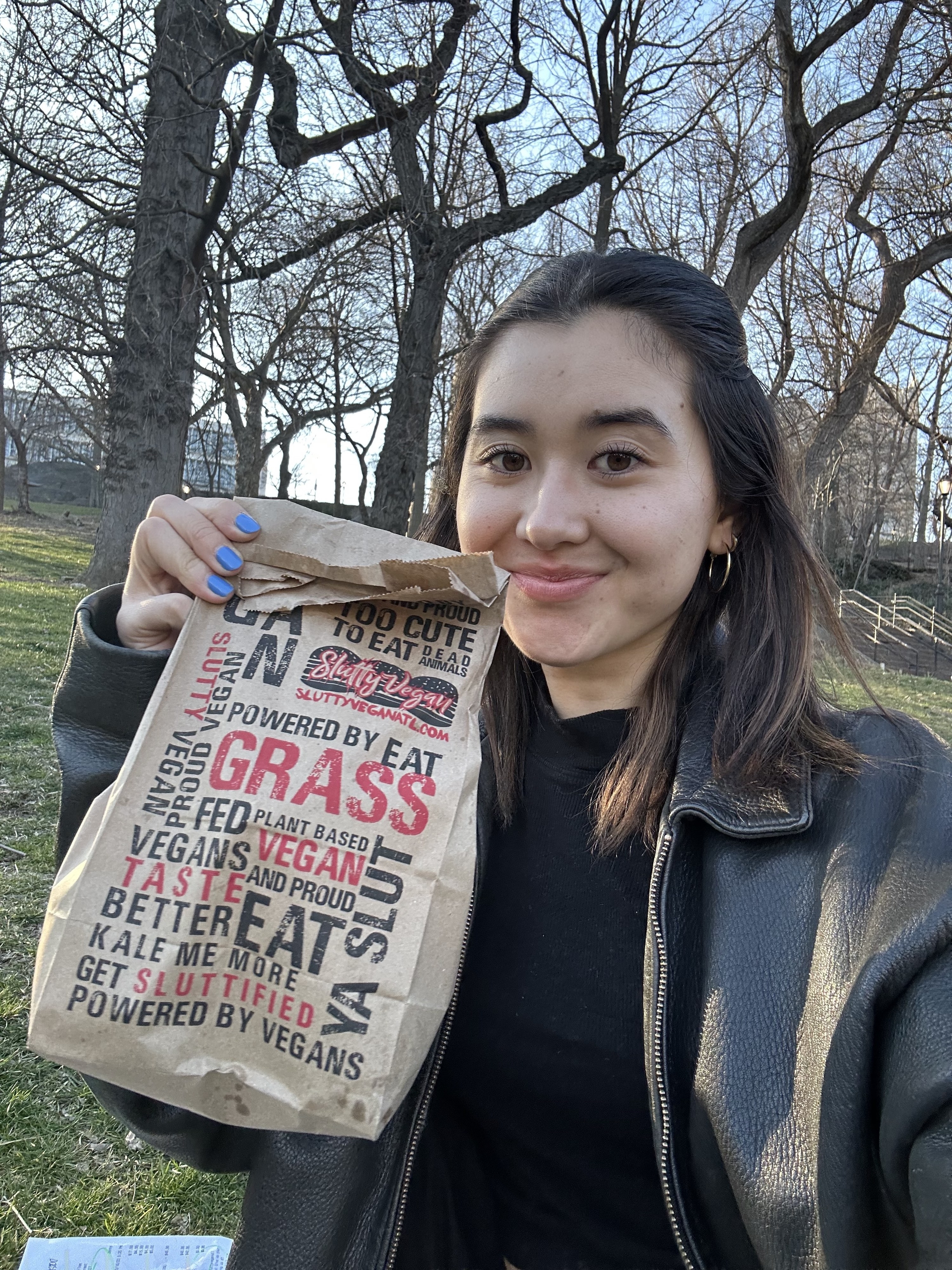 Before I get into the details of each item, here's a visual of all the food together: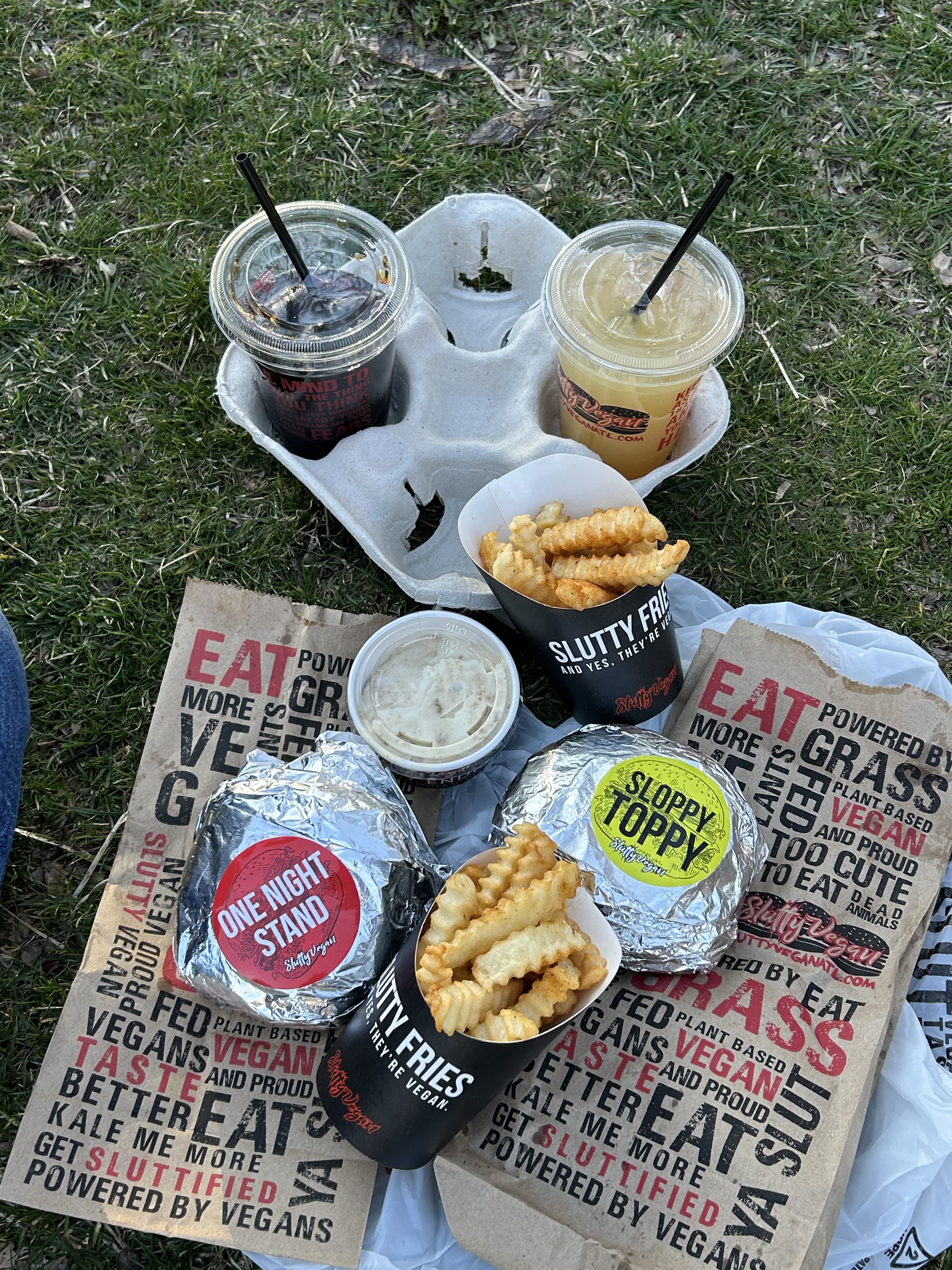 First up was the "Sloppy Toppy," which was a plant-based patty loaded with jalapeños, vegan cheese, caramelized onions, lettuce, tomato, and Slut Sauce on a vegan Hawaiian bun.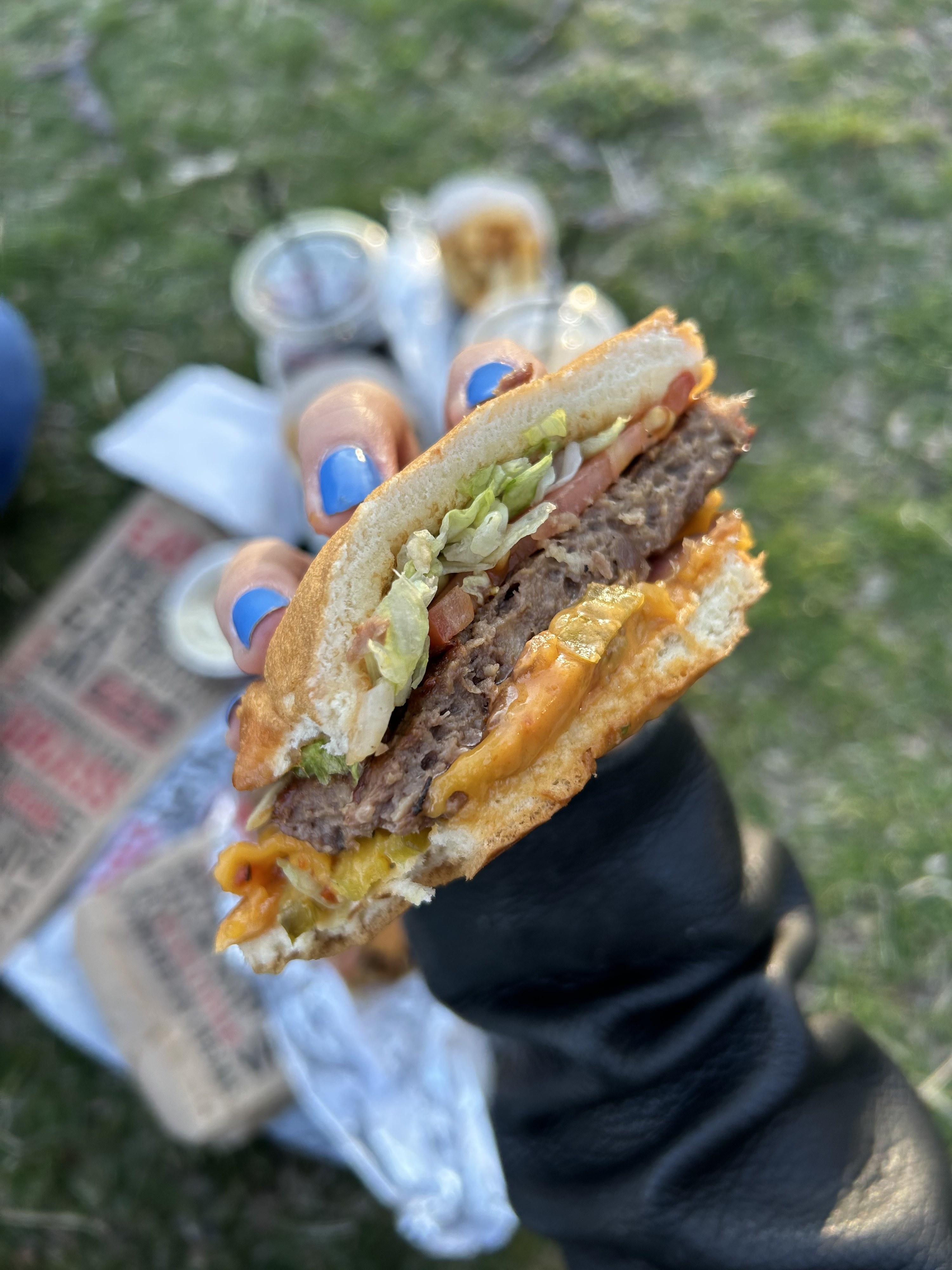 I didn't really know what to expect, but after taking the first bite, I was genuinely really impressed by how good this was. I'm pretty agnostic about vegan meat, so I was definitely surprised to taste such a flavor-packed and texturally pleasing patty. Additionally, the bread was moist and fluffy, the jalapeños added the perfect amount of heat, and the cheese was very melty.
Next, I took a bite of the "One Night Stand," which is made of a plant-based patty loaded with vegan bacon, vegan cheese, caramelized onions, lettuce, tomato, and Slut Sauce on a vegan Hawaiian bun.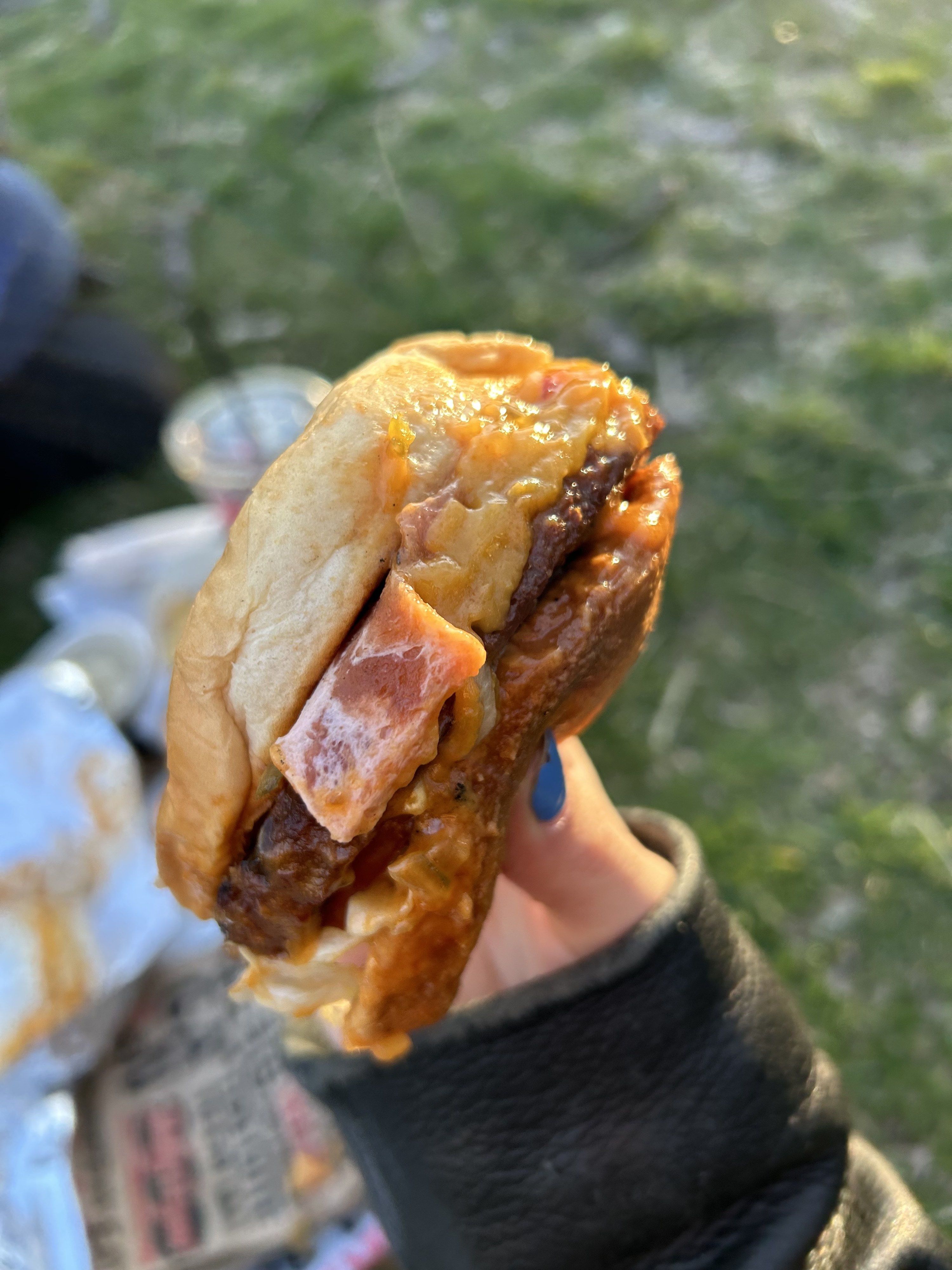 Reflecting on its tastiness, the caliber of this one was comparable to the "Sloppy Toppy." The vegan bacon seriously made this so mouthwateringly good, and since there weren't any jalapeños, it tasted a lot sweeter than the first burger. Honestly, I'd take this over McDonald's or Jack in the Box any day.
After the burgers, I tried the Slutty Fries, which are crinkle cuts that are covered in the restaurant's Slut Dust, which tasted like Cajun seasoning. All I have to say is "wow." These were delicious, and I'm not just saying that to write a good review for them. These were honestly really great. The outside was crispy, the inside was soft and potato-y. It was well seasoned. Dare I say it, but these Slutty Fries are better than the crinkle cuts at Shake Shack, and I stand by that. (Sorry Shake Shack, I still love you.)
And finally, I tried the Seamoss Banana Pudding, and holy shit. THIS is what they serve you in heaven, probably.
I don't know what exactly was in this, so I apologize if it's completely off, but there were layers of cake nestled between all the pudding, so with each bite, I got sweet banana cream and moist, fluffy cinnamon cake. This, along with the One Night Stand, were probably my favorites of the evening.
Oh, and I didn't take a picture of it, but the lemonade was pretty good too. It was just your standard lemonade — nothing too special — but it paired really nicely with the burgers and everything.
And here's a picture of me in front of one of the walls in the restaurant. Overall, the TL;DR is that Slutty Vegan is delicious and you should try it. I do really hope they open more locations around the country, because everyone needs to try this.
Have you tried Slutty Vegan? What did you think? Let me know in the comments!