Chrissy Teigen's Untraditional Nachos Recipe Is Seriously Delicious
Complete with crispy shallots and a ton of mushrooms.
Chrissy Teigen: Model, TV personality, and cookbook author has graced us with an amazing recipe that's the ultimate Super Bowl snack: nachos loaded with crispy shallots and mushrooms.
The recipe, straight out of her second cookbook Cravings: Hungry for More, is a completely new way of making nachos that I would have never thought of myself.
First of all, she swaps out the typical ground beef for a ton of mushrooms to make it super meaty without having to use any actual meat.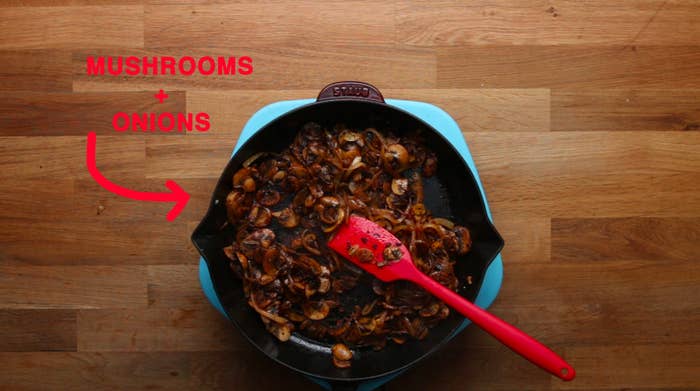 And if that's not enough, Teigen also adds homemade crispy shallots that she makes in the microwave.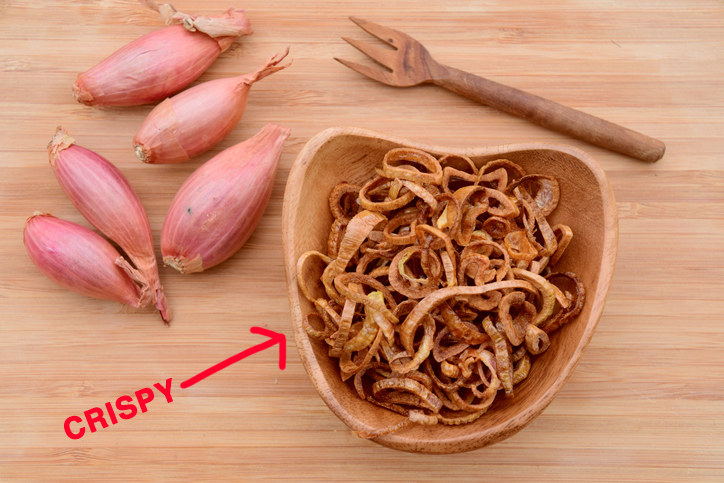 All of that gets piled on top of chips and garnished with tomatoes, scallions, shredded cheese, and jalapeños.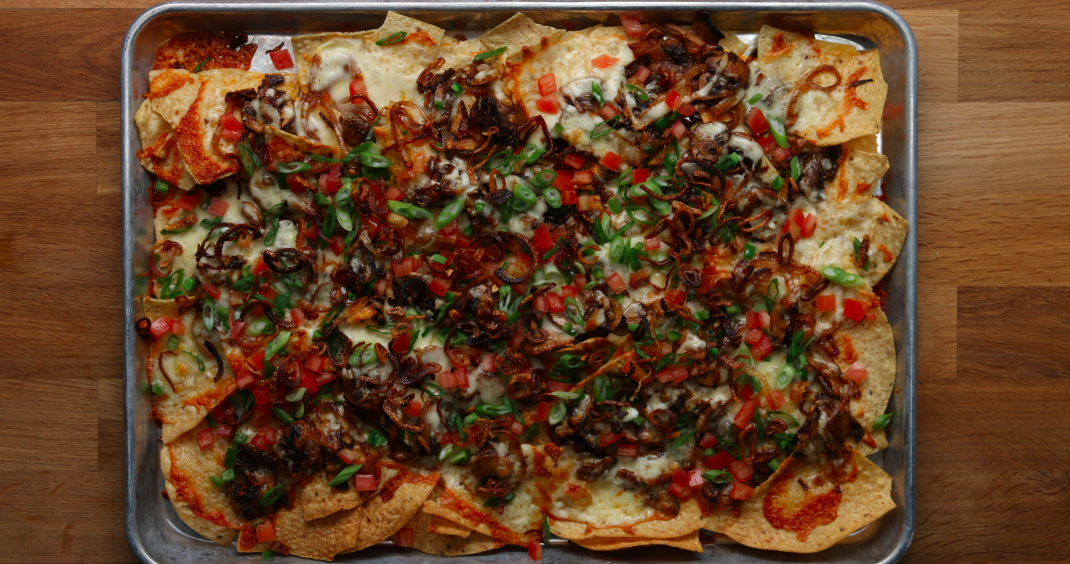 And that's it! Chrissy Teigen's vegetarian nachos.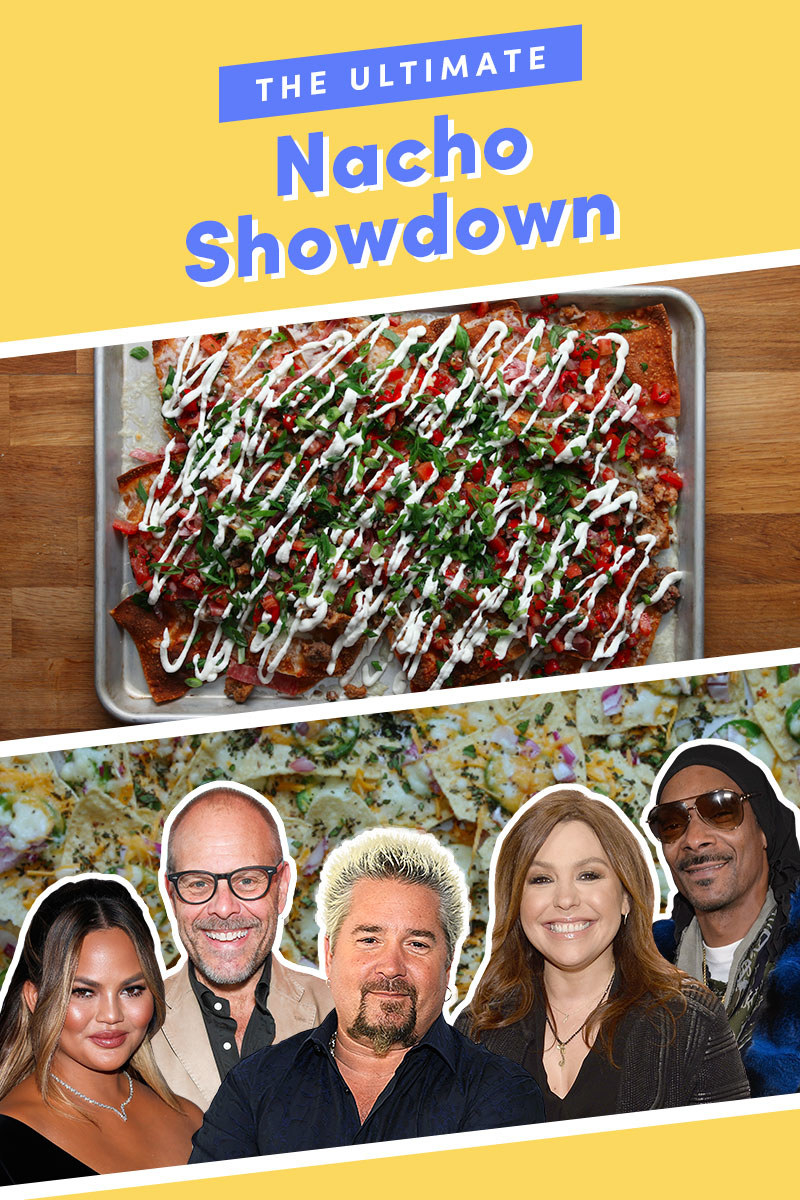 Ready to cook 'em yourself? Get the recipe below!
MUSHROOM AND CRISPY SHALLOT NACHOS
Serves: 6
INGREDIENTS
For the nachos:
4 tablespoons canola oil
1 large onion, thinly sliced
3 cloves garlic, thinly sliced
2 (8- or 10-ounce) packages mushrooms (1 to 1¼ pounds), trimmed and thinly sliced
1 tablespoon chili powder
½ teaspoon dried oregano
½ teaspoon cayenne pepper
Kosher salt and freshly ground black pepper
5 cups tortilla chips
1½ cups shredded pepper Jack cheese
1½ cups shredded sharp white cheddar cheese
1 large jalapeño (red or green), chopped (seeded if you want it less hot)
1 tomato, seeded and diced
2 scallions, thinly sliced
Crispy Shallots
For the crispy shallots:
1 cup thinly sliced shallots
1 cup canola oil
Kosher salt
PREPERATION:
To make the crispy shallots:
Scatter the shallots evenly in an 8 × 8-inch glass dish. Pour the oil over the shallots and microwave on high until the shallots are browned and crisp, 6 to 8 minutes. (Begin checking them at 6 minutes as they can darken quickly.) Quickly and carefully, drain the shallots in a fine-mesh sieve set over a bowl to catch the oil. Transfer the shallots to paper towels and season with salt. Let cool completely. The shallots will keep in an airtight container for a week. Store the oil in an airtight container in the fridge for up to 1 month.
To make the nachos:
Preheat the oven to 375°F.
In a large skillet, heat 2 tablespoons of the oil over medium heat. Add the onion and cook, stirring, until golden, 9 to 10 minutes. Add the garlic and cook 1 additional minute. Scoop it out onto a plate.
Add the remaining 2 tablespoons oil, then add the mushrooms, increase the heat to medium-high, and cook, stirring, until the mushrooms release their water, about 7 minutes. Add the chili powder, oregano, cayenne, ½ teaspoon salt, and ¼ teaspoon black pepper and cook 1 additional minute. Stir the onions into the mushroom mixture. Add more salt and pepper to taste.
Scatter the chips on a large rimmed baking sheet. Scatter the onion-mushroom mixture on top of the chips, then top with the cheeses and half the jalapeños. Bake until the cheese is melted and bubbling, about 15 minutes. Remove from the oven and scatter with the remaining jalapeños, the tomato, scallions, and plenty of crispy shallots. Serve right away.
Reprinted from Cravings: Hungry for More. Copyright © 2018 by Chrissy Teigen. Photographs copyright © 2018 by Aubrie Pick. Published by Clarkson Potter, an imprint of Penguin Random House, LLC.
And if you're looking for even more of Chrissy Teigen's delicious recipes, check out Cravings: Hungry for More.