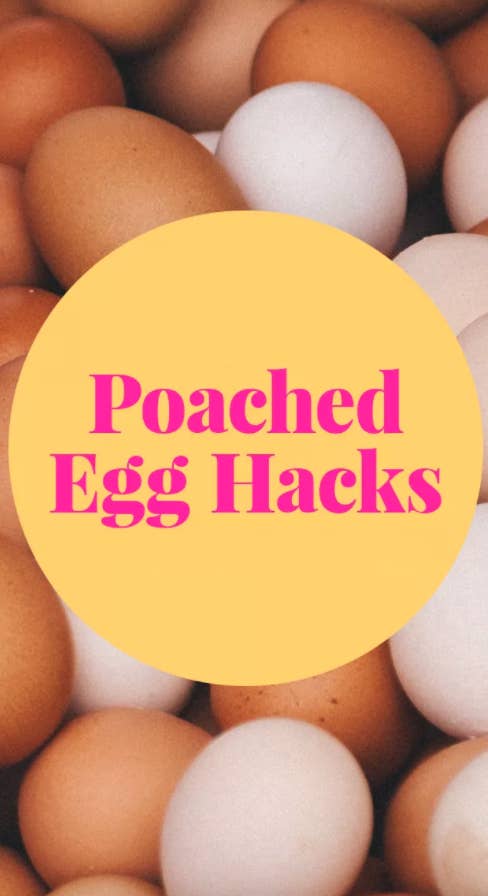 Poached eggs are SO easy to screw up.
But I take my eggs really seriously, so I decided to test five hacks — from techniques to products — against the classic poaching method to see if any of them would work better. Here's how they went:
HACK #1: Pre-boil eggs in their shell for 10 seconds before poaching them. This will firm up the whites and keep them wrapped around the yolk.
HACK #2: Poach eggs directly inside a fine mesh strainer. This will drain the wispy whites and hold everything together.
HACK #4: Poach eggs directly in a microwave mug to avoid all the fuss.
HACK #5: Poach eggs in floating silicone cups so they stay together and you don't have to keep an eye on them.
Last but not least? I also wanted test a control method — to give the hacks a standard to live up to.
I went with the traditional whirlpool method — where you drop an egg into swirling water, with a bit of vinegar. The force from the water helps give the eggs their shape and keeps everything together.
TL;DR: Nothing beat the tried-and-true whirlpool method, but straining the eggs before poaching them proved to be a real game changer and helped get rid of the watery whites. I suggest combining two of these methods and straining your eggs, then cooking them in a whirlpool. 🍳
How do you poach your eggs? Did we miss any hacks? Let us know in the comments below!