This Slow Cooker Chicken Recipe Is TikTok's Latest Food Craze — Like, Millions Of People Are Going Bonkers Over It — So I Made It And Now It All Makes Sense
This delicious slow cooker chicken is not a new recipe, but people who've just discovered it can't get enough. People online love it so much, the top 24 videos have well over 23 million views! And I'm here to admit, I am addicted.
👋 I'm Krista, and as a busy mom who makes zero-effort dinners, it's game on when I find a super-easy recipe. So, in today's episode of viral recipes from TikTok, I bring you a tasty new take on chicken in a slow cooker!
Now, this is not a new recipe — there are actually so many recipes online that it is impossible to find where it originated — but people on TikTok are just now discovering it and creating their own variations. Users love this chicken dish so much, the top 24 videos have well over 23 million views! And I've had it before, so I can attest to how glorious it is — albeit not the healthiest dish, it is damn delicious.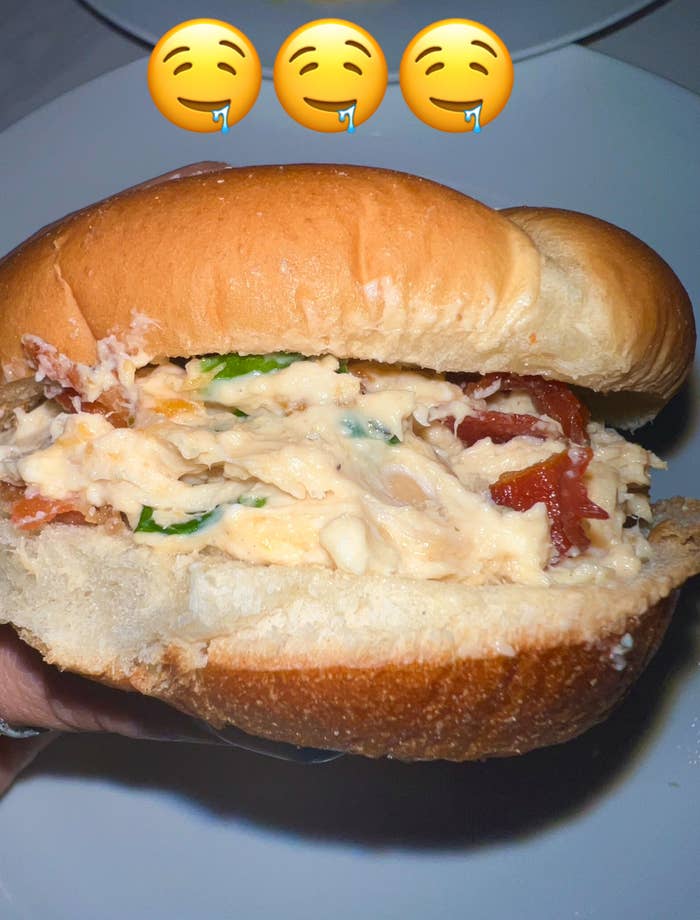 The recipe consists of three main ingredients: chicken, cream cheese, and ranch seasoning. But the recipe I am going to show you today is my favorite upgrade. I also add chicken broth, green onions, cheddar cheese, and bacon — and buns, because I like to serve it as a sandwich.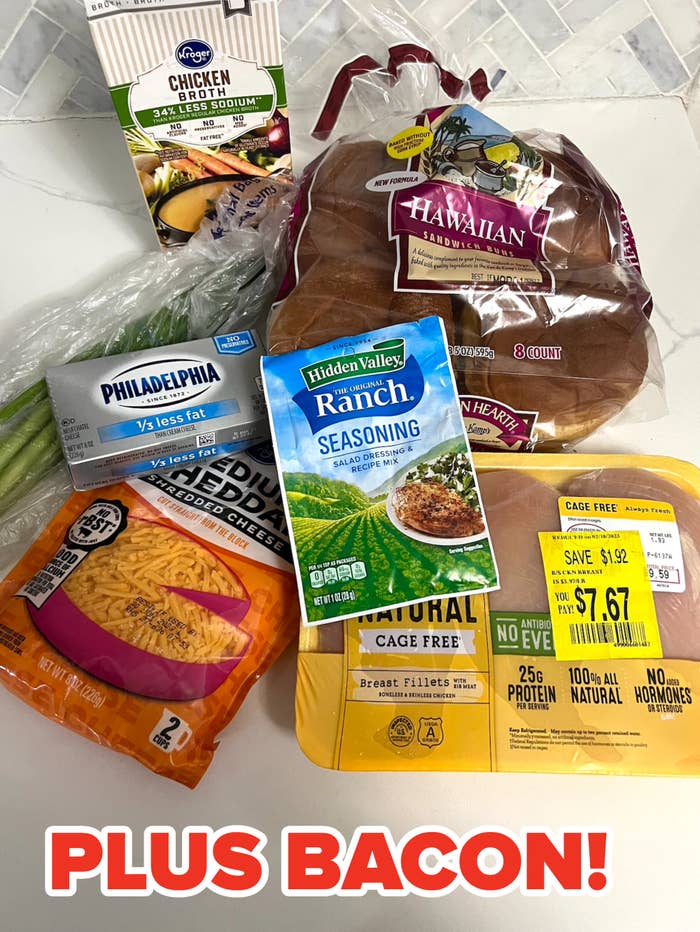 The total cost of this recipe should be between $30–$40, and it'll feed five to six people.
First, add about 1.5 pounds of boneless, skinless chicken breasts or breast tenderloins to a slow cooker. Then, add a 1-ounce packet of ranch seasoning mix, about 1/4 cup of chicken broth, and one 8-ounce block of cream cheese.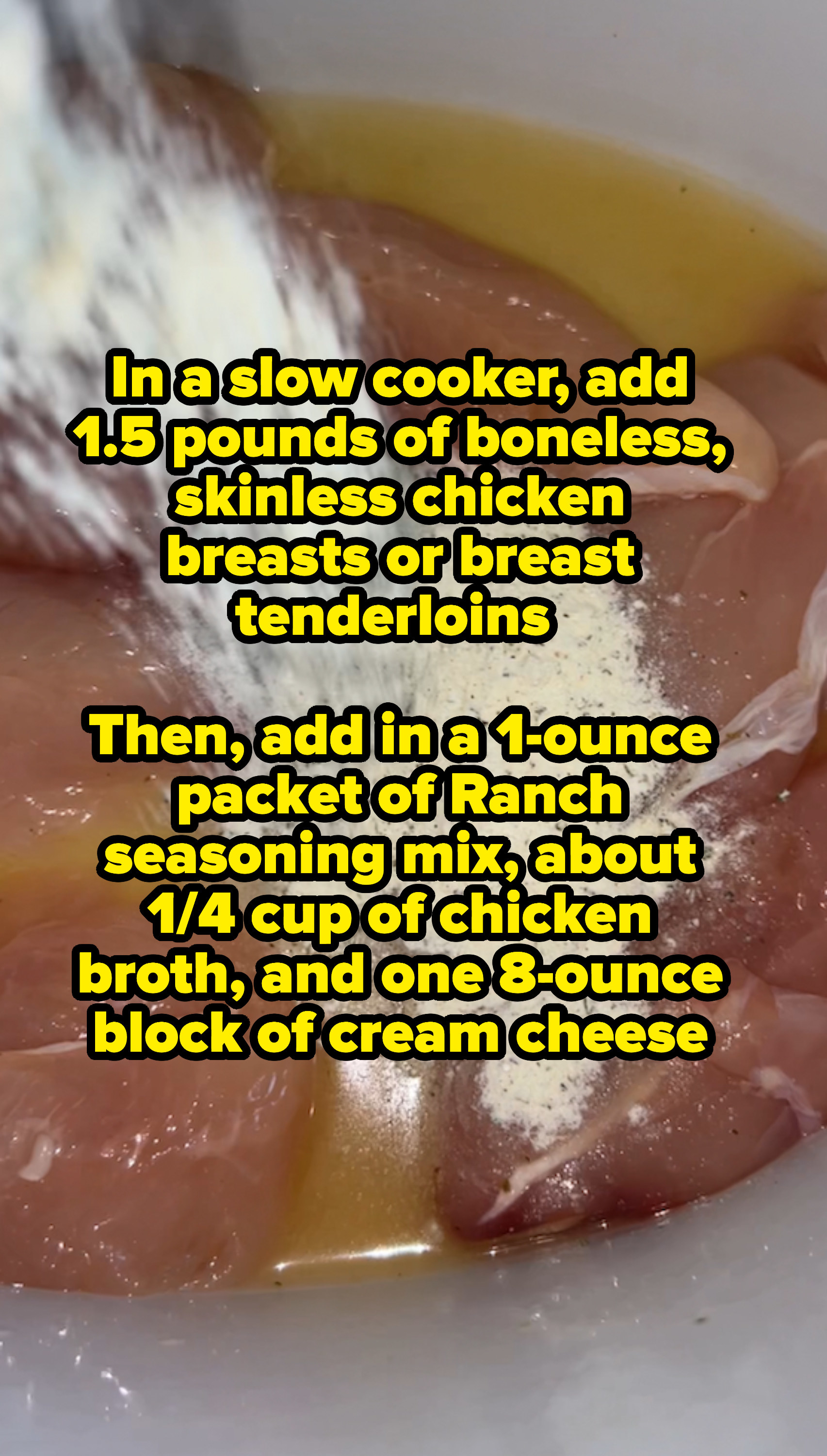 Cover and cook on low for five to six hours or on high for three hours.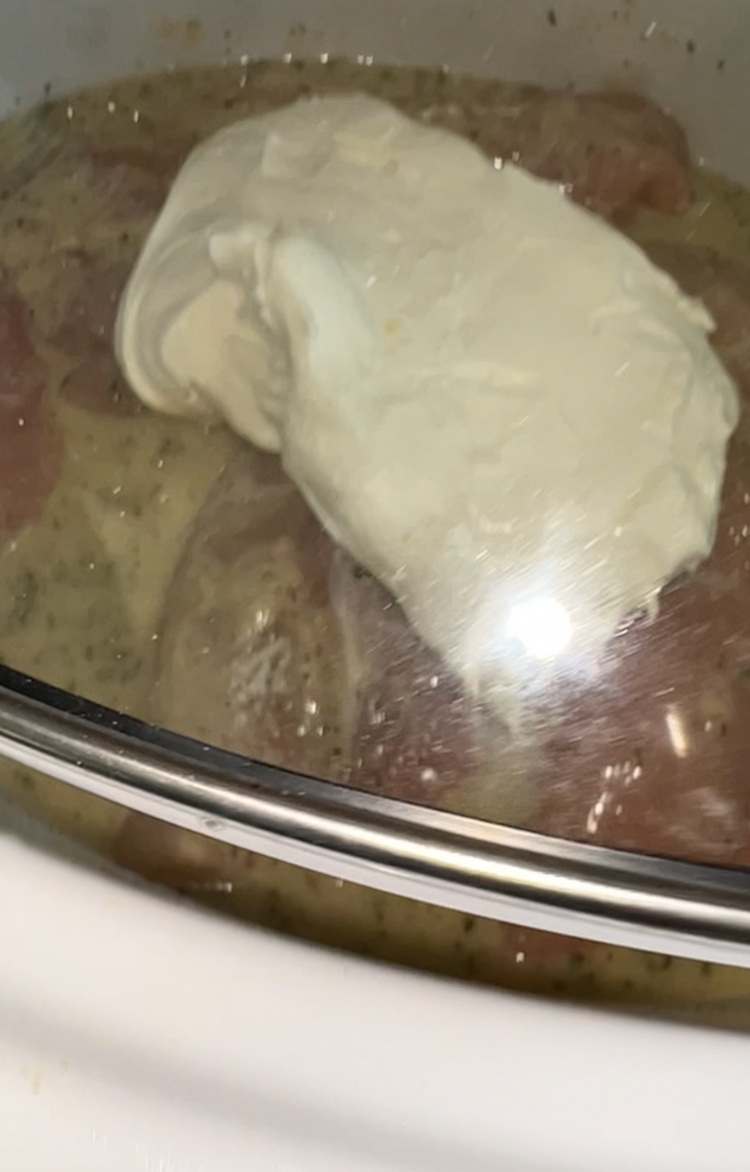 When the meat is done, it'll easily fall apart, so you can shred it with a fork right in the slow cooker.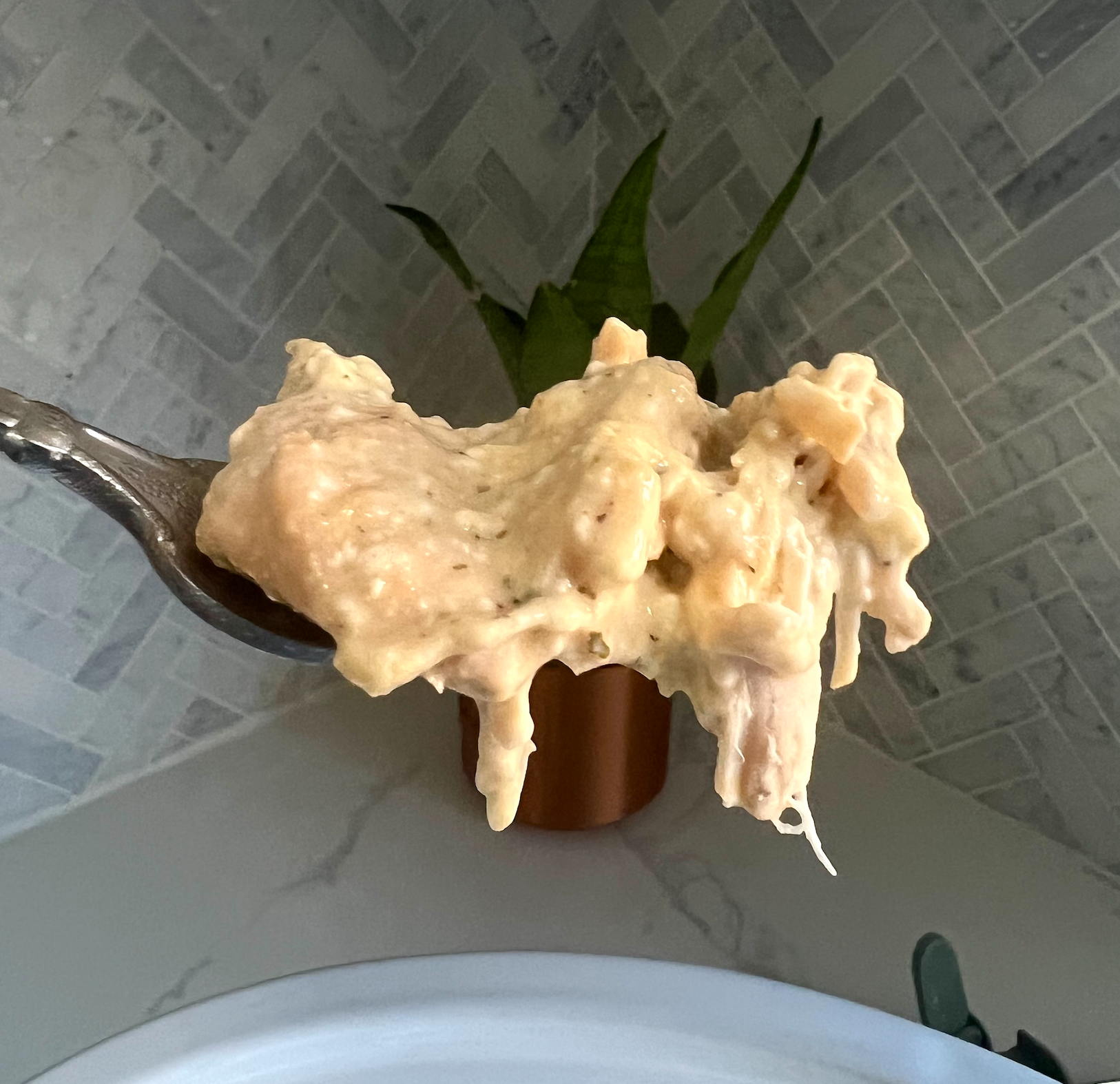 Next, add your chopped green onions, shredded cheddar cheese, and cooked, crumbled bacon. (I don't have measurements for this, so add to your liking.)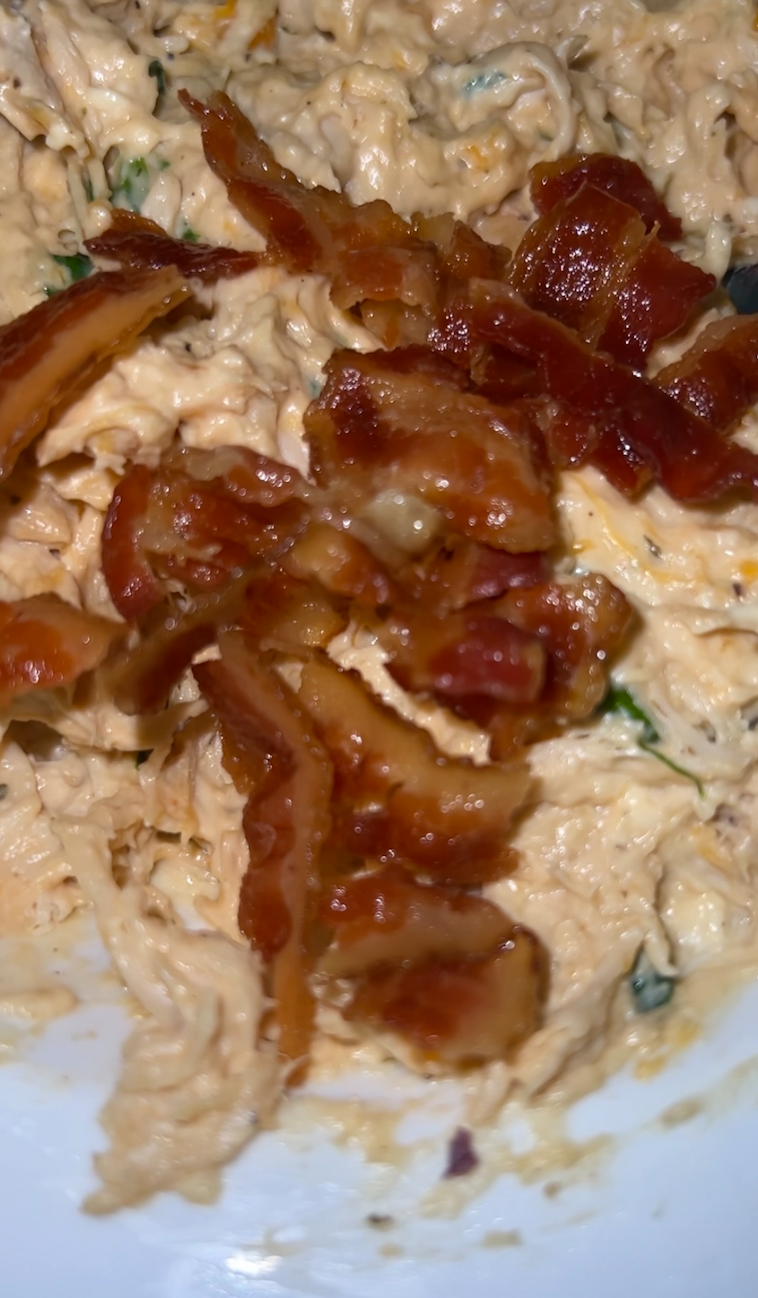 After you mix it all up, serve it on your favorite type of bun and enjoy!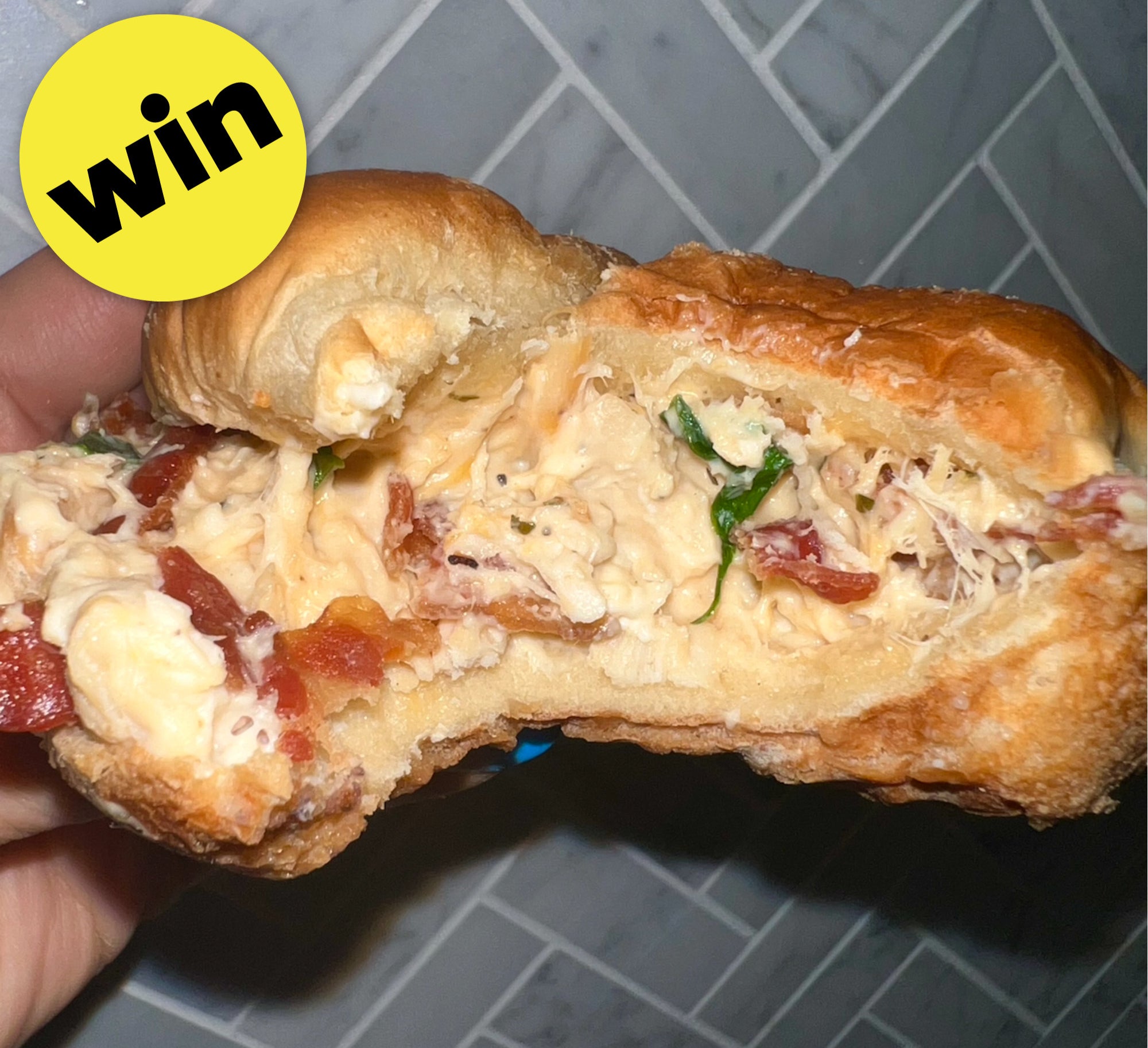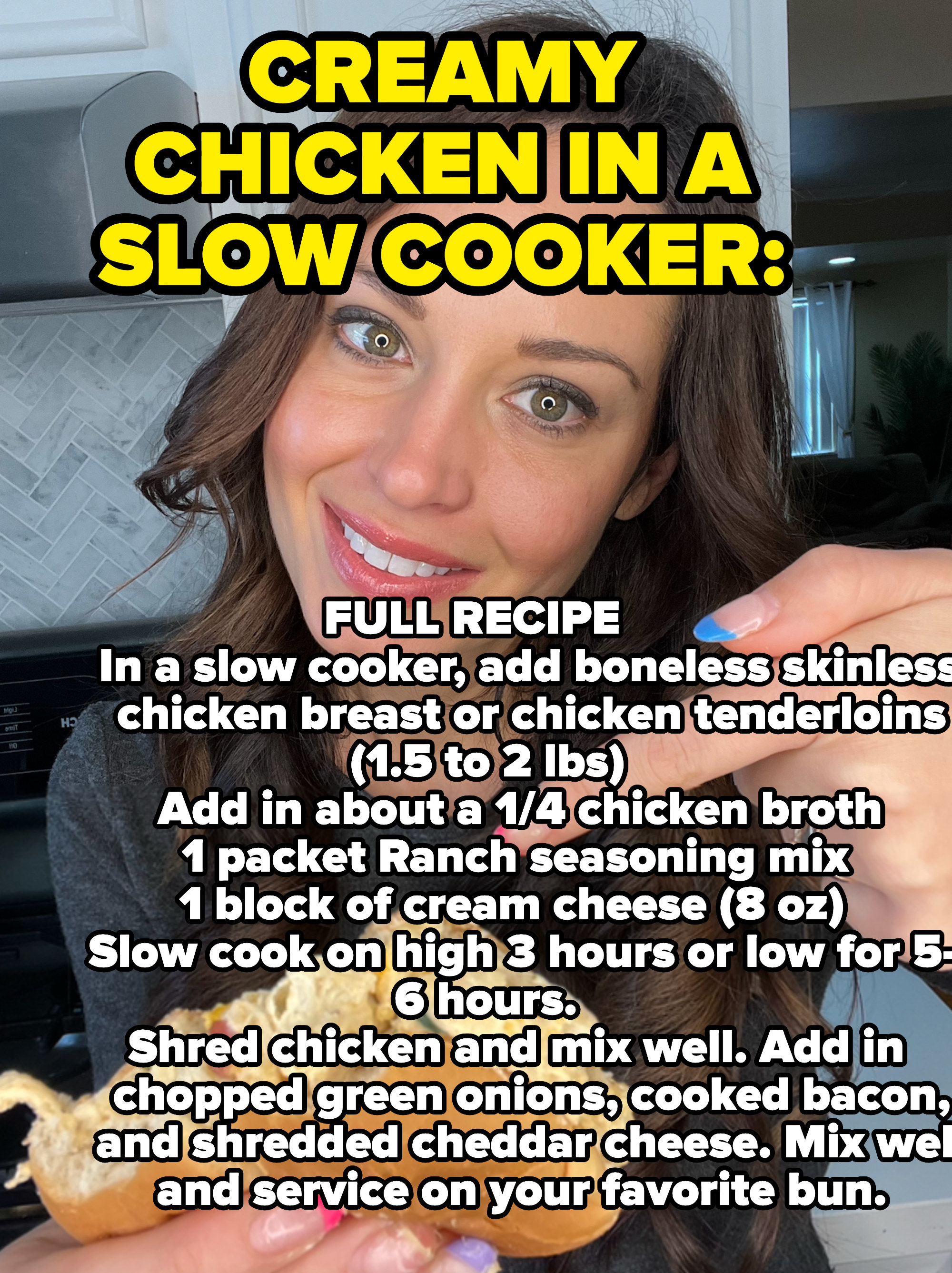 As I said before, you can make it all sorts of ways. A lot of people in my comments had brilliant ideas too, like using jalapeño cream cheese instead of regular.

Making it with chicken thighs instead of breasts.

Putting the mixture in crescent rolls instead of on buns:

Or even making it into a chili!

You can also bake it in the oven or a pressure cooker. It doesn't have to be in a slow cooker.

Anyway, is it 100% healthy? No. But is it really easy and tasty? Absolutely. Have you ever tried it? If not, would you?!
Correction: We changed the viral title of this recipe to follow our BuzzFeed standards.