News flash! Steak dinners don't have to be unhealthy. This easy dinner recipe pairs spice-crusted hanger steak with a spring quinoa salad, and it all clocks in at around 400 calories*.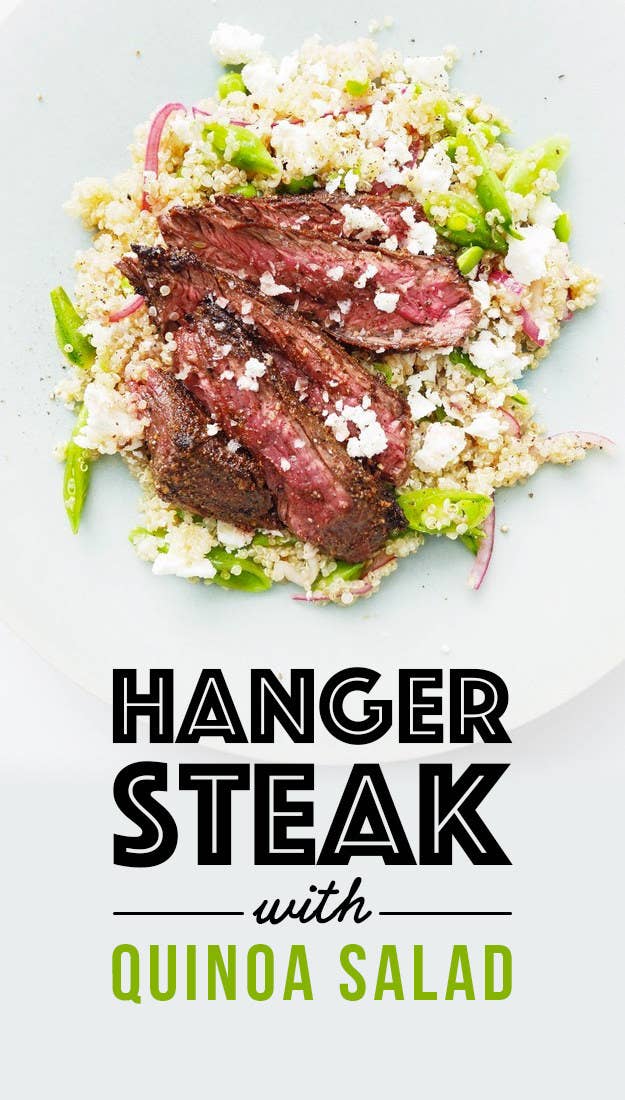 Here's how to make it. You can get the recipe and the how-to video at the bottom of the post.
Start by making some pickled red onions with red wine vinegar and salt. They should get soft and pink.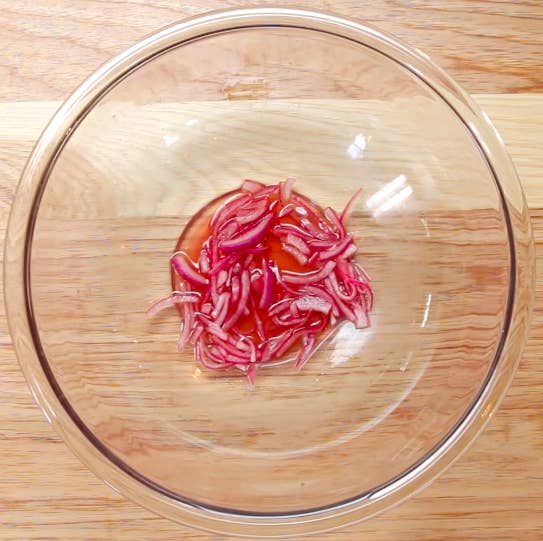 Then boil some quinoa and add it to the onions with snap peas, feta, salt and pepper, and a little oil.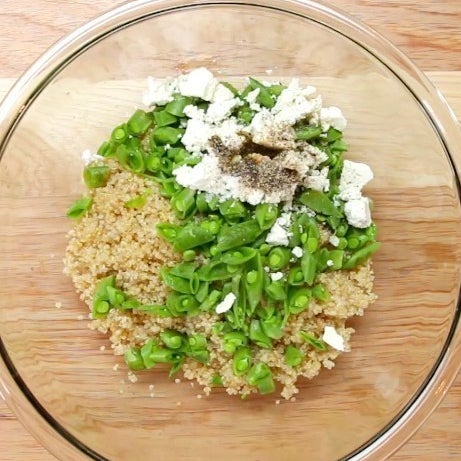 Now, season the steak by making a cumin and coriander spice rub for the steak.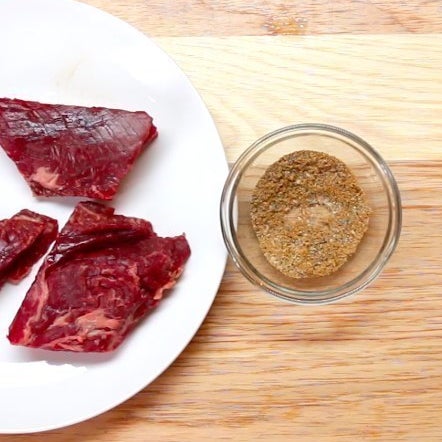 Make sure to get it all over the pieces. Spices are a great way to add flavor without adding a lot of calories.
Cook the steak over medium-high heat for 3 to 4 minutes per side. Do not touch the steaks other than flipping them!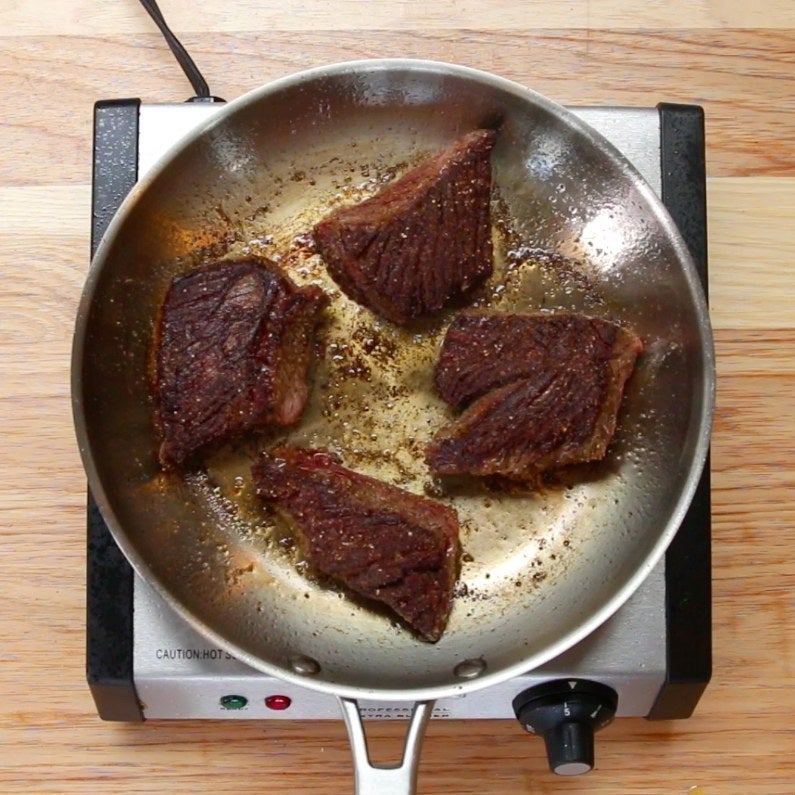 This is how you get a deliciously crispy crust and a medium rare interior.
Then ~marvel~ at the juicy interior and enjoy with the quinoa salad.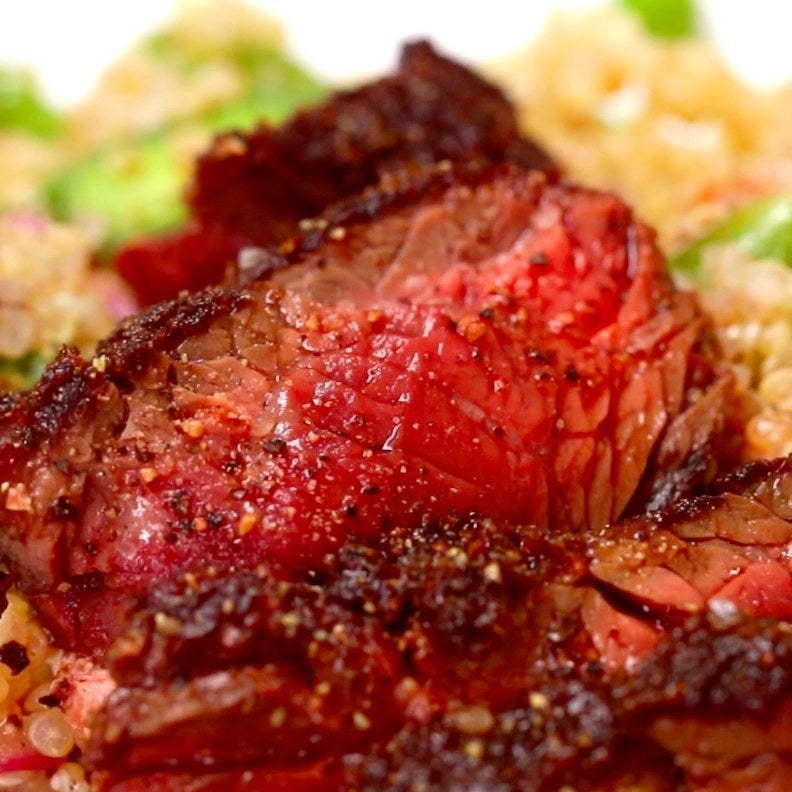 Spiced Hanger Steaks with Spring Quinoa Salad
Serves 4
Total cook time: 20 minutes
Recipe by Lindsay Hunt
INGREDIENTS
¼ small red onion, thinly sliced (2 oz)
2 tablespoons red wine vinegar
Kosher salt and black pepper
1 cup quinoa, rinsed
1 pound hanger steak, cut into 4 pieces
1 ½ teaspoons ground cumin
1 ½ teaspoons ground coriander
2 tablespoons, plus 1 teaspoon olive oil
1 cup sugar snap peas, sliced (about 4 oz)
2 ounces feta, crumbled
DIRECTIONS
Toss the red onion, vinegar, and 1 teaspoon salt in a medium bowl. Let sit, tossing occasionally, until softened, about 15 minutes.
Meanwhile, cook the quinoa in a pot of salted boiling water until just tender, 10 to 12 minutes. Drain and return to the pot to cool.
As the quinoa cooks, make the steak. Season the steak with the cumin, coriander, and 1 teaspoon each salt and pepper. Heat 1 tablespoon of the olive oil in a large skillet over medium-high heat. Cook until an instant-read thermometer inserted in the thickest part of the steak registers 130° F, 4 minutes per side 
for medium-rare. Let rest for 5 minutes, then slice against the grain.
While the steak rests, add the peas, feta, cooked quinoa, and the remaining tablespoon of olive oil to the onions. Toss to combine and season to taste. Serve the steak with the quinoa salad.