Your Friend Will Be Blown Away When You Make These Tiramisu Mille-Crepes
Easy to make, great for showing off!
Tramisu Mille-Crepes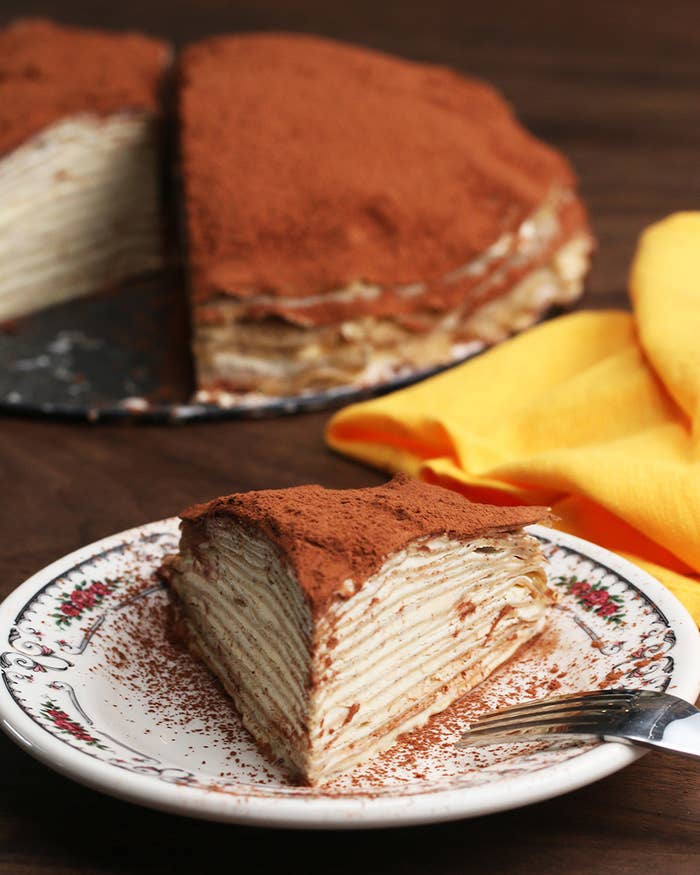 INGREDIENTS
Servings: 6-8
For the mascarpone cream:
6 egg yolks
1 ½ cup of powdered sugar
16 oz Mascarpone cheese
6 egg whites beaten to stiff peaks
For the crepes:
3 ¾ cups all-purpose flour
8 eggs
5 tablespoons melted butter
3 tablespoons sugar
4 cups milk
3 tablespoons ground coffee
Vegetable oil for cooking
For the topping:
Cocoa powder
PREPARATION
Mascarpone cream:
1. In a bowl, whisk together egg yolks and sugar.
2. Add the mascarpone cheese in, and whisk until the mix is smooth.
3. With a spoon or a spatula, delicately add the egg whites beaten to stiff peaks.
4. Once the mix is smooth, chill in the fridge for 2 hours.
Crepes:
1. In a big bowl, mix the flour and the eggs together.
2. Add the sugar and the melted butter. Stir energetically.
3. Little by little, pour the milk into the mix. Stir all the way through and make sure to get rid of any lumps before the mix becomes too liquid. Keep adding the milk and stirring.
4. Add the ground coffee. Stir.
5. Let the batter rest for at least 30 minutes.
6. Pour 1/2 cup of batter into a well-oiled frying pan, making sure to spread the mix all over the pan.
7. Once the bottom side is golden, flip the crepe. Cook for one more minute on the other side. Transfer to a plate.
Assembly:
1. Place a crepe in the middle of a big plate.
2. Spread a thin layer of mascarpone cream on top of it.
3. Top with another crepe. Repeat. (The number of crepes you'll end up using in the cake depends on the thickness of your crepes and of your layers of cream. The thinner your layers of cream, the more crepes you can add and still have a stable result. In the end, your cake should have between 12 and 20 crepes.)
4. Finish with one last crepe to top the cake. Dust with cocoa powder.
5. Chill for at least 3 hours, or overnight, before serving.
6. Enjoy!
Inspired by Tasting Table.