Making Great Pho Is Hard, But Making A Life From Scratch Is Harder
After fleeing Vietnam, my parents turned to food to teach us about what it means to be Vietnamese.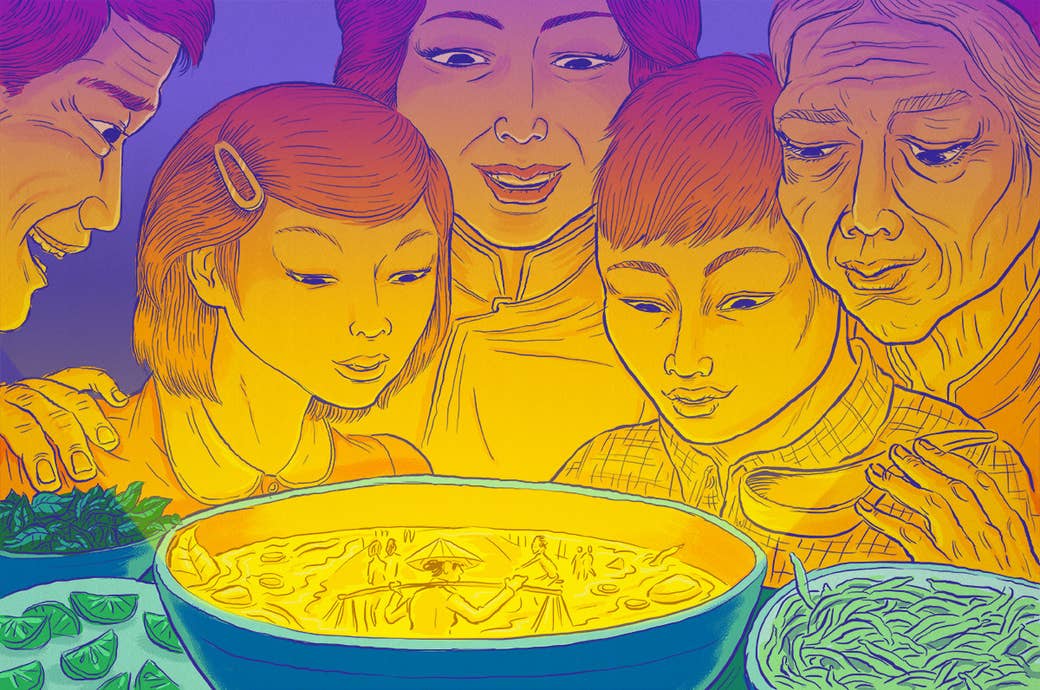 Two of the hundred thousand Vietnamese refugees rescued by American troops in 1975 were my mother and father: He was sent to Camp Pendleton in California and she to Fort Chaffee in Arkansas. Their families were eventually relocated to Stockton, California, where they met and fell in love.

My mom and dad adjusted to life in the States because they had to. They figured out how to fill out college applications, how to pass English proficiency tests without actually knowing English, how to find good schools for their kids, how to understand when those kids didn't want to be engineers and went to work for BuzzFeed instead ("Is that a website?"). They assimilated, because that's what it takes to make it here.

They're hardly the first or last immigrants to understand just how hard that social adjustment is. The language barrier was the first hill they had to climb. Navigating a new school system, and not having to wear uniforms, was another; there was barely enough money for clothes, let alone "cool" ones.

When life in America seemed particularly alien, there was one thing that always helped: food from home.
But none of that was nearly as difficult as the aspect of assimilation no one prepared them for: that conforming to another culture's norms would make them feel as though they were giving up pieces of their past selves, abandoning a part of their own identities in order to fit in. Americans don't slurp their soup, and they always tip the waiter.

When life in America seemed particularly alien, there was one thing that always helped: food from home. My mom told me that during her time in Texarkana, Arkansas, her family would drive three hours to Dallas to shop at the nearest Asian supermarket so they could recreate phở, a beef noodle soup with magical healing powers — and a cure for intense homesickness. Cooking and eating that soup, my mom could forget about the sisters and grandmother she left behind, thousands of miles away. Every spoonful was like a short trip back to Vietnam. For a little while, in this new, foreign place, she could feel like herself again.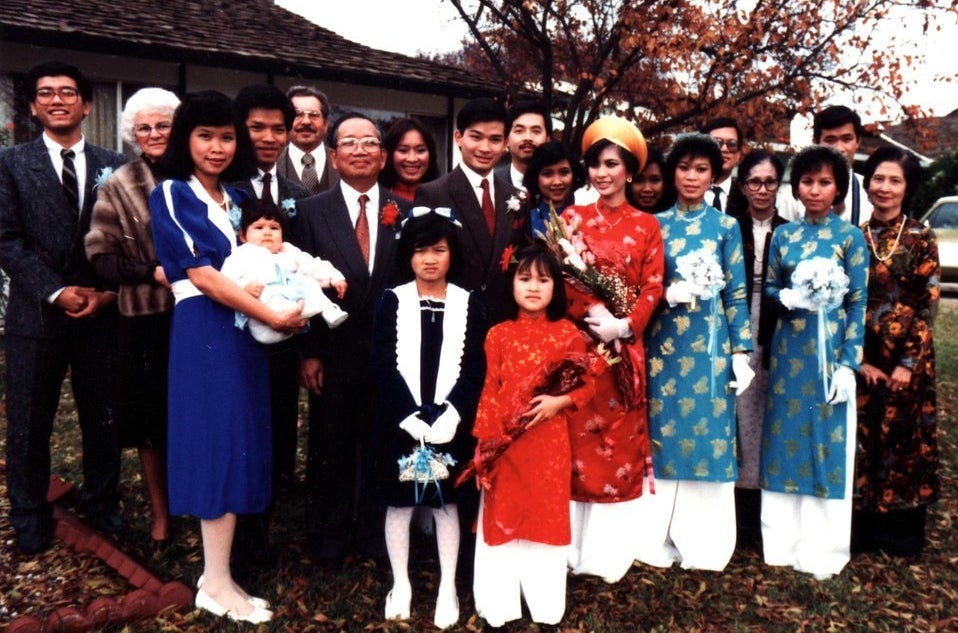 I grew up in one of the largest Vietnamese communities in the U.S.: eastside San Jose, a Northern California suburb. My brothers and I are first-generation Americans. We're a pretty typical American family. We pose for Christmas photos in Santa hats, we love The Voice, we live for trips to Costco.
I've been called "banana" and "Twinkie" many times, cruel slurs that mean "whitewashed" — Asian on the outside and white on the inside. The insults came mostly from my Vietnamese peers, who ruthlessly questioned my Vietnamese-ness. Maybe because I had never been to Vietnam, or because I didn't have enough Asian friends, or because I loved things like art history, camping, and MTV. I'm still puzzled by it.
The accusations, in my opinion, were just a misunderstanding. Those kids probably didn't know that Vietnamese is my first language, or that when I'm far from home, the things I crave most are bánh mì (sandwiches), gỏi cuốn (spring rolls), bánh cuốn (rice rolls with meat), and, most of all, phở — just like my mom.

It's a tangible reminder that, despite the ways they remade themselves to make their long journey here worth it, we are, in fact, Vietnamese.
My parents' families (and the waves of immigrants who followed) brought over recipes for traditional dishes that are preserved and served in Vietnamese enclaves around the U.S. today. And many of the best Vietnamese restaurants in the country (hi, Pho Y #1) were steps away from my childhood home. I loved everything about them: how loud and bustling they were, how they were one of the few places where I didn't feel like a minority, and (not least) how freaking delicious all of the food was.

After the fall of Saigon, everything changed — except for the food. And so this food is how my parents show my brothers and me the Vietnam they knew. It's a tangible reminder that, despite the ways they remade themselves to make their long journey here worth it, we are, in fact, Vietnamese. And when we come home, that's how we eat.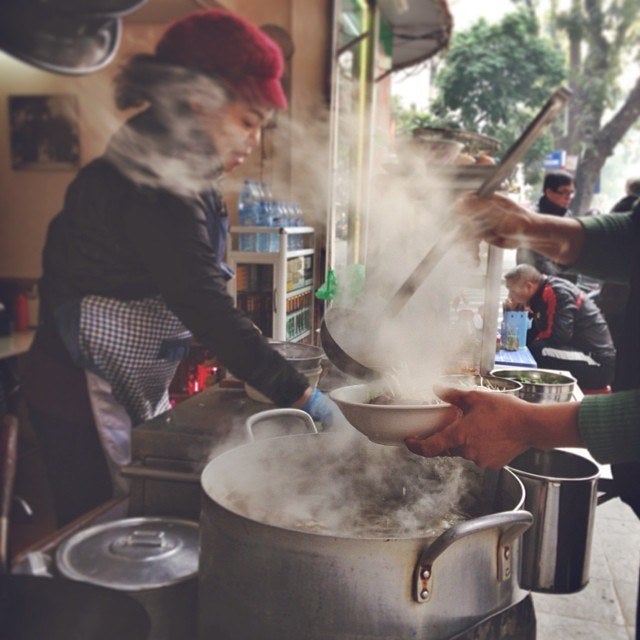 Phở, a clear chicken- or beef-based broth with rice noodles, thinly sliced meats, and — depending on the region — a small mountain of fresh herbs, is undoubtedly the most well-known Vietnamese dish in the U.S. Restaurants dedicated solely to the noodle soup are now found in essentially every major American city. There is nothing like its savory, spice-filled broth, due in no small part to the 12 hours of careful attention required to make it.
It's pronounced "fuh," as in No fuh-king way! (and CERTAINLY not "foe"). Because Vietnamese is a tonal language, it actually sounds more like "fuh?" with a question mark (this video will help).
Phở is always part of the feast, not because it is tradition, but because it is our family's favorite.
For my extended family, phở is an event. My paternal grandmother, or bà nội, makes legendary phở. Aunts, uncles, cousins, and significant others — 21 of us in total — will make the two-and-a-half hour drive to Stockton from the Bay Area to get it.

Several times a year, we trek to my grandma's house for giỗ, or a death anniversary, to honor my grandfather and other family members. My grandma will typically spend the entire day cooking a banquet for our ancestors. But in recent years, because of arthritis, my grandma has had to enlist my aunt to help cook the soup under her careful supervision. Phở is always part of the feast, not because it is tradition, but because it is our family's favorite.

The day before the festivities, my grandma prepares the broth, which fills the house with delicious fumes as it simmers for hours and hours and hours. The following afternoon, when it's time, we light incense, pay our respects, bow our heads, then sit at the dinner table. My family is so big that we have to eat in shifts, and my uncles often compete to see who can finish the biggest bowl.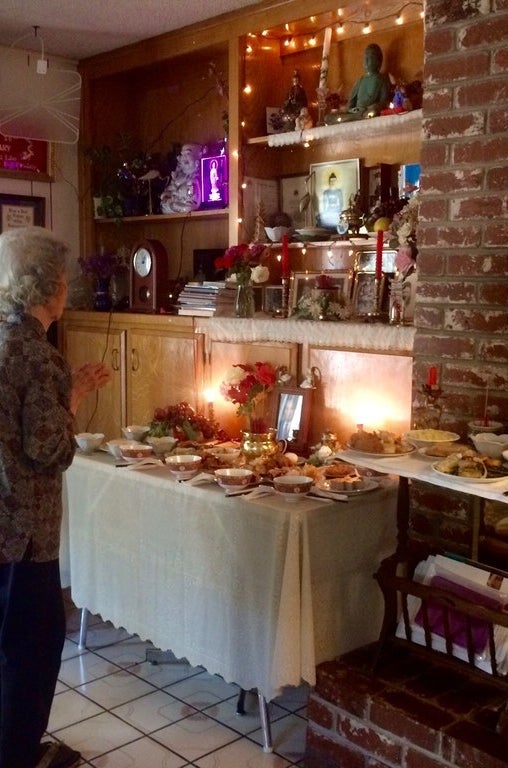 To understand phở is to understand Vietnam itself. Traditionally, it is a breakfast food, simmered all night long and served in the morning before the blistering sun has a chance to get too hot. Many suspect that the soup originated in 1880s Hanoi during French colonial rule, and that it's actually a Southeast Asian interpretation of pot-au-feu, a beef stew that uses a similar blend of spices.
There are as many kinds of phở as there are regions in Vietnam. The two main styles hail from Hanoi, in the north — a simpler version with wide noodles, strong star anise flavor in the broth, slices of beef, and a sprinkling of green onions and cilantro as garnish — and Ho Chi Minh City, formerly known as Saigon, where you'll find a more elaborate variant with thin rice noodles, a more fish sauce–forward broth, and a generous amount of bean sprouts, basil, hoisin sauce, lime, and chili.
Phở shops are the places where people gather despite their political or socioeconomic differences.
The country still bears deep wounds from the conflict that divided its people. There isn't a consensus on whether the enemies in The War — the one that forced my parents to flee — were the Northern Vietnamese communists or the American troops.
And yet phở shops are the places where people gather despite their political or socioeconomic differences. I saw this for myself when I visited Ho Chi Minh City in 2014. American tourists, merchants, officers, and patrons of the nearby luxury boutiques bumped up against one another at the same crowded phở restaurants. During the war, Northern Vietnamese and American troops famously dined under one roof.
No matter what kind of phở you're enjoying, it's the type of soup that requires your entire body's attention. Phở is a two-handed operation: chopsticks in one hand, spoon in the other, and a piping hot bowl of steamy broth below. You really have to get in there. You might even work up a sweat.
When I was a kid, homemade phở nights were one of the few occasions that could break my very bad habit of reading at the dinner table. The same was true of my gaming-addicted brothers and their Nintendo DSs. There simply aren't enough limbs to prop up a book (or, these days, a phone) when you're eating phở.
When we're ready to eat, my mom will add the final touches to the broth while each family member softens their own noodles, assembles their own variety of meats, rips herbs into their bowls, and dresses them with hoisin sauce and Sriracha. For one night, we abandon our individual routines and work in the kitchen in tandem, as a family, together. When we're finally at the dining table, we slurp our noodles — a little act of rebellion against American conventions.
Making phở is one way my family holds onto our heritage through food, and there are others, too. I love watching my dad smile as he sips his daily cà phê sữa đá (iced coffee with condensed milk), or my mom's face light up when she talks about bún bò huế, a spicy red vermicelli dish native to Central Vietnam, where she grew up. It reminds me that they — and my grandparents — left behind so much to make a better life for themselves, and for us.
I may never fully understand what it means to be "truly" Vietnamese, but I do know how to make a damn good, aromatic broth. I don't thank my family enough for their love and sacrifice, and to me, learning how to make a great phở is one of the ways I can express my deepest gratitude. When my parents crave a taste of "home," I'll know exactly what to do.
---