If you were paying attention during potions class in Harry Potter & The Half-Blood Prince, you'll probably be familiar with this concoction: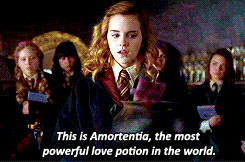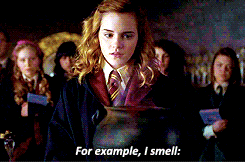 And there's good news: Just in time for Valentine's Day, here's a recipe you can use to mix up your very own party-size batch of Amortentia.
We can't predict exactly what it will smell like to you, but we can guarantee that it will be delicious, get you drunk, and cause anyone you serve it to to become wildly infatuated with you.*
*We cannot actually guarantee this.
First, you'll need to assemble and freeze an ice ring for your punch bowl.
For 20 extra points to your house, you can also freeze heart-shaped raspberry ice cubes for each punch glass.
Next up: Booze! Specifically Aperol, gin, and pink sparkling wine. Oh, and some pomegranate juice.

"Amortentia" Love Potion Punch
Serves about 20
For ice ring:
1 pint fresh red raspberries
1 cup fresh pomegranate seeds
4 cups water, boiled and cooled
ice cubes
For punch:
1 750-ml bottle Aperol
4 cups pomegranate juice
2 cups gin
2 750-ml bottles chilled rosé sparkling wine
Spread raspberries and pomegranate seeds in the bottom of a bundt or ring cake pan. Cover fruit with a layer of ice cubes to keep it in place and pour enough boiled water over to just cover the ice (you don't need to use all the water). Freeze overnight.
Mix Aperol, pomegranate juice, and gin together in a large punch bowl. (Optional: You can make this mixture ahead of time and chill overnight in a sealed container while the ice ring freezes.)
When you're ready to serve the punch, sparkling wine and stir gently. Float the ice ring on top.
Just remember: Amortentia is dangerous stuff.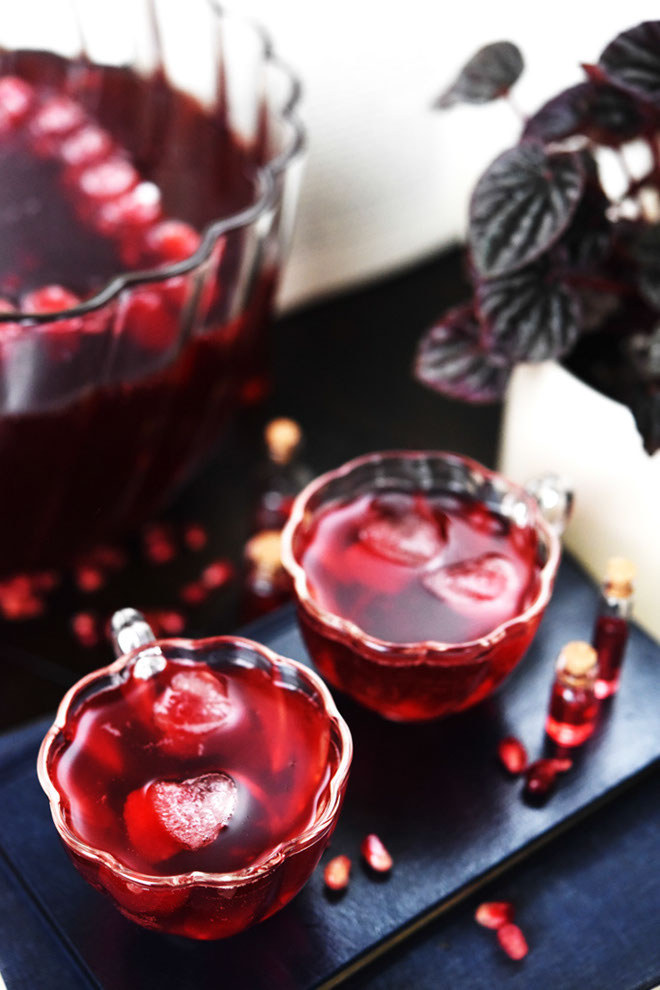 So be very selective about who you give it to...
...and who happens to be around.