How To Throw A Pakistani-Style Eid Lunch
Let me help you end your month of fasting with a day of feasting.
Growing up in Lahore, Pakistan, Ramzan was all about eating — which is contrary to what you might think for a month of fasting.
Official work and school hours are adjusted so you can sleep for most of the day. Productivity is at an all-time low, because you're fasting and need to focus your energies on connecting with God and your mortality. And for me, fasting from sun up to sundown never failed to remind me of my mortality. But with that also came a newfound appreciation for food. Like many of my friends, I'd stay up all night eating. Then, when Eid would roll around, we'd pretend like we'd been starving all month because we fasted during the days.
Fast-forward 10 years: Now I'm living in New York, and want to find a way to keep parts of that tradition going.
Though I wouldn't replicate the problematic labor practices that allowed for a life of being waited on and fed, I do wish to continue eating food that tastes like home — and share it with friends who have come to be my family, now that I'm living in the states. Working a 9-to-5 job poses a bit of a challenge, but one that I'm up for. So this year, I devised a three-day plan, at the end of which I was able to enjoy the pleasure of eating and serving my friends a home-cooked feast for Eid in my modestly-sized Brooklyn apartment. You can find that plan — along with all of the recipes — below.
Here's the feast and all of the recipes: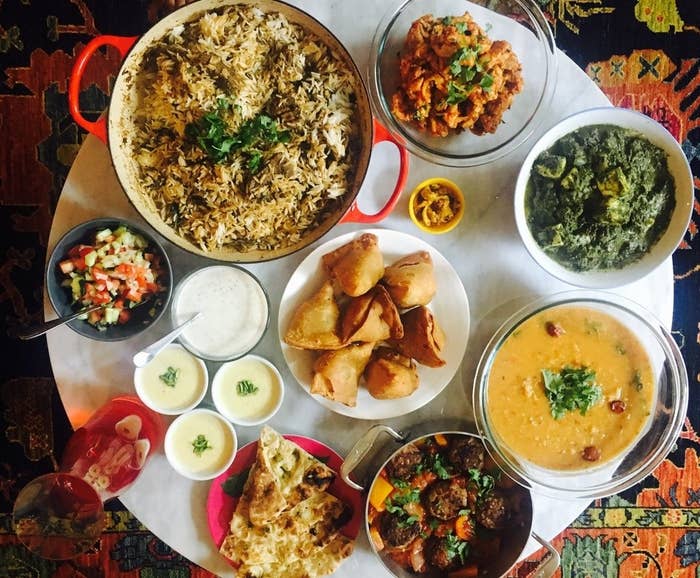 And here's the full game plan: