Loaded Little Potato Tacos
Bite into these scrumptious Loaded Little Potato Tacos and experience a flavor fiesta in your mouth! Packed with crispy potatoes, zesty spices, and fresh toppings, these tacos are perfect for a fun and satisfying meal.
May 04, 2023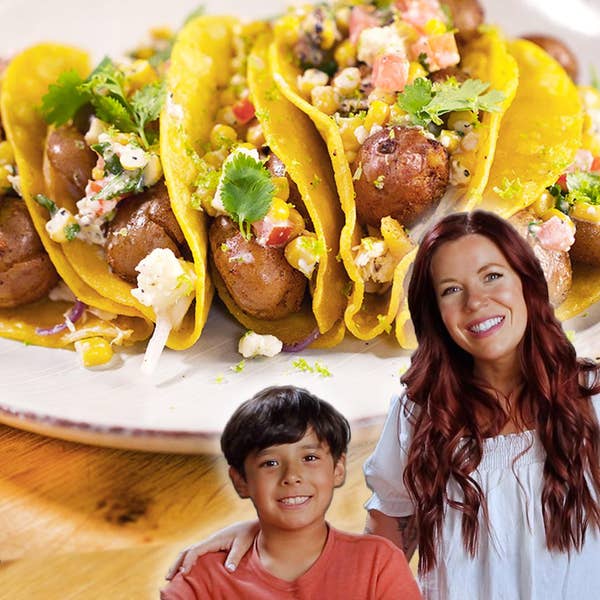 Ingredients
for 10 tacos
Tacos
1 bag Little Potato Company Blushing Belle Potatoes
¼ cup vegetable oil

(60 mL)

, plus 2 tablespoons
10 corn tortillas, warmed
4 tablespoons olive oil, divided
½ large red onion, thinly sliced
1 ½ cups shredded chicken

(185 g)

2 teaspoons kosher salt, divided
½ teaspoon freshly ground black pepper
½ teaspoon ground cumin
½ teaspoon chipotle powder
½ teaspoon paprika
¼ teaspoon ground cinnamon
fresh cilantro leaf, for garnish
lime zest, for garnish
Elote-Style Salsa
1 can fire-roasted whole corn kernels, drained
⅓ cup roma tomato

(65 g)

, diced
¼ cup crema Mexicana

(60 g)

2 tablespoons fresh cilantro, chopped
1 lime, zested
¼ cup crumbled queso fresco

(30 g)

½ teaspoon kosher salt
½ teaspoon freshly ground black pepper
Nutrition Info
Calories

231

Fat

15g

Carbs

18g

Fiber

15g

Sugar

1g

Protein

7g
Estimated values based on one serving size.
Preparation
Add the Little Potato Company Blushing Belle Potatoes to a large pot and cover with cold water. Bring to a boil and cook for 15 minutes, or according to the package instructions, until tender. Drain and let cool for 10 minutes.
In a medium pan over medium-high heat, heat the vegetable oil until it reaches 300°F (150°C). Fold a tortilla in half and use tongs to hold the folded edge in the hot oil for 20 seconds, or until golden brown. Lay the tortilla in the oil and fry on each side for 30–60 seconds, until golden brown and crunchy. Transfer to a paper towel–lined plate to drain and repeat with the remaining tortillas. Set aside until ready to assemble the tacos.
Heat 1 tablespoon of olive oil in a clean medium pan over medium-low heat. Add the red onion and sauté for 6 minutes, or until softened and lightly charred. Add the shredded chicken, 1 teaspoon salt, and the black pepper, and cook for 2 minutes, or until the chicken is well incorporated. Transfer the chicken mixture to a bowl and wipe out the pan.
Using the palm of your hand, gently smash each potato, leaving the potatoes mostly intact. Transfer the potatoes to a medium bowl and gently toss with the cumin, chipotle powder, paprika, cinnamon, and remaining teaspoon of salt until well coated.
In the same medium pan, heat the remaining 3 tablespoons of olive oil over medium-high heat. Working in batches to avoid overcrowding the pan, lightly fry the seasoned potatoes until crispy and golden brown, 2 minutes per side. Transfer to a paper towel–lined plate to drain.
Make the elote-style salsa: In a medium bowl, combine the fire-roasted corn, tomato, crema, cilantro, lime zest, queso fresco, salt, and pepper, and mix well.
Assemble the tacos: Fill a taco shell with the chicken mixture and crispy potatoes. Top with the elote-style salsa and garnish with cilantro leaves and lime zest. Repeat with the remaining ingredients.
Enjoy!