Marbled Chocolate-Dipped Treats
This mesmerizing box of handmade chocolate treats is filled with strawberries, chocolate sandwich cookies, and pretzels swirled in black-, blue-, red-, and purple-dyed white chocolate to create an elegant marble pattern, then decorated in edible gold paint for the perfect finishing touch. It makes the perfect Mother's Day gift or treat for any special person in your life!
August 14, 2023
Total Time
1 hr 10 min
1 hr 10 min
Prep Time
25 minutes
25 min
Cook Time
15 minutes
15 min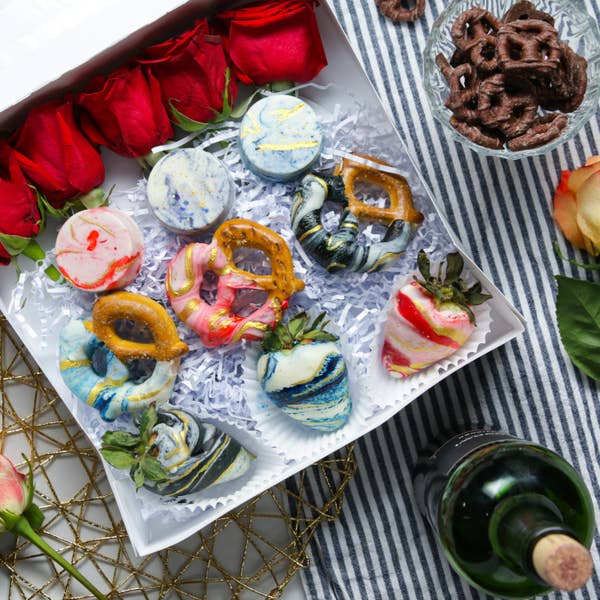 Total Time
1 hr 10 min
1 hr 10 min
Prep Time
25 minutes
25 min
Cook Time
15 minutes
15 min
Ingredients
for 2 boxes
6 large strawberries
2 cups water

(480 mL)

¼ cup white vinegar

(60 mL)

½ teaspoon baking soda
32 oz white chocolate

(960 g)

, divided
4 teaspoons melted coconut oil, divided
2 tablespoons Flo Coat, candy color maker
1 teaspoon black gel food coloring, divided
1 teaspoon blue gel food coloring, divided
1 teaspoon red gel food coloring, divided
1 teaspoon purple gel food coloring, divided
6 old-fashioned pretzels
6 chocolate sandwich cookies
½ teaspoon gold cake luster dust
¼ teaspoon vodka, or pure vanilla extract, plus more as needed
Special Equipment
20 toothpicks
round sandwich cookie mold
fine tip paintbrush
mini white cupcake liner
2 square gift boxes with windows
2 cardboard cake rounds
10 red roses
shredded white paper
Preparation
Place the strawberries in a large bowl with the water, vinegar, and baking soda. Soak for 15 minutes to clean the berries. Transfer to a plate or tray lined with towels or paper towels and let dry completely.
Insert a toothpick into the center of the stem end of each strawberry.
Line a baking sheet with wax paper or parchment paper.
In a 1-cup glass measuring cup or small microwave-safe bowl, melt 8 ounces of white chocolate in the microwave at half power in 30-second intervals, stirring between, until melted. Using a spoon or rubber spatula, stir in 1 teaspoon of melted coconut oil and ½ tablespoon of candy color maker until evenly distributed. Add ½ teaspoon (about 8 drops) of black food coloring to the cup of white chocolate. Using a toothpick, marble the food coloring into the white chocolate, being careful not to completely mix together.
Dip 1–2 strawberries and 1–2 old-fashioned pretzels in the black and white marbled chocolate, slowly and carefully turning the berries in either direction for a more drastic marbled effect. Wipe off any excess chocolate before placing on the prepared baking sheet. Add the remaining ½ teaspoon (about 8 drops) of black food coloring as needed between dips to ensure the marbling remains visible.
Make the marbled sandwich cookies: Tap the bottle of black food coloring in the bottom of 1–2 sandwich cookie molds so that a small amount of food coloring transfers to the bottom of the mold(s). Top with a spoonful of the marbled chocolate and swirl with a toothpick to create a prominent marbled look. Gently place a cookie in the center of the mold(s), being careful not to push all the way to the bottom, and top with more of the colored white chocolate, smoothing the surface and wiping the edges clean. Tap the mold on the counter a few times to release any air bubbles. If using a clear mold, look around the sides to be sure the white chocolate completely encases the cookie(s).
Working with one color at a time, repeat with the remaining white chocolate, coconut oil, candy color maker and the blue, red, and purple food coloring to make more marbled white chocolate to dip the remaining strawberries, pretzels, and sandwich cookies. Let everything set at room temperature for 20–30 minutes.
Once set, carefully remove the cookies from the mold. If they do not release easily, transfer to the freezer for 2–3 minutes, then try again. Transfer to the baking sheet with the strawberries and pretzels.
Make the edible gold paint: In a small bowl, mix together the gold luster dust and vodka until smooth with a consistency slightly thicker than water. If too loose, slowly add a small amount of luster dust until the right consistency is reached. If too thick, slowly add 1–2 drops of vodka to thin. If the gold paint evaporates while working, add 1–2 drops of vodka to rehydrate.
Paint the strawberries, pretzels, and cookies with the gold paint as desired. Let dry at room temperature for 10–15 minutes without disturbing, then transfer each strawberry to a mini cupcake liner.
Assemble the boxes: In the bottom of a 10-inch square windowed box, place a 10-inch round cake board, white side up. Arrange 5 red roses with the petals at the top of the box and stems toward the bottom. Cover the stems evenly with shredded white paper. Place 3 strawberries at the base of the stems of the roses. Arrange 3 pretzels above the strawberries, and 3 cookies above the pretzels, just below the roses. Repeat with the remaining items in a second box.
Serve immediately or store the boxes in the refrigerator for up to 3 days.
Enjoy!
Love this recipe? Download the Tasty app to save it and discover others like it.