Chiffon Cake
Get ready to indulge in this light and airy Chiffon Cake that'll leave you floating on cloud nine. Perfect for any occasion, this heavenly dessert is sure to impress with its delicate texture and subtle sweetness.
May 04, 2023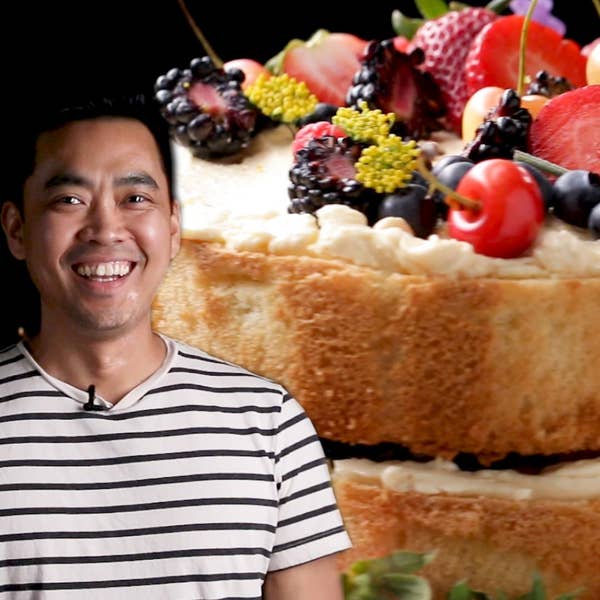 Ingredients
for 8 servings
Batter
7 large eggs, seperated
¾ cup cold water

(180 mL)

½ cup canola oil

(120 mL)

2 teaspoons vanilla extract
1 tablespoon lemon zest
2 cups all-purpose flour

(250 g)

1 tablespoon baking powder
1 ½ cups sugar

(300 g)

, divided
1 teaspoon salt
½ teaspoon cream of tartar
Buttercream Frosting
1 cup butter

(230 g)

, 2 sticks, softened
1 cup sugar

(200 g)

1 cup evaporated milk

(240 mL)

seasonal fruit, such as berries, for decoration
Preparation
Preheat the oven to 325˚F (160˚C).
In a medium bowl, combine the egg yolks, water, oil, vanilla, and lemon zest. Whisk well to combine.
Sift the flour and baking powder into a separate medium bowl. Add ¾ cup (150 grams) of sugar and salt and whisk to combine.
Pour the wet ingredients into the dry ingredients and whisk well.
In a large bowl, beat the egg whites and cream of tartar with an electric hand mixer until foamy. Gradually add the remaining sugar and beat until soft peaks form and the egg whites are glossy.
Pour the egg yolk batter into the egg whites and fold to combine with a spatula.
Divide the batter between 2 ungreased 8.5-inch (21 cm) round cake pans (not greasing will help the chiffon cakes rise).
Bake for 40-50 minutes, then increase the temperature to 350˚F (180˚C) and bake for 10-15 minutes more, or until a toothpick inserted in the center of a cake comes out clean.
While the cakes are baking, make the buttercream frosting: combine the butter and about half of the sugar in a large bowl and cream with a hand mixer until combined. Add the rest of the sugar and beat to incorporate. With the mixer running, slowly add the evaporated milk and beat until smooth.
Remove the cakes from the oven and cool the cake upside down. Once cool to the touch, sliding an offset spatula around the edges to release the cakes from the pans.
Cut off the tops of the cakes so the surfaces are flat and smooth.
Set 1 cake on a cake platter or serving dish. Spread buttercream over the top of the cake with an offset spatula and sprinkle with some seasonal fruit. Cover the fruit with buttercream.
Place the other cake on top. Spread buttercream over the top, keeping the sides exposed, and decorate with seasonal fruit and edible flowers.
Enjoy!
Meal planning made easy with the Tasty app. Download now to see exclusive curated meal plans.