Chocolate Caramel Cookie "Twix" Bar
March 16, 2023
Total Time
1 hr 55 min
1 hr 55 min
Prep Time
10 minutes
10 min
Cook Time
1 hr 45 min
1 hr 45 min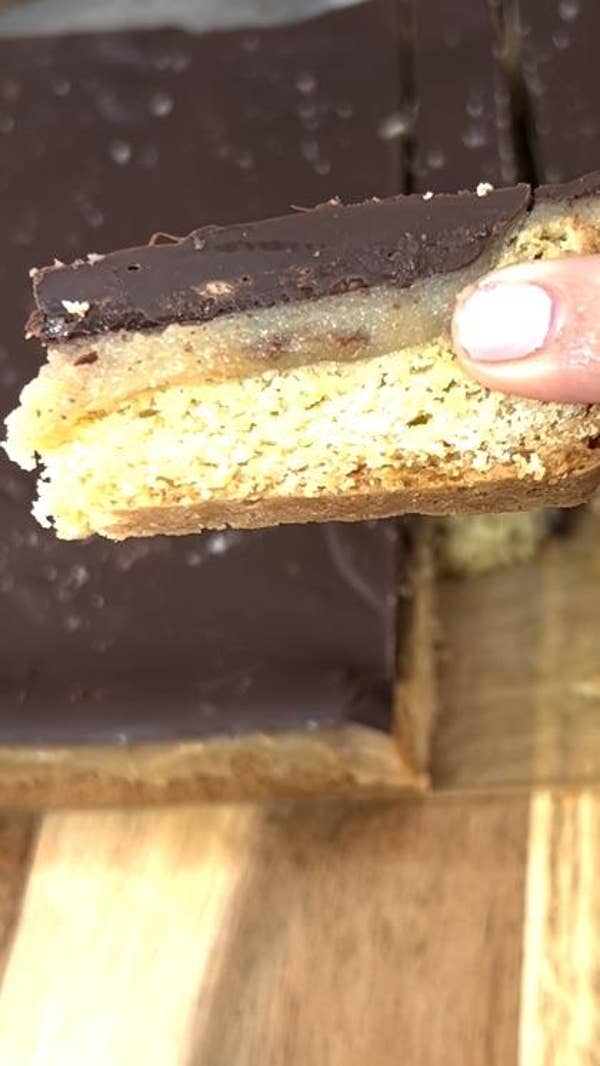 Total Time
1 hr 55 min
1 hr 55 min
Prep Time
10 minutes
10 min
Cook Time
1 hr 45 min
1 hr 45 min
Ingredients
for 50 bars
Cookie Layer
nonstick cooking spray, for greasing
15.25 oz vanilla cake mix

(430 g)

1 large egg yolk
⅓ cup neutral oil

(80 g)
Caramel Layer
½ cup unsalted butter

(115 g)

½ cup brown sugar

(100 g)

, packed
½ cup sweetened condensed milk

(165 g)

2 tablespoons corn syrup
1 splash vanilla extract
Chocolate Layer
10 oz dark chocolate chunks

(280 g)

1 tablespoon coconut oil
flaky sea salt, for garnish
Preparation
Make the cookie layer: Preheat the oven to 375°F (190°C). Grease 10-inch square baking dish nonstick spray, line with parchment paper, then spray again.
In a large bowl, combine the vanilla cake mix, egg yolk, and oil and mix until the dough comes together. Press the cookie dough into the prepared pan in a flat, even layer, then poke holes all over the surface.
Bake the cookie layer for 15–20 minutes, or until golden brown. Remove from the oven and let cool completely, about 20 minutes.
Make the caramel layer: In a medium pot, combine the butter, brown sugar, sweetened condensed milk, corn syrup, vanilla, and salt. Cook over medium-low heat, stirring frequently, for 5–8 minutes until the sugar dissolves. While stirring constantly, increase the heat to medium-high and bring to a boil, then continue cooking until the caramel has thickened, about 6 minutes.
Pour the caramel over the cookie layer, then refrigerate until slightly solid, about 30 minutes.
Make the chocolate layer: In a medium, microwave-safe bowl, combine the dark chocolate and coconut oil, then microwave in 30-second intervals, stirring between, until completely melted and smooth.
Pour the chocolate over the caramel layer and sprinkle with flaky sea salt. Refrigerate for about 20 minutes, or until the chocolate has hardened.
Use the parchment to lift the cookie from the pan, then cut into 50 1 x 2-inch bars.
Refrigerate in an airtight container until ready to serve, up to 3 days.
Enjoy!