Coconut Broth Clams
This flavorful and aromatic dish is perfect for seafood lovers. The clams are cooked in a fragrant broth made with coconut milk, lemongrass, and ginger, while the cilantro and add a fresh and bright finish. It's a dish that's sure to transport you to a tropical paradise.
May 04, 2023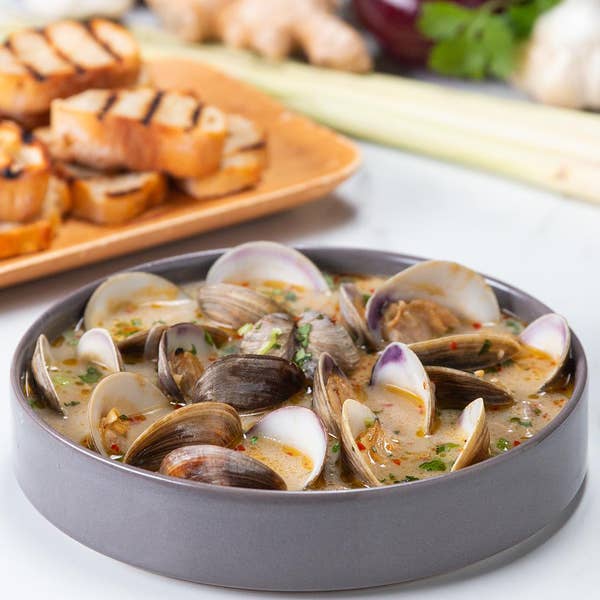 Ingredients
for 4 servings
Clams
2 lb littleneck clams

(910 g)

, or 1½ pounds manila clams, scrubbed
cold water, for soaking
3 tablespoons sea salt
Grilled Bread
1 sourdough baguette
olive oil, for brushing
sea salt, to taste
Coconut Broth
1 tablespoon coconut oil
½ medium red onion, thinly sliced
2 large stalks lemongrass
3 tablespoons minced fresh ginger
4 cloves garlic, minced
1 teaspoon red pepper flakes, or 2 minced Thai chiles
1 cup dry white wine

(240 mL)

1 tablespoon brown sugar
1 tablespoon fish sauce, or low-sodium soy sauce
2 cups vegetable broth

(480 mL)

, or chicken broth
13 oz full-fat coconut milk

(370 mL)
For Garnish
thinly sliced scallion
chopped fresh cilantro
Nutrition Info
Calories

1273

Fat

66g

Carbs

90g

Fiber

2g

Sugar

14g

Protein

69g
Estimated values based on one serving size.
Preparation
Pick through the clams and discard any that are open and do not close when firmly tapped–these clams are dead and should not be eaten. Add the rest to a colander.
Rinse and scrub the remaining live clams to remove any sand or barnacles from the shells.
Fill a bowl large enough to fit the colander with cold water and 3-4 tablespoons of salt for every 6 cups (1.5 liters) of water. Place the colander in the bowl of salt water and soak the clams for at least 1 hour, up to overnight, so they release any grit and sand. The colander allows the grit to fall to the bottom of the bowl. Live clams will filter the water while they push out any impurities in the process.
Transfer the clams in the colander to another large bowl of fresh water to desalt for 15-30 minutes.
Grill the bread: Slice the sourdough baguette into ½-inch (1 cm) pieces.
Brush each slice with olive oil and sprinkle with salt.
Toast the bread on a grill pan over medium-high heat until golden brown and crusty, about 2 minutes per side. Set aside.
Make the coconut broth: Melt the coconut oil in a wok or large pan over medium heat. Add the red onion and cook until it starts to become translucent, about 3 minutes.
Firmly tap the lemongrass stalks with a wooden spoon to bruise, which helps release their aroma and flavor during cooking. Trim the ends, then slice into approximately 4-inch (10 cm) pieces.
Add the lemongrass to the wok, along with the ginger, garlic, and red pepper flakes. Cook until fragrant, about 3 minutes.
Carefully pour in the white wine and stir to deglaze the pan. Bring to a simmer and cook until reduced by half, about 5 minutes.
Add the brown sugar, fish sauce, vegetable broth, and coconut milk. Bring to a boil.
Add the clams, return to a boil, and cook for 5-8 minutes, or until all of the clams are fully opened. If any clams remain closed, discard them.
Discard the lemongrass stalks and divide the clams and broth between serving bowls. Garnish with scallions and cilantro and serve with the grilled bread for dipping.
Enjoy!
Your favorite recipes are just a click away. Download the Tasty app to save and organize your favorites.