Grilled Lemongrass Pork Bánh Mì
This recipe makes it easy to recreate a classic Vietnamese bánh mì at home. Pork butt is a cut of meat that usually requires a longer cooking time in order to make it tender, but by slicing it thinly, you cut the cooking time down to just a few minutes on a hot grill pan.
June 09, 2019
Prep Time
30 minutes
30 min
Cook Time
30 minutes
30 min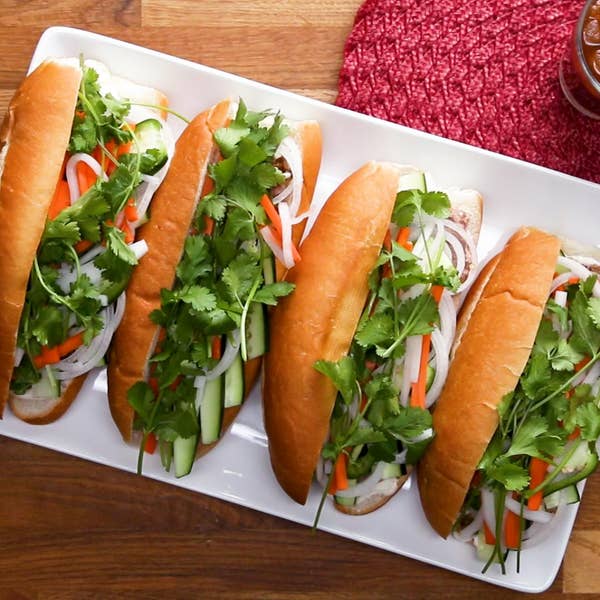 Prep Time
30 minutes
30 min
Cook Time
30 minutes
30 min
Ingredients
for 4 servings
Pickled Vegetables
2 large carrots, peeled and cut into large matchsticks
12 oz daikon root

(340 g)

, peeled and cut into large matchsticks
3 tablespoons kosher salt, plus more to taste
2 tablespoons sugar
¼ cup distilled white vinegar

(60 mL)
Lemongrass Pork
4 stalks lemongrass
1 small white onion
3 tablespoons soy sauce
3 tablespoons fish sauce
⅓ cup sugar

(50 g)

1 tablespoon dry white wine
1 ½ teaspoons fresh ground black pepper
2 lb pork butt

(910 g)

, trimmed of excess fat, cut into 1/2 in (1 1/4 cm) thick slices
2 tablespoons canola oil
Assembly
4 large French rolls, lightly toasted
½ cup mayonnaise

(120 g)

½ cup pâté

(110 g)

cucumber, sliced
white onion, thinly sliced
jalapeño, sliced
fresh cilantro leaf, and tender stems
Preparation
Make the pickled vegetables: Set a large colander in a large bowl. Add the carrots and daikon to the colander. Toss with the salt, then add just enough water to cover the vegetables, about 6 cups (1.4 L). Let sit at room temperature for 30 minutes.
Lift the colander out of the soaking liquid, then rinse the vegetables well. Shake the colander a few times to allow any excess water to drain away. Let the vegetables sit at room temperature for 30 minutes to dry out a bit.
Add the sugar and vinegar to the bowl with the vegetables. Season to taste with more salt, if needed. Transfer to an airtight container and refrigerate overnight.
Make the lemongrass pork: Trim the bottoms and green tops from the lemongrass stalks. Slice the light parts in half lengthwise, then remove any tough outer layers. Mince and transfer to a medium bowl.
Finely chop the onion and add to the bowl with the lemongrass.
In a large bowl, whisk together the soy sauce, fish sauce, sugar, wine, and pepper.
Add the sliced pork butt to the marinade and toss to coat. Cover with plastic wrap and let marinate in the refrigerator for at least 1 hour, up to 4 hours.
Heat the canola oil in a large pan over medium-high heat. Add the onion and lemongrass and cook until the onion is tender and beginning to brown, stirring constantly, about 10 minutes. Transfer to a bowl and set aside.
Heat a large grill pan over medium-high heat. Working in batches, remove the pork from the marinade, letting any excess liquid to drip off, then grill the pork until lightly charred on both sides and just cooked through, about 2 minutes per side. Transfer to a cutting board and let rest for 10 minutes.
Cut the pork into bite-sized pieces and transfer to a large bowl. Add the lemongrass and onion mixture and stir to combine.
To assemble, slice the toasted French rolls in half lengthwise almost all the way through, leaving a long end intact. Slather the bottom of the rolls with a generous amount of mayonnaise, then spread on a layer of pâté. Top with the pork mixture, cucumber, sliced onion, jalapeño, the pickled vegetables, and cilantro.
Close the sandwiches and serve.
Enjoy!
Meal planning made easy with the Tasty app. Download now to see exclusive curated meal plans.