Gulab Jamun Cake As Made By Hetal Vasavada
Gulab jamun is the quintessential Indian dessert. Soft, fried dough balls dipped in a sugary sweet syrup. My Shobana kaki (dad's brother's wife) is the queen of gulab jamun. When I was young, we'd go to her house for dinner parties and she'd make homemade gulab jamun, and I had the hardest time keeping my hands away from them. A lot of people don't know it, but making gulab jamun takes a lot of skill. It's all about the technique, and sadly it's a technique that I rarely get right. To make it easier to enjoy my favorite dessert, I turned it into an easy cardamom-spiced Bundt cake soaked in classic saffron sugar syrup!
October 14, 2019
Total Time
1 hr 20 min
1 hr 20 min
Cook Time
1 hr 15 min
1 hr 15 min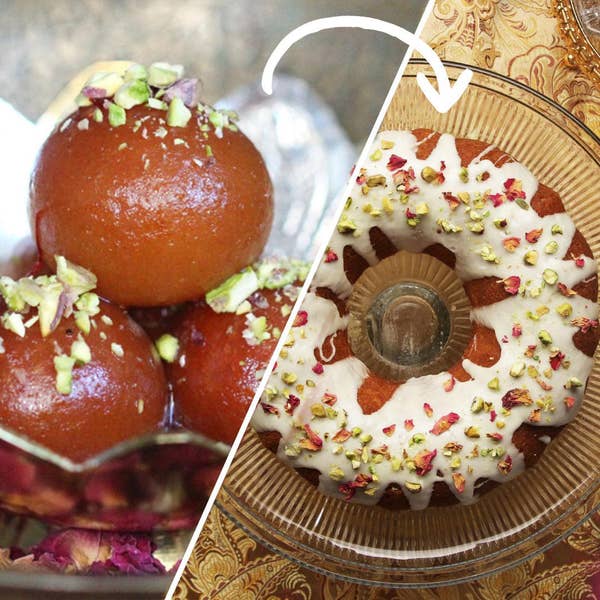 Total Time
1 hr 20 min
1 hr 20 min
Cook Time
1 hr 15 min
1 hr 15 min
Ingredients
for 1 cake
Cardamom Pound Cake
2 sticks unsalted butter, softened, plus 1 tablespoon, for greasing
1 ⅓ cups all purpose flour

(165 g)

⅓ cup dried nonfat milk powder

(35 g)

1 cup granulated sugar

(220 g)

¾ teaspoon ground cardamom
½ teaspoon kosher salt
1 teaspoon vanilla extract
4 large eggs
Gulab Jamun Syrup
1 cup water

(240 mL)

1 cup granulated sugar

(220 g)

½ teaspoon saffron thread
8 cardamom pods, slightly crushed
1 cinnamon stick
1 teaspoon rose water
2 teaspoons fresh lime juice
For Serving
1 ¾ cups powdered sugar

(190 g)

1 tablespoon dried rose petal, optional
1 tablespoon pistachio, chopped
Preparation
Make the cardamom cake: Preheat the oven to 325°F (163°C). Grease a 10-cup Bundt pan liberally with 1 tablespoon of butter. In a medium bowl, whisk the flour and milk powder together until well combined.
Add the butter, sugar, and ground cardamom to a separate large bowl and mix with a hand mixer for 5-7 minutes; the butter will turn pale and fluffy. Add the salt and vanilla and stir to combine. Add 1 egg at a time, beating well between each addition. Add the flour mixture. Mix until the dry ingredients are just incorporated.
Spoon the batter into the Bundt pan and tap the pan on the counter 3–5 times to remove air bubbles.
Bake the cake for 35–40 minutes, or until a toothpick inserted into the center of the cake comes out clean.
10 minutes before the cake is done baking, make the syrup: Add the water, granulated sugar, saffron, cardamom pods, and cinnamon stick to a small saucepan. Bring to a boil over medium-high heat and simmer for 2 minutes. Remove the pot from the heat and whisk in the rose water and lime juice. Remove the cinnamon stick and cardamom pods from the syrup and discard. Reserve ¼ cup (60 ml) of the syrup and set aside.
Poke holes in the bottom of the Bundt cake with a fork. Pour the rest of the syrup over the Bundt cake while it is still warm in the pan. It will look like a lot of syrup, but the cake will soak it all up. Let the cake rest for 10 minutes, then invert it onto a serving platter.
In a medium bowl, whisk together the powdered sugar and reserved syrup to make a glaze.
Pour the glaze over the Bundt cake. Sprinkle with the dried rose petals, if using, and pistachios.
Slice and serve.
Enjoy!
Busy? Plan your meals for the week using our exclusive meal planner tool in the Tasty app. Download now and get organized.