Matzo Ball Pho
Matzo Ball Soup! You've heard of it everywhere - pop culture, Bat Mitzvahs, what have you. You've heard of pho everywhere too, especially recently. How many friends want to grab a bowl of pho after a long day? It's become the new ramen. So we're here to put those phenomena together and we've created the perfect culmination of the two: Matzo. Ball. Pho. Try it now. (This Matzo Ball Pho was 1 of 3 winners in our latest recipe challenge. Find more of our community recipes here.)
August 14, 2023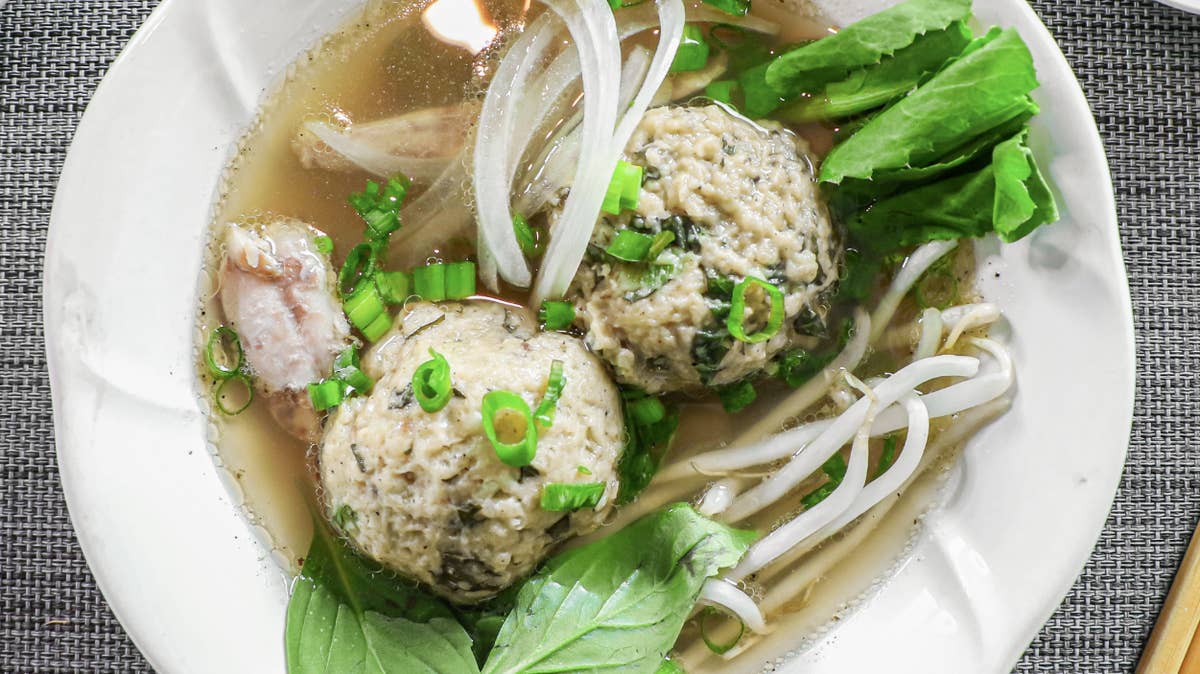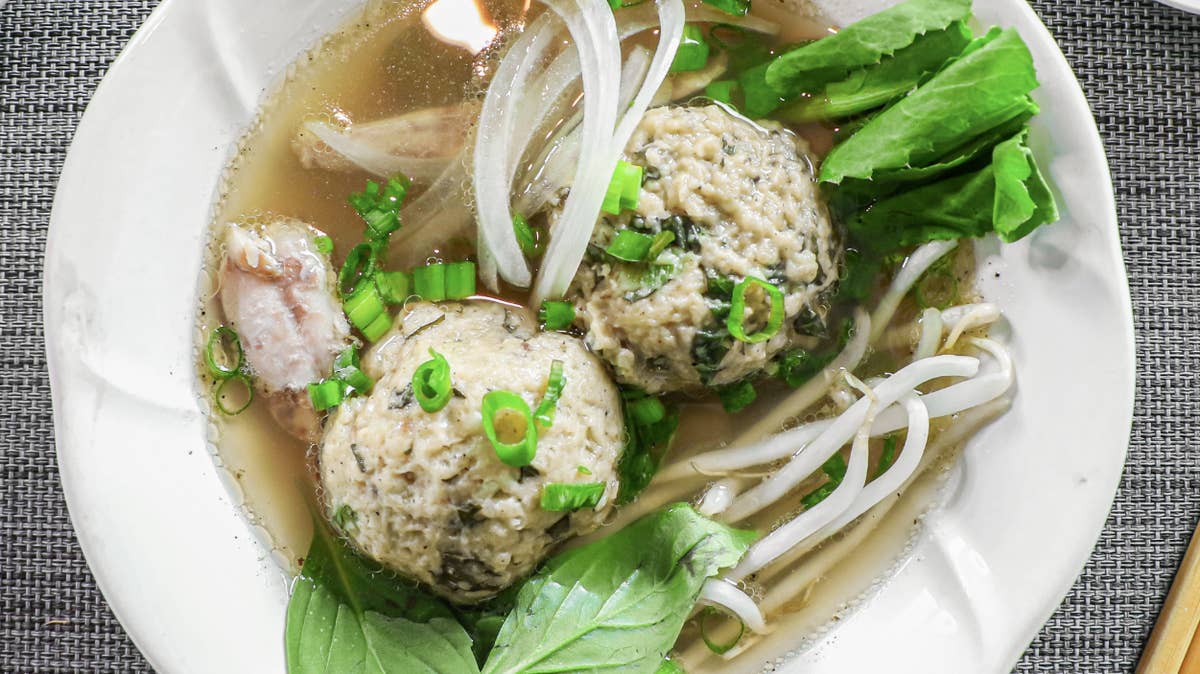 Ingredients
for 4 servings
2 onions, halved, thinly sliced, for garnishg
1 shallot, halved
1 piece ginger, sliced
4 stalks green onion, diced, with heads reserved
2 anise seeds
7 cloves
1 teaspoon coriander seed
1 dried cardamom pod
1 carton cinnamon stick
1 lb chicken wings

(455 g)

3 chicken thighs
10 cups water

(2.4 kg)

1 bunch fresh thai basil, chopped
1 bunch sawtooth herb, chopped
3 eggs
¼ cup vegetable oil

(60 mL)

¾ cup matzo meal

(95 g)

¼ teaspoon black pepper
2 ½ teaspoons sugar, divided
2 teaspoons fish sauce
2 teaspoons chicken bullion powder
salt
lime
bean sprout
hoisin sauce
Nutrition Info
Calories

734

Fat

40g

Carbs

52g

Fiber

5g

Sugar

11g

Protein

42g
Estimated values based on one serving size.
Preparation
Lightly char onion halves and shallot on open flame.
In a large pot on high, add star anise, cloves, coriander seeds, cardamom, and cinnamon. When the spices are brown and fragrant, take them off the heat and place them into a tea ball strainer.
In the same pot on high, add chicken wings, water, and salt. Boil, then add chicken thighs, tea ball strainer with spices, charred onion, charred scallion, and ginger slices. Boil together, then lower heat and let simmer for 30 minutes. Remove any impurities, whole items, or foam that rises to the top.
After 30 minutes, remove and cool chicken thighs and reserve and cool 3 tbsp of stock. Allow the remaining stock to simmer for 1.5 more hours.
In a large bowl, beat 3 eggs until no streaks remain. Then add vegetable oil, chopped basil and sawtooth, cooled 3 tbsp of Pho stock (that you reserved), 1 tsp salt, ¼ tsp black pepper, and ½ tsp of sugar. Whisk together, then add in Matzo meal. Combine and let batter rest for 40 minutes.
After 40 min, remove batter and roll into 8-10 Matzo balls.
Once the chicken thighs are cooled, take them out and shred them.
After 2 hours, remove and discard all solids from the stock. Add matzo balls and green onion heads. Let the mixture simmer together for 40 minutes. At this point, season stock with 2 tsp sugar, 2 tsp chicken bouillon powder, and 2 tsp fish sauce. Remove from heat.
Ladle 1 portion soup with broth, shredded chicken, and green onion heads. Top with diced and sliced onions. Serve with a side of bean sprouts, Thai basil, sawtooth herbs, a slice of lime, Sriracha, and hoisin sauce.
Your favorite recipes are just a click away. Download the Tasty app to save and organize your favorites.