Pastelón
Pastelón is a Puerto Rican dish with many interpretations across the island. Our version nestles thinly sliced, fried sweet plantains between layers of savory ground beef and mozzarella cheese. The beef mixture can be made a day before assembling the pastelón--just refrigerate until ready to use!
October 04, 2019
Total Time
3 hr 30 min
3 hr 30 min
Prep Time
30 minutes
30 min
Cook Time
1 hr 45 min
1 hr 45 min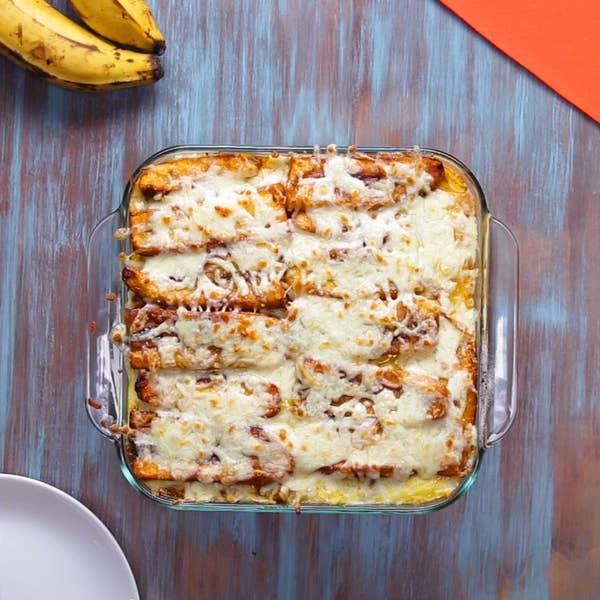 Total Time
3 hr 30 min
3 hr 30 min
Prep Time
30 minutes
30 min
Cook Time
1 hr 45 min
1 hr 45 min
Ingredients
for 6 servings
1 small bunch fresh cilantro
1 small bunch fresh culantro
1 red bell pepper, small , roughly chopped
1 small green bell pepper, seeded and roughly chopped
1 medium head garlic, cloves seperated and peeled
1 teaspoon dried oregano
½ teaspoon ground cumin
1 ¼ cups canola oil

(300 mL)

, divided
5 pimento-stuffed spanish olives, thinly sliced into rounds
1 lb ground beef

(455 g)

½ teaspoon kosher salt, plus more to taste
2 teaspoons dried adobo seasoning, divided
1 ¼ teaspoons sazon goya seasoning powder, with saffron
1 can tomato sauce
4 very ripe plantains
3 cups shredded mozzarella cheese

(300 g)

, divided
2 large eggs
Nutrition Info
Calories

1366

Fat

100g

Carbs

75g

Fiber

15g

Sugar

31g

Protein

52g
Estimated values based on one serving size.
Preparation
To the bowl of a food processor, add the cilantro, culantro, onion, red and green bell peppers, garlic, oregano, and cumin. Pulse until combined. The sofrito should have the consistency of a tapenade.
Heat ¼ cup (60 ml) of canola oil in a large pan over medium heat. Once the oil is shimmering, add the sofrito and fry, stirring constantly, until deepened in color but not brown, about 3 minutes. Add the olives to the pan and stir to combine.
Add the ground beef to the pan and cook until no longer pink, about 7 minutes. Season with the ½ teaspoon salt.
Add 1 teaspoon of adobo seasoning, the Sazón seasoning, and the tomato sauce and stir to combine. Cook, stirring occasionally, until most of the liquid is absorbed into the meat, about 7 minutes. Transfer the beef mixture to a medium bowl with a slotted spoon, discarding any excess liquid. Wipe out the pan with a paper towel and set aside.
Peel the plantains, cut in half crosswise, then slice each half lengthwise to get 4 thin slices.
Heat the remaining cup of canola oil in the same pan over medium-high heat until the oil starts to shimmer. Test one plantain slice in the oil--if it bubbles and sizzles, the oil is ready.
Fry the plantains in batches until they are lightly browned on the edges and tender in the centers, 4–5 minutes, turning occasionally with a fork. Transfer to a paper towel-lined plate to drain. Season on both sides with salt.
Preheat the oven to 350°F (180°C).
Arrange a single layer of plantains in the bottom of an 8-inch square baking dish. Using a slotted spoon, top with about half of the meat mixture. Sprinkle 1 cup of mozzarella over the meat sauce. Repeat with more plantains, the remaining meat sauce, and another cup of mozzarella. Finish with the remaining plantains.
In a medium bowl, beat the eggs with the remaining teaspoon of adobo seasoning.
Pour the egg mixture over the plantains, then cover the baking dish with foil.
Bake the pastelón until the eggs are set and the cheese is bubbly, about 25 minutes. Remove from oven and turn the oven to broil. Uncover the dish and sprinkle the remaining cup of mozzarella over the top. Broil for 5 minutes, or until cheese on top is golden brown. Let rest for 10 minutes before serving.
Enjoy!
Cook smarter, not harder. Use our AI chef Botatouille on the Tasty app. Download now.