PB&J Sufganiyot
Bite into a delightful twist on a classic with these PB&J Sufganiyot! These fluffy, deep-fried doughnuts are filled with creamy peanut butter and sweet jelly, making them the perfect treat for any occasion.
May 05, 2023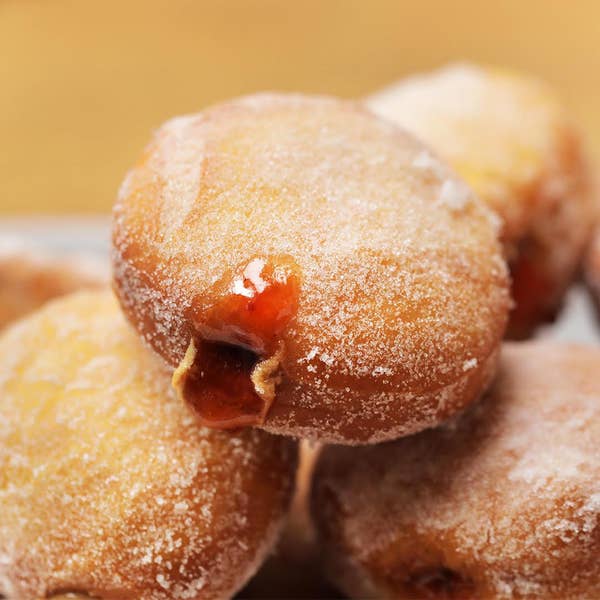 Ingredients
for 16 sufganiyots
Starter
2 tablespoons warm water
1 packet active dry yeast
1 tablespoon all purpose flour
1 tablespoon sugar
Dough
1 large egg
2 large egg yolks
½ cup whole milk

(120 mL)

, warm
2 tablespoons orange juice
3 ¼ cups all purpose flour

(405 g)

, divided, plus more as needed
1 teaspoon kosher salt
½ teaspoon vanilla extract
6 tablespoons unsalted butter, cubed, room temperature, plus more for greasing
For Frying and Assembly
4 cups vegetable oil

(960 mL)

1 cup sugar

(200 g)

, for garnish
1 cup Kroger® Strawberry Preserves

(150 g)

1 cup creamy peanut butter

(240 g)

, room temperature
This recipe isn't available to shop.
Unfortunately, not all our recipes can be shopped through Tasty.
Preparation
Make the starter: In the bowl of a stand mixer fitted with a dough hook, combine the warm water, yeast, flour, and sugar. Let sit for 5 minutes, until starting to foam.
Make the dough: Add the egg, egg yolks, milk, orange juice, 2 cups of flour, the salt, and vanilla to the bowl of the stand mixer. Mix on medium-low speed for about 2 minutes, until combined.
With the mixer running, add the butter, 1 cube at a time, mixing between each addition until incorporated. Some lumps are okay.
Add the remaining 1¼ cups of flour and mix on medium speed for about 10 minutes, until the dough is soft, pulls away from the sides of the bowl, and is no longer sticky. If the dough is still sticky, add up to ¼ cup more flour.
Transfer the dough to a large bowl greased with butter and cover with a kitchen towel or plastic wrap. Let the dough rise in a warm place for 1 hour, or until doubled in size.
Line a baking sheet with parchment paper.
Turn the dough out onto a lightly floured surface and gently roll out to about ¾" thick. Using a 2½" round cutter, cut out circles of dough using a twisting motion (this will help seal the edges for a better finished shape). Reroll the dough scraps once and cut out more circles. Transfer the circles to the prepared baking sheet. Loosely cover with plastic wrap and let rise in a warm place for 40–50 minutes, or until nearly doubled in size.
Fry the sufganiyot: Heat the oil in a large, heavy saucepan or Dutch oven over medium-low heat until the temperature reaches 350°F (180°C).
Add the sugar to a shallow bowl. Add the Kroger® Strawberry Preserves and peanut butter to piping bags fitted with angled filling tips.
Working in batches to avoid overcrowding the pot, fry the sufganiyot in the hot oil until golden brown, about 1 minute per side. Remove the sufganiyot from the oil and transfer directly to the bowl of sugar, rolling to coat completely. Let cool for about 5 minutes before filling.
Pipe about ½ tablespoon each of the strawberry preserves and peanut butter through the side of each sufganiyot to fill the center.
Serve warm.
Enjoy!