Sopes De Carnitas
Whenever Chef Bella Lopez is feeling nostalgic, she makes a platter of sopes. But these aren't just any sopes. Bella's version is topped with ready-made refried beans, tender and juicy carnitas, lettuce, Mexican crema, and queso fresco. The ingredients to make this easy and flavorful recipe can be purchased at Walmart. #WalmartPartner
November 06, 2023
Total Time
1 hr 40 min
1 hr 40 min
Prep Time
20 minutes
20 min
Cook Time
1 hr 20 min
1 hr 20 min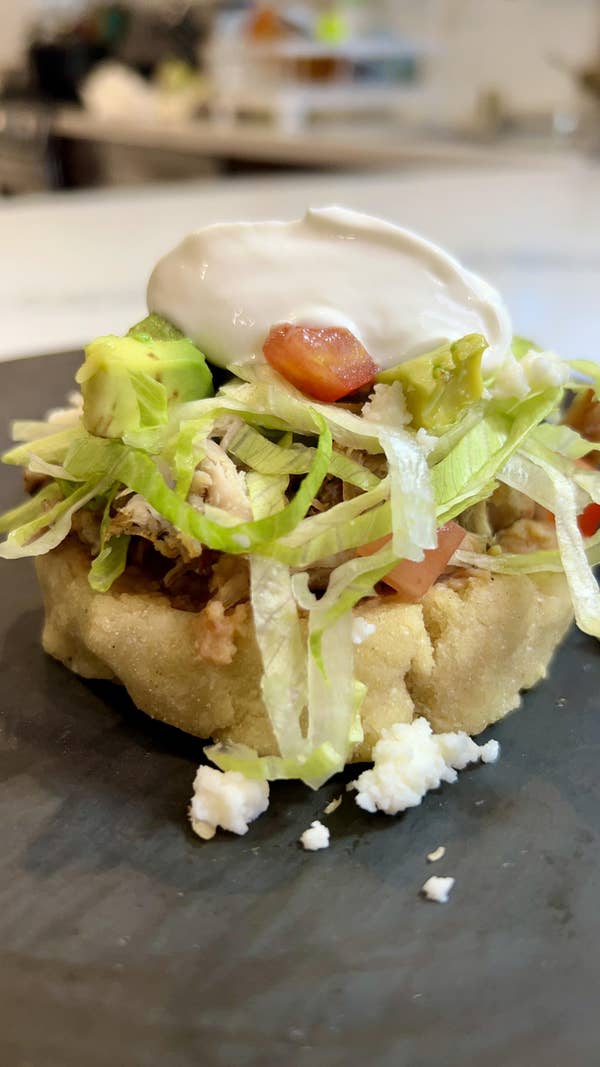 Total Time
1 hr 40 min
1 hr 40 min
Prep Time
20 minutes
20 min
Cook Time
1 hr 20 min
1 hr 20 min
Ingredients
for 6 servings
Carnitas
1 cup chicken stock
6 cloves garlic cloves, minced
ground cumin
1 teaspoon dried oregano
1 teaspoon fine sea salt, plus more to taste
½ teaspoon freshly ground black pepper, plus more to taste
¼ cup fresh lime juice
½ cup fresh orange juice
2 lb boneless pork roast, cut into 2-inch pieces
1 tablespoon grapeseed oil
1 bay leaf dried bay leaf
Sopes
1 qt neutral oil, for frying
3 cups masa harina
1 tablespoon salt
1 tablespoon grapeseed oil
2 cups warm water, as needed
For Assembly
refried bean
shredded iceberg lettuce
roma tomato, diced
diced avocado
crumbled queso fresco
mexican crema
Preparation
Make the carnitas: In a liquid measuring cup or medium bowl, whisk together the chicken stock, garlic, cumin, oregano, 1 teaspoon salt, ½ teaspoon black pepper, lime juice, and orange juice.
Season the pork with salt and pepper on both sides.
Select the Sauté option on the Instant Pot. Heat the grapeseed oil in the insert until shimmering, then sear the pork for 2-3 minutes on each side, or until golden brown.
Pour in the chicken stock mixture and add the bay leaf. Secure the lid and select Cancel, then Manual, and set to Pressure Cook High for 30 minutes, or until the pork is pull-apart tender. Let the pressure release naturally for 20 minutes before opening the lid.
Set the oven to broil on high. Line a baking sheet with aluminum foil.
Transfer the cooked pork to the prepared baking sheet and shred with two forks. Drizzle the pork with ½ cup of the cooking liquid, then broil for 10 minutes, or until crispy.
Meanwhile, make the sopes: Heat the neutral oil in a large, high-walled pan over medium heat until the temperature reaches 350°F (180°C).
In a large bowl, mix together the masa harina, salt, grapeseed oil, and warm water. Scoop out 3-4 tablespoons of the masa mixture and roll into a ball. Flatten the ball, then pull the edges of the dough up to create a lip. Repeat with the remaining dough.
Working in batches to avoid overcrowding the pan, fry the sopes in the hot oil for 3-5 minutes, or until light golden. Transfer to a paper towel-lined plate to drain.
Assemble the sopes: Spread refried beans over the sopes, then top with carnitas, shredded lettuce, diced tomatoes, diced avocado, crumbled queso fresco, and a drizzle of Mexican crema.
Serve warm.
Enjoy!
Hate losing that perfect recipe? Save and organize recipes easily on the Tasty app. Download now.