This recipe was submitted by a Tasty Community Member, and hasn't been tested by the Tasty recipe team.

Have a recipe of your own to share?

Submit a recipe here!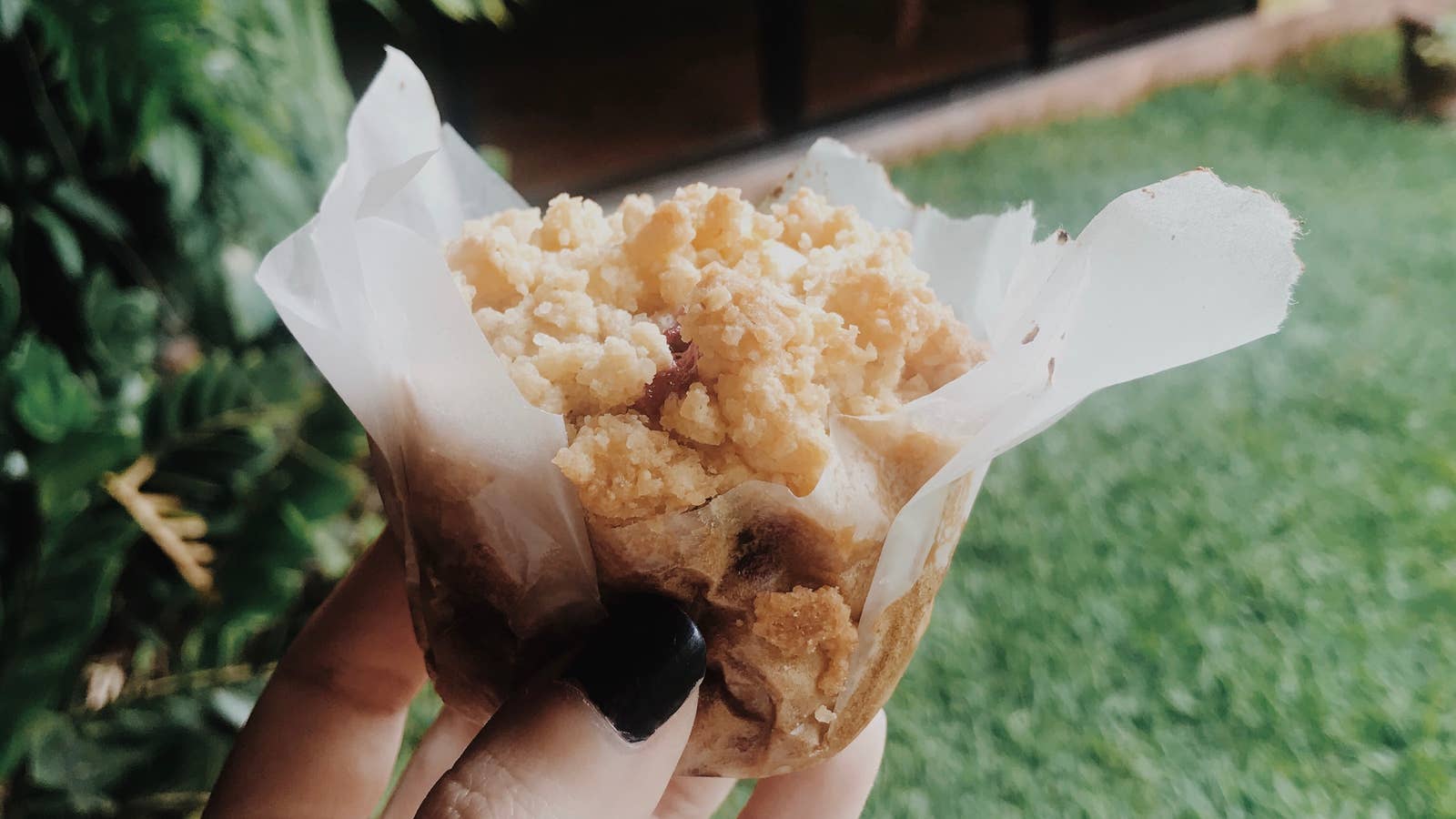 Ingredients
for 12 muffins
Muffins
½ cup canola oil, or vegetable oil
½ cup vegan buttermilk, mix 1/2 cup of non-dairy milk, such as almond or soy, and 1/2 tsp of apple cider vinegar and rest for 10 minutes
½ cup brown sugar
¼ cup granulated sugar
2 vegan eggs, I used Bob's Red Mill Egg Replacer but you can use flax eggs or any egg replacer of your preference
1 ½ teaspoons vanilla extract
2 cups all-purpose flour, or gluten-free flour
2 teaspoons baking powder
1 teaspoon cinnamon
½ teaspoon salt
1 ½ cups chopped apple, or pear, or 1 cup cranberries or blueberries, or fruit of choice
Crumble
3 tablespoons vegan butter, or coconut oil, melted
6 tablespoons brown sugar
1 tablespoon granulated sugar
½ cup all-purpose flour
2 tablespoons rolled oats
1 dash cinnamon
Nutrition Info
Estimated values based on one serving size.
Preparation
Preheat your oven to 375° F (190°C) and line a muffin tin with paper liners or grease and flour.
In a bowl whisk oil, buttermilk, and both of the sugar until they are dissolved.
Mix in the eggs and the vanilla extract until they are well incorporated.
Separately, stir together flour, baking powder, cinnamon, and salt.
Mix the dry ingredients to the wet ones gradually until just combined, don't over mix.
Fold in the apples or the fruit of your choice.
Divide the batter in the muffin tin, use a ice cream scoop or a ¼ cup measurement.
For the crumble, mix the melted butter with the sugars, then add the flour, oats, and cinnamon. Mix it with a spoon or a fork if you want until crumble pieces form.
Top the muffins with the crumble mixture evenly.
Bake the muffins for 25 minutes or until a toothpick comes clean after inserted in the center of your muffins.
Allow muffins to cool before eating.