Baked Lobster Tails
Impress your guests with this elegant and delicious dish. Succulent lobster tails are baked to perfection and served with a side of melted butter for dipping. Perfect for a special occasion or romantic dinner for two.
May 04, 2023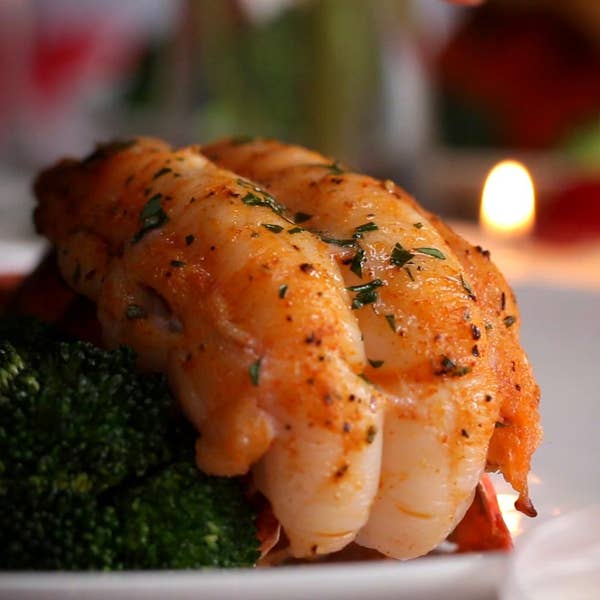 Ingredients
for 2 servings
8 oz lobster tail

(225 g)

, 2 tails
3 tablespoons butter, melted
1 teaspoon salt
1 teaspoon black pepper
1 teaspoon garlic powder
1 teaspoon paprika
1 teaspoon fresh parsley, chopped
1 teaspoon lemon juice
2 wedges lemon, to serve
broccoli, cooked, to serve
Preparation
Using a clean pair of scissors or kitchen shears, cut along the middle of the top of the shell towards the fins of the tail, making sure to cut in a straight line. Do not cut through the end of the tail.
Using a spoon, separate the meat from the two sides of the shell, then lift the meat up and out from inside the shell.
Press the two sides of the shell together, then lay the meat over the seam where the two shells meet.
If you are having difficulty opening the shell up to lift out the meat, flip the tail over and make cuts along the carapace where the legs meet the bottom part tail. This will help break the rigid structure of the shell and allow it to be more flexible.
While cutting through the shell, you may have also cut into the meat, which is perfectly okay. Make a shallow cut through the middle of the lobster meat so that you can peel down the thin layer of meat over the sides. This gives the lobster tail its signature look.
Preheat oven to 450°F (230°C).
In a small bowl, combine the butter, salt, pepper, garlic powder, paprika, lemon juice, and parsley, then brush the mixture evenly over the lobster meat.
Place the tails onto a baking sheet, then bake for approximately 12-15 minutes, until the lobster is fully cooked but not rubbery.
Serve with a side of broccoli and a lemon wedge.
Enjoy!
Don't just wing it -- plan it! Use our meal planner tool in the Tasty app. Download here.