Boba Pancakes With Milk Tea Cream
These boba pancakes are inspired by a cafe Jasmine visited in Taiwan and taste exactly like  boba milk tea in pancake form! The pancakes are fluffy, the boba are beautifully chewy, and the tea-infused cream is glossy and delectable. Have these for breakfast, brunch, or dessert for a delightful treat.
January 06, 2022
Total Time
5 hr 40 min
5 hr 40 min
Prep Time
20 minutes
20 min
Cook Time
50 minutes
50 min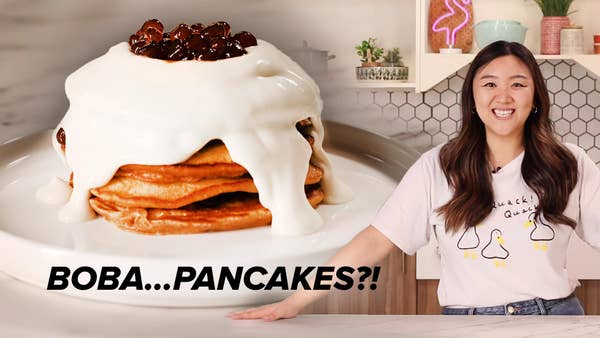 Total Time
5 hr 40 min
5 hr 40 min
Prep Time
20 minutes
20 min
Cook Time
50 minutes
50 min
Ingredients
for 4 pancakes
Milk Tea Cream
¾ cup heavy cream

(180 g)

1 black tea bag
1 oz mascarpone cheese

(30 g)

¼ cup powdered sugar

(25 g)
Boba with Brown Sugar Syrup
¾ cup Tasty's boba pearls

(135 g)

½ cup dark muscovado sugar

(100 g)

½ cup water

(120 mL)
Black Tea Pancakes
1 ¼ cups whole milk

(300 mL)

8 tablespoons unsalted butter, divided
2 black tea bags
1 ½ cups all purpose flour

(185 g)

6 tablespoons sugar
1 teaspoon kosher salt
½ teaspoon baking powder
½ teaspoon baking soda
1 teaspoon vanilla extract
1 large egg, white and yolk separated
Included in this Recipe
Boba Milk Tea
Nutrition Info
Calories

839

Fat

49g

Carbs

94g

Fiber

14g

Sugar

44g

Protein

13g
Estimated values based on one serving size.
Preparation
Infuse the milk tea cream: Add heavy cream and black tea bag to a small saucepan. Heat over low heat until the cream just barely begins to simmer, about 5 minutes. Transfer the infused cream and tea bag to a medium heatproof bowl, let cool to room temperature, then cover and refrigerate for at least 4 hours, preferably overnight.
Make the boba with brown sugar syrup: Bring a large pot of water to a boil. Shake off any excess flour from the boba pearls, then add to the boiling water. Stir to separate the pearls, then reduce the heat to medium-low. Simmer gently, stirring occasionally, for about 20 minutes, until cooked through. Drain the boba and rinse with cold water to stop the cooking process. Transfer to a medium heatproof bowl.
Meanwhile, make the brown sugar syrup: Add the muscovado sugar and water to a small saucepan over medium heat. Cook until the sugar dissolves and the syrup thickens slightly, 5–7 minutes. Pour the syrup over the boba and stir to coat. Let sit for about 1 hour.
Make the pancakes: Add the milk, 4 tablespoons of butter, and the black tea bags to a small saucepan over medium heat. Bring to a gentle simmer and cook for 10 minutes. Do not let it come to a boil. Remove the pot from the heat and remove the tea bags, gently squeezing out any excess liquid. Transfer the tea milk to a medium heat-proof bowl and let cool to room temperature.
In a large bowl, whisk together the flour, sugar, salt, baking powder, and baking soda.
In a medium bowl or liquid measuring cup, whisk together the cooled tea milk, vanilla, and egg yolk.
Add the wet ingredients to the dry ingredients and gently fold with a rubber spatula until just combined. Add the egg white and fold until just combined. Do not overmix; some lumps are okay. Let the batter rest at room temperature for 15–30 minutes, until thickened.
Melt 1 tablespoon of butter in a medium nonstick skillet over medium-low heat. Once the butter begins to bubble, add about ¼ cup of the batter to the pan. Cook for about 4 minutes, until bubbles start to appear on the surface. Flip the pancake over and cook for another 1–2 minutes, until golden brown. Repeat with the remaining batter, adding more butter to the pan as needed. You should have about 8 pancakes.
Make milk tea cream: Remove the tea bag from the chilled infused cream. Pour ½ cup of the cream into a stand mixer fitted with the whisk attachment. Add the mascarpone and powdered sugar. Whip on medium speed until the mixture just barely starts to thicken, about 1 minute. It should still be a little runny.
When ready to serve, set 1 pancake on a plate and top with about 1 tablespoon of the boba pearls and syrup. Repeat to stack 3 more pancakes on top. Pour half of the milk tea cream over the top and garnish with 2 tablespoons of boba pearls. Repeat to make a second serving.
Enjoy!
Busy? Plan your meals for the week using our exclusive meal planner tool in the Tasty app. Download now and get organized.